At the Republican Convention, the Disaster of Melania Trump
America had the chance to meet the 46-year-old Mrs. Trump. Yet America's hunger has not been fully satisfied.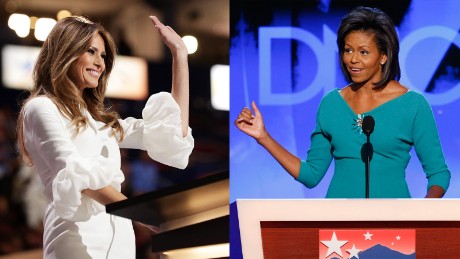 The Republican candidate's wife spoke publicly for the first time. She was trying to make her husband more human … by plagiarizing Michelle Obama!
It all began in black and white, like the credits at the end of a movie. Donald Trump appeared in the shadow, his figure silhouetted while the song "We Are the Champions" played. Gradually the lights went on and he presented the "next first lady." Melania then made her entrance in a virginal white dress with oddly bulky sleeves, in the manner of a star fresh out of a page of Vogue. It was the highlight of the evening. Before this, despite the campaign being in full swing, we have hardly seen Melania Trump, let alone heard her. She was not even featured in the photo announcing Mike Pence's nomination as Trump's running mate. She has never been too hot about her husband's involvement in politics, and she has always said that she did not want to be at the forefront of things, preferring instead to care for their 10-year-old son. It has also been whispered that she refuses to speak in public because of her strong Slovenian accent.
On Monday evening, during the Republican Convention in Cleveland, America had the chance to meet the 46-year-old Mrs. Trump. Yet America's hunger has not been fully satisfied. Melania Trump quickly itemized the main points in her life as if she were reading a police report: her childhood in a "beautiful" little country, Slovenia, her "incredible" sister and her "wonderful" parents who instilled many wonderful values in her…. She became a model, traveled all over the world and then settled in the United States. She is "very proud" to have become an American citizen. And if she becomes first lady, she will "help the people in our country who need it the most," particularly women and children so that they have an education.
'She's No Nancy Reagan'
Melania tried to soften her husband's anti-immigration stance by saying that he intended to "represent all the people," including Jews, Muslims, Latinos and Black people. She also tried to present a more restrained image of him. Donald Trump has stepped up his sexist comments and even stated that he was in favor of "some sort of punishment" for women who have had abortions. According to a recent survey, 77 percent of female voters have a negative opinion of him, and it seems unlikely that Melania has managed to convince them otherwise. She sold Donald Trump as a good father, close to his family, harsh but "loyal," a word which rocked the Twitter-sphere, remarking that it was not the most apt of words for a twice divorced man. And Melania contented herself with platitudes without sharing a single pithy anecdote, as wives tend to do, about the time that it takes him to blow-dry his hair or his bad habit of leaving dirty socks around.
The room applauded lukewarmly. "She's no Nancy Reagan, it lacked substance," summarized Mary from South Dakota, somewhat dumbfounded by Melania Trump's supermodel looks. But Jane Page from South Carolina was a fan. "It would be wonderful to have a first lady who has Communist origins, because she knows the dangers of Putin. And then she's been recently naturalized, which gives her a different perspective and a bigger respect for America."*
Naked on a Bearskin
During presidential campaigns, wives are supposed to be a "secret weapon" for the candidate, explains Anita McBride, former chief of staff to Laura Bush. "Laura, for example, made a lot of trips to small towns to promote her husband. And Michelle Obama in 2012 was very popular."* Previously, it has been Ivanka, Trump's daughter, who played the role of adviser and followed him everywhere. Will we now see more of Melania? It is uncertain. Aside from the fact that she does not like the spotlight, her husband perhaps prefers her on the sidelines, for fear that she might frighten away conservative voters. Melania is his third wife and has already posed undressed for pictures, which Ted Cruz helpfully reminded everybody of during the primaries. He released a photo dating back to 2000 published in GQ, where she was naked on a bearskin, with the caption: "Meet Melania Trump, Your Next First Lady."
The latest catastrophe occurred as Melania Trump had barely left the podium on Monday night, and the media remarked that part of her speech strangely resembled one made by Michelle Obama in 2008 and cried plagiarism.
The beginning of the convention has undoubtedly turned into a nightmare. The newspaper Politico ran the headline "Trump's Disastrous Day One," detailing the amateurish aspects of the show, the terrifying tone of speakers who all painted an apocalyptic portrait of America, and, above all, the chaos. A few hours after Melania's speech, anti-Trump delegates made a last-ditch attempt to try to change the rules and block his nomination, but it was in vain. This does, however, lead to a free-for-all, which shows a political party far from being reconciled. Even if the anti-Trump group has lost, its rancor remains. "I would have at least liked for the party I represent to treat me in a fair way and listen to my voice, even though things had already been decided. I am very frustrated," stated Brita Horn, Colorado delegate.* No doubt Donald Trump feels the same.
*Editor's note: Although accurately translated, these quoted remarks could not be independently verified.