Time To Work toward a Nuclear-Free World
The road to peace may be long, but we need to work together with the survivors to realize a world without nuclear weapons, a world without war.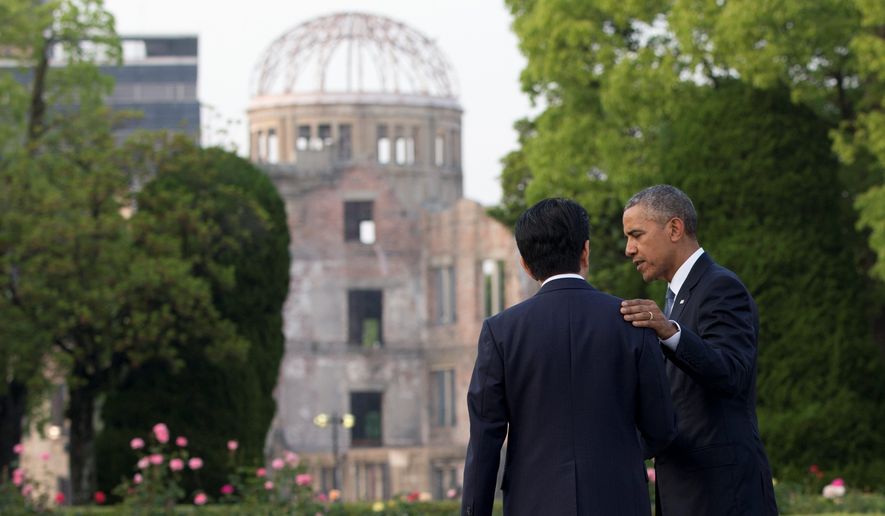 We here mark the passage of 71 years since the cities of Hiroshima and Nagasaki turned to scorched earth in an instant. This year, President Obama paid a visit to Hiroshima, the first incumbent U.S. president to ever do so. In their speeches at the anniversary ceremonies, the mayors of both cities praised the visit, and called on the heads of other nuclear nations to follow suit.
To achieve a nuclear-free world, it is crucial, as a first step, for heads of state to visit Japan, the only country in the whole wide world to ever have seen and felt their infernal atrocities. It is important that they feel their horror with their own eyes, as well as through increasingly scarce first-hand accounts. Let Mr. Obama's visit be the first in a series of many strides on our road to a peaceful world.
In his peace declaration, Hiroshima Mayor Kazumi Matsui mentioned "passion" and "solidarity" as guiding principles in our effort to do away with nuclear weapons, and asked the world leaders to help establish a security framework that is based on trust and dialogue. Meanwhile, Nagasaki Mayor Tomihisa Taue went further, demanding the codification of the three non-nuclear principles and deliberation of a non-nuclear zone in Northeast Asia. Both mayors repudiated the deterrent effect of A-bombs, stressing the importance of leadership by the U.S. and Japan.
Mr. Obama is reportedly working on his speech pledging to renounce preemptive use of nuclear weapons and on a U.N. Security Council resolution calling for a ban of explosive nuclear experiments.
With only less than six months left in [Obama's] final term of office, some cynics view it as his attempt to create a legacy; yet his courage to dramatically shift the U.S. nuclear policy deserves much praise. Not least, the renunciation of preemptive bombings, which would likely lead to a diminished role for nuclear weapons, has a lot of untapped potential, in terms of stemming the tide of nuclear proliferation at a faster rate.
Alas, it is Japan that is not quite ready. Japan fears the weakening of the nuclear umbrella. The opposing voices in the government are loud. A bilateral meeting is being scheduled with the U.S. But the nuclear umbrella is an unnecessary relic from the Cold War era. It is our part as the only victim in the world to map out a process of denuclearization in tandem with the U.S.
What is worrisome is that there are fewer and fewer survivors to recount their experiences. The Ministry of Health, Labor, and Welfare had the number of Atomic Bomb Survivor's Certificate holders at about 170,000 as of March 2016, the average age between 80 and 86. This also holds true of Okinawa, the only place to have experienced on-the-ground fighting. Many civilians died. The road to peace may be long, but we need to work together with the survivors to realize a world without nuclear weapons, a world without war.