40 Days in Prison for Traveling to Palmyra
An architect from Navarra, Spain, was detained and imprisoned in the United States for having visited Lebanon and Syria. He was deported to Spain without explanation.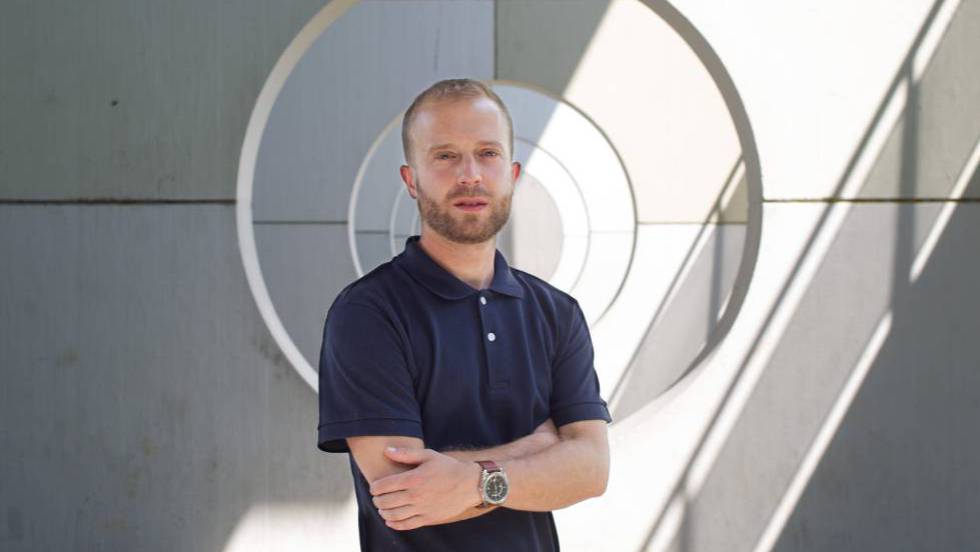 The first Spanish victim of the hardened immigration policies in Donald Trump's United States is the 32-year-old architect, Leandro Pérez Cadarso. Pérez was detained at the Tijuana border, allegedly for having travelled to Syria six years prior. He was not charged with a crime or given an explanation. His feet, hands and waist were chained. He suffered humiliating treatment and spent 40 days in penitentiaries in San Diego and Calexico. Then he was deported, arriving in Madrid 10 days ago.
Leandro is also a victim of Spain's lagging economy. He emigrated to Mexico four years ago because he was unable to find work in Spain, but he always assumed he would return to Spain when he could. Thousands of college educated professionals his age have done the same thing, but Leandro is the only one who has suffered this additional nightmare, this horrible injustice that he described to El País. Leandro felt it was his duty to recount what happened.
"There were some truly horrible moments," said the architect. They put him in an orange jumpsuit and sandals, reminiscent of Guantanamo prisoners, and throughout his 40 days in captivity, Leandro never knew why he had been detained. "I couldn't understand it. I had done nothing wrong. I hadn't done anything illegal, and nobody explained anything to me. Eventually I started thinking the worst, that there was a criminal with the same name as me, or that someone had put drugs in my backpack." Leandro cannot return to the United States for five years.
Blonde, blue eyed and a university graduate, he stood out from the other detainees of Central American, African, Indian, and Chinese descent with whom he was imprisoned. Usually, migrant detainees arrive in a situation like this because of illiteracy or criminal behavior. Until the other detainees spoke with Leandro, they observed him with curiosity and suspicion. He seemed out of place: what was this young white man doing here?
It all began just after 10 a.m. on April 23 of this year, after his Viva Aerobus flight from Mexico City landed in Tijuana. Pérez had decided to travel to San Diego because he wanted to visit the Salk Institute for Biological Studies, designed by one of his favorite architects, Louis Kahn (1901-1974).
When his turn came at customs in San Diego, the US city bordering Tijuana, Pérez spoke with the immigration officer who was checking passports. Pérez never imagined that his sincerity and good faith would cause him so many problems. First, Leandro informed the agent that he had a visa that was still valid from his last trip to Los Angeles. He added that, since he had just renewed his Spanish passport, he had also sent an online request for a new visa, just in case he needed it to match his new passport. But, he told them, his online request had been denied. On the form that Pérez filled out to enter into the U.S., he had marked the box indicating that he had travelled to Syria, among other countries. Was this experience to be indicative of a system error, or the beginning of the Trump era? Sadly, it was the latter.
The customs agent typed in Leandro Pérez's information, and the nightmare began. "He gave me an odd look and asked me to enter a room. He didn't speak Spanish, so in English, I asked him what was the problem." Then, two police officers ordered Pérez to face the wall. They grabbed his arms and handcuffed him behind his back. Here were civil servants with a free license to humiliate. "I was in shock," Leandro recalls. "I told them that I hadn't done anything wrong, and that if they couldn't let me into the United States, could they just let me return to Mexico." The officials interrupted with a harsh answer, saying, "This is no time for questions." Pérez was put into a van, where his ankles were chained to the floor of the vehicle.
Thus began Leandro's awful journey, first to a police station and then to a fenced detention center in San Diego. An innocent man, Leandro spent three days and three sleepless nights in a cell that measured 65 square feet, and that he shared with 30 other men. At the time, Leandro had a bachelor's degree in architecture from the University of Navarra. (Now in Spain, he is working toward a Master of Business Administration degree. He hopes to use his experience working at architecture firms in Mexico as a springboard to finding work as an architect in Spain.)
"I kept asking what was the problem, but they wouldn't respond," Pérez explains. They gave Pérez a thermal blanket. The detention center is known as "the freezer" because the air conditioning is always blowing at full blast. The lights in the center are never turned off, so Leandro could never tell if it was night or day. It seems he was detained because of his trip to Syria, which had likely been investigated by the CIA before his deportation to Spain was approved on June 1st.
A Visit to Palmyra
In 2011, Leandro's parents were already retired. His mother had been a literature professor and his father the chair of a biology department. They gave their son a graduation gift of a trip to a destination of his choice. Leandro chose Syria because of the Roman ruins in Palmyra and because "it is a very interesting place." Along with his sister, parents, and an aunt, Leandro visited Syria and Lebanon from April 21 – May 1, 2011. The trip was smooth, and they fully enjoyed it, as evidenced by the many photos they took. "My parents would have cancelled the trip if they had considered it dangerous," Leandro says.
Pérez was allowed to call his family and his girlfriend on April 23, 2017. His father told the Spanish consulate in Los Angeles about Leandro's situation, but the only help it offered was to listen to Leandro's difficulties and questions over the phone. The Spanish representatives in Los Angeles claimed they could not act pursuant to force majeure and excused themselves because Perez was detained for immigration reasons and not because of a criminal offence, never visiting him. But such negligence need not have happened. In a similar case, a French backpacker who had travelled to Iran was detained by immigration authorities in the United States. In that case, members of the French consulate did in fact visit the victim, encouraging him and keeping him informed about his situation.
Perez, prisoner No. 2,202, was jailed there until his deportation.
But Pérez never lost his composure. He was able to adapt to the circumstances. He helped other inmates fill out forms and paperwork in English.
And not once did U.S. immigration officials ever refer to Syria.
*Editor's note: Force majeure is defined as: "A condition permitting a company to depart from the strict terms of a contract because of an event or effect that cannot be reasonable controlled."