America Is Losing Allies in Syria
If the Americans were to lose the Kurds, they'd have to start all over again.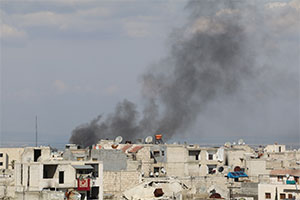 At the current stage of the war, Moscow is beating Washington
The war in Syria isn't simply far from over. There's a danger it will spill over into Lebanon.
Israel, which had previously limited itself to air and special forces operations in Syria, has stated its readiness to launch a full-scale war against Iran and its allies (both Damascus and Moscow). An Israeli ground offensive would target Quneitra and Lebanon, where Shiite and Alawite paramilitary groups, including the ragtag, pro-Iranian militia Hezbollah and Damascus' armed forces, are Jerusalem's enemies.
Of course, Israel wouldn't be able to launch a full-scale war against Iran, if for no other reason than that they don't share a border. Moreover, it's unclear how Jerusalem would take into consideration Moscow's military presence in the region. So the aggressive rhetoric of Israel's leaders notwithstanding, the Israel Defense Forces won't expand their ground operations beyond Quneitra and Lebanon under any circumstances. Naturally, Jerusalem would only take that step with Washington's support and Moscow's tacit consent.
Although Ankara hasn't been able to carry out its "Operation Olive Branch" as a blitzkrieg, the operation is progressing nonetheless. Afrin's defenders are steadily losing ground. Turkey plans to seize this Syrian canton in May and then, perhaps, launch an assault on Manbij. Washington will either have to turn its back on its Kurdish militia ally (the YPG) or go to war with a NATO ally. The U.S. command's notice about its withdrawal of support for the Kurdish formations leaving the provinces of Deir ez-Zor and al-Hasakah had no effect.
At the moment, there's an outflow of Kurdish militia from the eastern and southeastern regions of Syria into Afrin, and Washington is in no position to stop the flood of troops. Because of this, Iraq's volunteer Shiite forces, which are, in essence, part of the Iraqi government's army, are actively being introduced into the fight. Their artillery is supporting the actions of the Syrian opposition's pro-American formations against the Islamic State (The Islamic State is a terrorist organization that is banned in Russia) in the border areas in the east of the Syrian province of al-Hasakah. But the Iraqi Shiite militia, despite the fact that it's now acting in the interests of the coalition, is an ally of Damascus. Moreover, the militia has close ties to Iran's Islamic Revolutionary Guard Corps.
By the time Turkish troops launch an offensive against Manbij, not a single Kurd will be left in southeastern Syria, where numerous Islamic State group formations are still active. The U.S. will either have to suspend its ground-based military operations in the region, limiting itself to ineffective airstrikes and ceding territory to Islamic State group formations, or use Iraq's Shiite army. In either case, Washington will lose the oil-and-gas-rich left bank of Syria. It looks like these territories will soon be a topic for negotiations with Moscow.
Damascus has sent volunteers to Afrin. One could say that a Syrian-Turkish war has already begun, but its transition to an active phase depends entirely on Moscow. Apparently, Damascus has now been ordered not to concern itself with Afrin but rather solving the problem in eastern Ghouta, where the Arab army is finishing off Washington's allies from the moderate opposition. At the same time, Damascus has noticeably eased the pressure on the provinces of Idlib, Aleppo and Deir ez-Zor. Russia seems to be satisfied with the prospect of a military confrontation between the U.S. and Turkey, and for its sake may sacrifice Syria's northern regions.
Washington is losing allies in the region. For example, there aren't very many moderates left. If the Americans were to lose the Kurds, they'd have to start all over again. Nothing is known about the agreements between Ankara and Moscow regarding the Kurds, but by the look of things, there's an agreement on zones (that formally aren't torn away from Syria) where Turkish troops will be in control.