Rusty Sanctions
[I]f Moscow introduces mirror-like measures, then U.S. industrialists will also have a difficult time.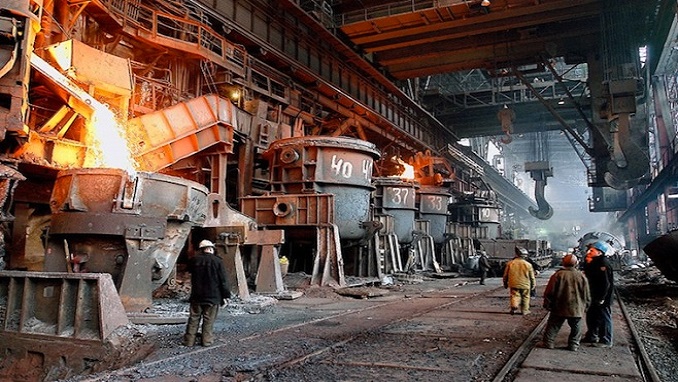 Industrial analyst Leonid Khazanov explains how the implementation of protective duties by the U.S. will turn into revenue growth for Russian steelmakers.
The latest unfriendly act of the United States became known in late March. However, unlike all the previous problematic situations, which mostly affected energy and foreign policy issues, this time it came down to the steel industry. The Ministry of Industry and Trade of the Russian Federation promised to prepare a list of measures aimed at restricting imports of American goods to Russia in response to Donald Trump's duties on steel and aluminum.
Technically, the United States' intentions are understandable. From 2003 up to 2017, steelmaking production in the U.S. decreased by 13 percent, while aluminum smelting slowed by 50 percent. As a result, last year, about 740,000 tons of primary aluminum and 4 million tons of secondary aluminum were produced in the United States, in comparison with 6 million tons of imported aluminum and its semi-finished products. The steel situation is in a pretty similar condition: In 2017, about 82 million tons of steel were smelted against 30-35 million tons of imported steel.
At the same time, it seems that the United States administration does not comprehend the situation in the U.S. steel industry: Businesses will not be able to fully satisfy domestic consumption in the country immediately or even in the long run. Businesses whose activities were suspended in previous years were either scrapped or preserved, and the implementation of their quick restart is not an easy task. The process of loading up to full utilization capacity can take up to two years; however, this still will not be enough to satisfy the demand.
Russia's share in the import of both steel and aluminum in the U.S. is nonthreatening. Only in the 1990s could deliveries from Russia to the U.S. be called "bulk deliveries." The planned economy, which provided a state order for domestic metallurgical businesses, collapsed — but even then for us the priority market, due to geographical proximity, was Europe and the countries of Asia, not the United States. Currently, the share in the U.S. market, in terms of sales, of the only primary aluminum producer in our country — United Company RUSAL — is estimated at only 10 percent, and if necessary it will undoubtedly be able to redirect supplies in other areas. The situation with supplies from Severstal and Evraz is similar — the first provides up to 300,000-340,000 tons of rolled metal per year, while the second — 400,000-500,000 tons of slabs (semi-finished rolled products).*
Moreover, they can even earn money on the imposition of these tariffs. In the 2000s, Russian steelmakers began to acquire businesses in the United States; some of them had successful businesses, particularly Novolipetsk Steel and TMK.** U.S. market prices will rise due to the decline in imports, which will increase the profitability of sales of Russian metallurgical companies. Thus, the tariffs will actually be paid by local consumers.
However, a slightly more complicated situation may occur with NLMK Group, which sends 1.5 million to 1.6 million tons of slabs to the U.S. These slabs are needed for its rolling facilities in the United States (NLMK Indiana and NLMK Pennsylvania), and NLMK Group has already asked to cancel its duties. If its request is not satisfied, NLMK Group will have to ship the slabs to the U.S. at a price that takes the tariff into account, or look for local suppliers, which will take time.
Overall, our steelmakers are used to working under severely competitive conditions in the global market and against massive trade barriers in individual countries. Russia is not going to suffer from the implementation of these protective tariffs; this will mostly affect Chinese factories — they actually flooded the American market with their cheap products. Trump's decision to impose protective tariffs caused a sharp reaction in the "Celestial Empire" given the significant share of Chinese metal in the structure of imports in the U.S. China promised to adopt "mirror-like" measures in response to that.
American consumers will have a bad time too. And if Moscow introduces such mirror measures then U.S. industrialists will also have a difficult time. Various types of equipment, machinery, tools, plastics, chemicals, products of plant and animal origin and pharmaceutical products dominate U.S. exports to Russia. In this case, they could suffer the same losses as farmers in the European Union suffered after the EU imposed sanctions against Russia.
*Translator's note: United Company RUSAL is the world's second largest aluminum company by primary production output (as of 2016). UC RUSAL accounts for almost 9 percent of the world's primary aluminum output and 9 percent of the world's alumina production. Severstal is a Russian company mainly operating in the steel and mining industry. Severstal is listed on the Moscow Exchange and LSE and is the largest steel company in Russia. EVRAZ plc is a multinational vertically integrated steel making and mining company headquartered in London, United Kingdom. It has operations mainly in Russia, but also in Ukraine, Kazakhstan, Italy, Czech Republic, the United States, Canada and South Africa.
**Translator's note: Novolipetsk Steel, or NLMK, is one of the four largest steel companies in Russia. TMK is a leading global manufacturer and supplier of steel pipes for the oil and gas industry, operating 28 production sites in the United States, Russia, Canada, Romania, Oman, UAE, and Kazakhstan and two R&D centers in Russia and the United States; headquarters – Moscow (Russia), Houston (USA).