No, This Doesn't Break His Heart
Donald Trump wants his wall, at any cost. We know this. Now we realize that he is ready to sell his soul to obtain it.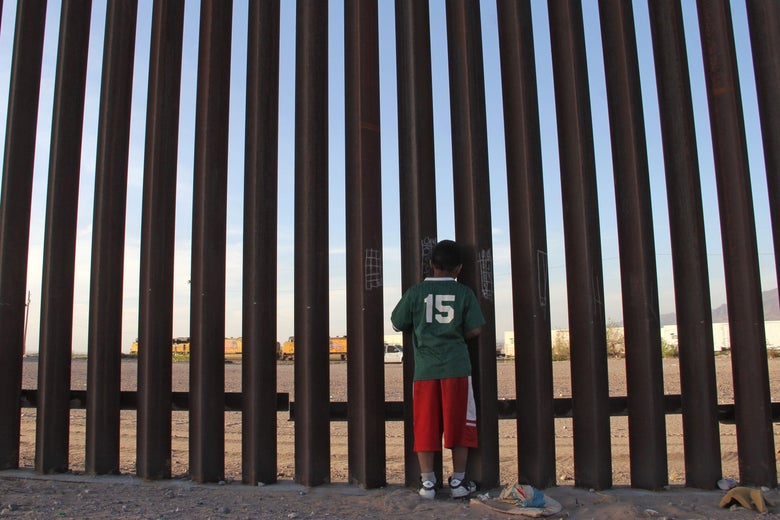 "Indignation is at its height facing what is turning out to be one of the cruelest decisions made by the Trump administration thus far," explains Alexandre Sirois.
Last week on Twitter, former CIA director Michael Hayden published a photo of Auschwitz concentration camp. "Other governments have separated mothers and children," he wrote. He was, of course, comparing the Trump administration's controversial policy to the methods of Nazi Germany.
This hostile reaction was extremely insensitive. But it shows how indignation is at its height as it faces what is turning out to be one of the cruelest decisions made by the Trump administration thus far.
Even former first lady Laura Bush has stepped outside her self-imposed reserve to denounce the current president. "I appreciate the need to enforce and protect our international boundaries, but this zero-tolerance policy is cruel. It is immoral. And it breaks my heart," she wrote. Her letter was published by The Washington Post. It hasn't, of course, gone unnoticed.
Melania Trump has also spoken out on the controversial issue. "Mrs. Trump hates to see children separated from their families and hopes both sides of the aisle can finally come together to achieve successful immigration reform," said her spokeswoman, Stephanie Grisham.
Donald Trump is convinced that he must reduce the number of immigrants entering the United States, especially those who illegally cross the border. And he still dreams of building "a great, great wall on [the] southern border" of his country.
Which is where this Machiavellian plan, which he seems to think will allow him to achieve two goals, came from.
First, the Trump administration wants to have a dissuasive effect on immigration. It thinks that by separating parents from their children each time a family crosses the border, some potential immigrants will give up on entering the United States.
Second, the White House wants to impose its ideas about immigration on Democratic members of Congress. The White House seems convinced that by presenting a policy that they find intolerable, it will be easier, for example, to persuade them to free up $25 billion to build a border wall.
According to this logic, if Congress approves one of the two legislative proposals regarding immigration currently under review, parents and their children will no longer be separated at the border.
Trump wants his wall, at any cost. We know this. Now we realize that he is ready to sell his soul to obtain it.
This Machiavellian plan isn't new. The Trump administration made the zero-tolerance policy official in April. Yesterday we learned that in May and June, 2,342 minors were separated from their parents in the space of five weeks. We're talking about, on average, 66 children per day.
Separating children from their parents is inhumane. Detaining children, for that matter, is deplorable. But on top of that, from what we see and hear these days, the methods put into place are damning.
We're talking about detention centers where children, many of them, find themselves in what many consider to be cages. According to several photos, they sleep on mattresses on the ground, one right next to another. And, from what Colleen Kraft, president of the American Academy of Pediatrics, has reported, there is no physical contact allowed between these children and adults. It is forbidden, in short, to console them. And their parents are not there to reassure them.
"The really basic, foundational needs of having trust in adults as a young child was not being met. That contradicts everything we know that the kids need to build their health," Dr. Kraft revealed to The Washington Post after having visited one of the centers.
None of this seems to touch the American president in the least. He places the blame on the backs of the Democrats, but that's a lie.
A simple decision on his part could put an end to this nightmare, though this doesn't seem to be on the verge of happening. On the contrary, yesterday Secretary of Homeland Security Kirstjen Nielsen, resolutely defended the administration's position. "We will not apologize for doing our job," she said.
If this terrible policy breaks the hearts of Laura Bush and a great many Americans, it apparently doesn't break Trump's.