Trump Is Afraid of the Female Politicians
A large part of the strategy appears to consist of racial polarization.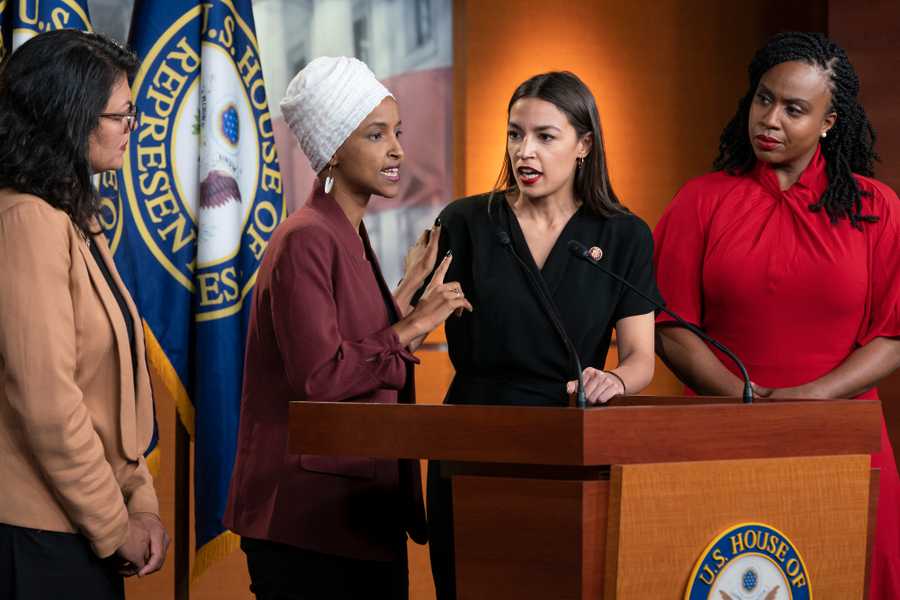 Behind the racist attacks, there is a real conflict.
The U.S. president is in the middle of another media storm. Over the last week, Donald Trump has attacked four new members of Congress – Alexandria Ocasio-Cortez, Rashida Tlaib, Ilhan Omar and Ayanna Pressley. Trump tweeted on Sunday that the four women should "go back" to the "totally broken and crime infested places from which they came." Since then, the president has added that the four women are communists, hate Israel and hate the U.S.
Trump being more interested in personal attacks on Twitter than in talking politics is hardly news. The president is in full campaign preparation mode for the 2020 election. A large part of the strategy appears to consist of racial polarization, calling all progressive politicians anti-Semites and attacking women.
However, the four politicians Trump has attacked this time are not just any women.
Members of Congress Make History
Ocasio-Cortez, Tlaib, Omar and Pressley are all in their first year as members of Congress. They have made history just by getting there: Tlaib and Omar are the first Muslim women in Congress. In addition, Omar is the first woman in this post to wear a hijab and the first with a background as a refugee. Ocasio-Cortez is 29 years old and thereby the youngest member of Congress ever. Pressley is the first black woman elected to represent Massachusetts.
These four are progressive politicians pulling the Democrats to the left. They have been campaigning for free health care for all, writing off student loan debt and a radical new approach to climate policy. They want to raise marginal taxes for America's richest citizens to 70%. They are currently at 37%.
Trump Is Avoiding Politics
Trump responds by calling the four women communists and telling them to "go home."
It is obvious that he doesn't want to talk about politics. This could have something to do with Ocasio-Cortez, Tlaib, Omar and Pressley having public opinion on their side. A large portion of the American people is receptive to their progressive proposals.
All this boils down to a clear conflict. Trump's policies are meant to split the working class – to turn white workers against minorities and immigrants. The four politicians he is attacking are doing all they can to unite them.
There is probably nothing that a power-hungry businessman fears more than this.