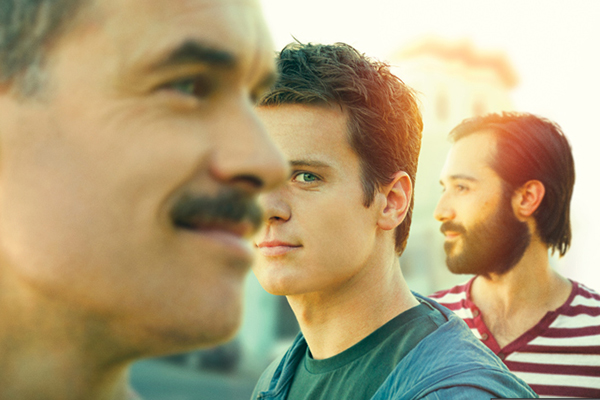 The HBO series "Looking," which premiered on Super Screen on Friday, has repeatedly been described as the new "Girls" set in a gay world. The hype also rumbled about this being "Sex and the City" focused on a trio of homosexual friends climbing — and mainly tumbling down — the hills of love in the San Francisco Bay Area.
This is all more or less true. But first, let us immediately rip off the other label — hipster — that has been stuck to the dramedy. Nobody in this American series ironically (or post-post-ironically?) wears iron-rimmed glasses invented by their great-grandmother. Nor does anyone dress "normcore," the absolutely ridiculous clothing trend of dressing like a tourist from the Midwest or a retired golfer in Pompano.
"Looking" depicts less stereotypical characters than "Queer as Folk." There is the celibate Patrick (Jonathan Groff from "Glee"), the rather naïve and very preppy video game designer from the East Coast. Agustin (Frankie J. Alvarez) is a less-than-ambitious Cuban artist, who isn't flamboyant and is in a long-term relationship. And then there's the heartthrob Dom (Murray Bartlett), the long-time restaurant waiter who will soon turn 40.
In comparison, "Girls" is much cruder and more abrasive than "Looking." The creator of "Girls," Lena Dunham, has invented four dissimilar, egocentric and almost unbearable friends. In "Looking," the three protagonists are more charming, and even likable.
We immediately understand why these three guys have been friends for so long, while "Girls" redefines the concept of unhealthy and twisted friendships, which are beyond understanding.
Unlike "Looking," where the mood is happier and less hyperrealist, there is also a sad and tragic side to "Girls." And where Shoshanna, Marnie, Jessa and Hannah lack self-mockery, Patrick, Agustin and Dom have plenty for all of California.
The problem with "Looking" is that the storylines unfold very slowly. I almost gave up after two episodes, but I'm part of a category of overly-intense viewers who, at the price of their mental or eye health, put up with the most boring things just to see how they will end.
Fortunately, I persisted, because "Looking" returns nicely mid-term. The dialogue could have been spicier and the subjects more daring. It still remains good quality entertainment. And as the first season only comprises eight 30-minute episodes, it won't take up too much of your (precious) time.
The good thing about "Looking" is that Patrick, Dom and Agustin's sexual orientation is not an issue in itself. These men like other men, period, and we follow their love lives as we did with Charlotte, Samantha, Carrie and Miranda in New York.
There are certainly some things wrong with "Looking," like the almost complete absence of women in our three heroes' world. The only important female character, Doris (Lauren Weedman), Dom's roommate and best friend, is therefore the most interesting person in the entire cast. With her big heart and sharp tongue, Doris steals the show in all of her scenes, to such an extent that the creator of "Looking" has promoted her from a recurring cast member to a series regular for the second season.
And the sex scenes? Realistic, but there are fewer than in "Girls," where Lena Dunham voluntarily puts herself in the worst positions.
Speaking of "Girls," the third season of this black comedy, which is frankly better than the second, was broadcast on Super Screen last week. The black clouds slightly clear up over Brooklyn; Hannah even miraculously loses her nervous tics.
In season three of "Girls," you will discover someone even more unlikable than Hannah: Caroline (Gaby Hoffmann), Adam's sister. She is delightfully irritating, and perhaps even more selfish than Hannah. Yes, dear readers, it is possible.
About this publication
---