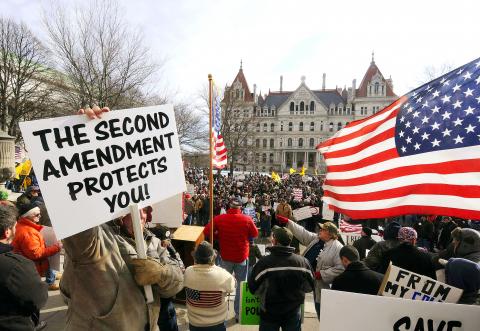 The U.S. capital is living through violent times which were thought to have long passed. In the middle of Pope Francis's visit to Washington, people having a quiet dinner on the terrace of the latest trendy spot — namely, Provision 14 — were suddenly running for shelter, having realized that the muffled explosions they were hearing were gunshots, and not exhaust pipes in bad condition.
On that day, Sept. 22, the 116th murder of the year was committed in the capital of the most powerful country on the planet. The number increased by four the following week. For this date, that is an increase of 50 percent over last year.
Objectively, and considering that when Bill Clinton was re-elected in 1996 the number of homicides was only three short of 400, the numbers don't seem that far out of line. But through two decades of falling murder rates, the increase in crime has been a source of much worry for the authorities and for Washington residents.
That the days of wine and roses are under threat is attested by The Washington Post, which offered a comparison to the movies: "We probably have more gunfights on our streets than occurred in Tombstone and Deadwood combined," Tombstone and Deadwood being the two most famous cities of the Far – and Wild – West.
Just as in the Wild West, where the famous stagecoaches would avoid certain stops and certain areas, so that the passengers wouldn't fall into the hands of the outlaws, so too, at the end of August, the bus line that goes by Elvans Road stopped running in the face of increasing gun violence.
Among the reasons cited by Police Chief Kathy Lanier to explain the increase in crime are the proliferation of guns, drugs and domestic violence.
But people who don't want to be reassured won't be, whatever the facts are. The data from Washington seems modest in comparison to Baltimore, a nearby city with about the same population. Today, Baltimore, the city that was the setting for "The Wire," has a total of 257 murders for the year to date. And to this could be added the sensational headline, applicable to both Baltimore and Washington: "And increasing."
About this publication
---