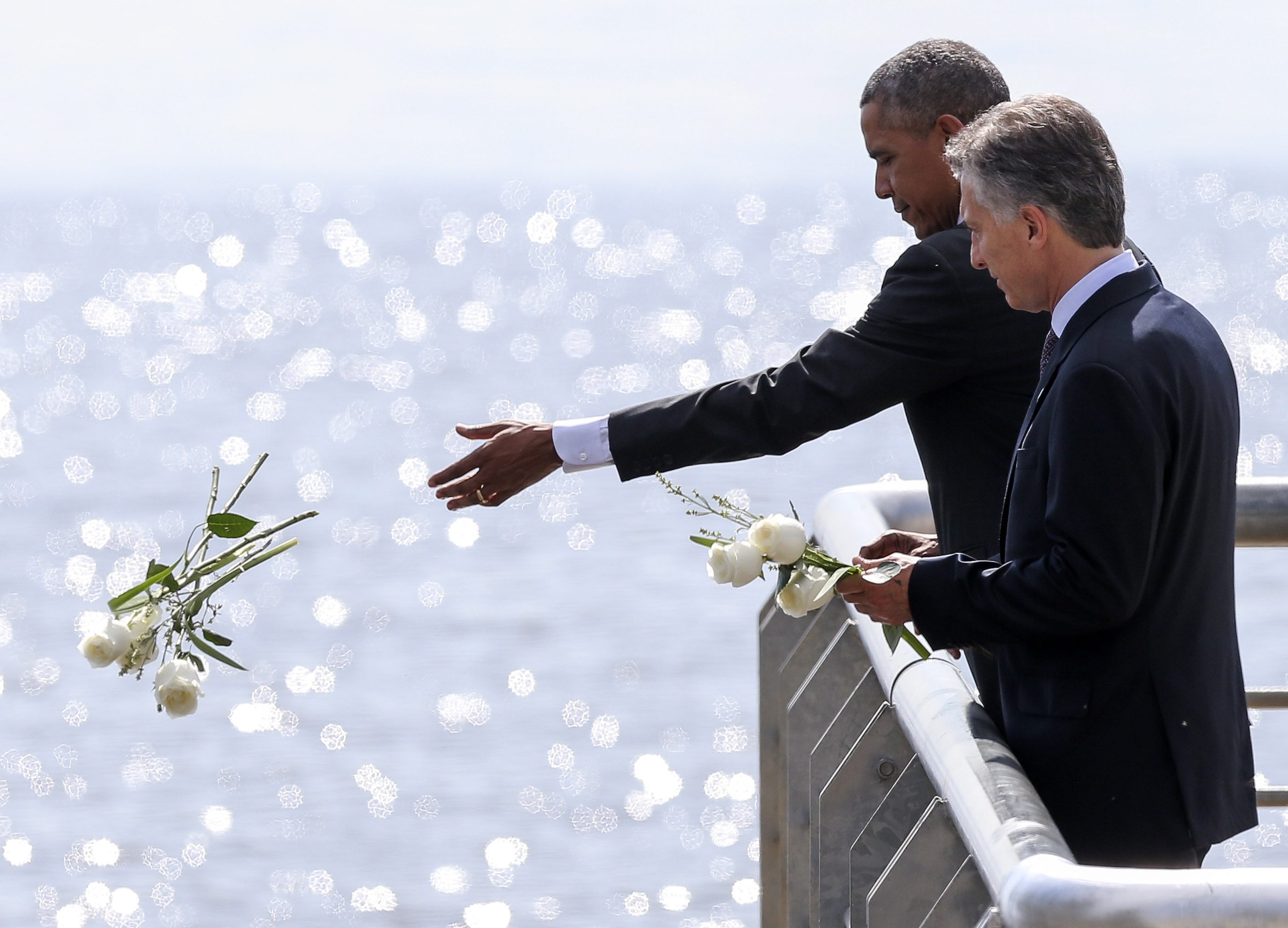 The U.S. president sends out a message of support for Macri.
The president of the United States, Barack Obama, has chosen Argentina, on the exact day marking the 40th anniversary of the beginning of one of the cruelest Latin American dictatorships, to break with his country's shadowy past and its ties to those infamous military coups. Obama didn't go as far as the victims would have liked, he didn't ask forgiveness for Henry Kissinger's activities, the School of the Americas and Operation Condor, but he did acknowledge "a debt to the past." He is looking for a reconciliation between the United States and Latin America in a relationship in which the role of U.S. interventionism has remained very controversial.
It's a good time for self-criticism, but it will have to be more convincing if it is going to break down the distrust and old suspicions of the victims of those dictatorships. The fact that Estela de Carlotto, leader of the Grandmothers of the Plaza de Mayo, was not present at Obama's event shows that there is still a long way to go.* The step that Obama has taken is nonetheless charged with meaning, and will start to carry more weight, at least in the Southern Cone, when the process of opening up the military archives from that period begins, and a clearer picture of the important details of all that happened can then begin to emerge. "Democracies have to have the courage to acknowledge when we don't live up to the ideals that we stand for," he said at the Plaza de la Memoria.
The U.S. president sent forth a strong message of support for Mauricio Macri, a key new ally in the region. With this trip, the about-face that Argentina has made with respect to the old anti-Americanism has become clear. Macri must address very serious issues facing Argentines, above all inflation, affecting most those who have the least. This is his challenge at home. There's no doubt about the international backing coming from outside the country. Now, he has to learn how to take advantage of it.
* Editor's Note: The Grandmothers of the Plaza de Mayo is a human rights organization that strives to find children stolen or illegally adopted during the Argentine Dirty War.
About this publication
---