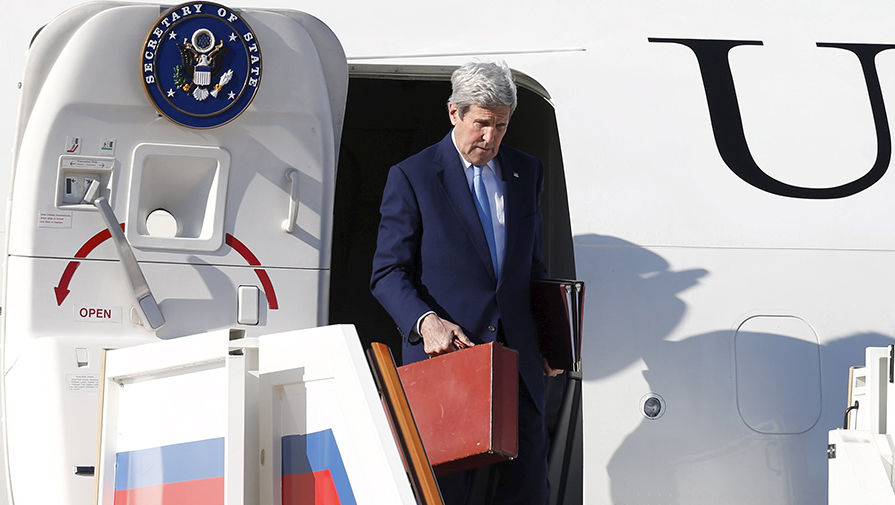 Will there be a long-awaited thaw in relations between Russia and the U.S. or not?
The visit to Moscow by the head of the U.S. State Department will go down in history no matter what, thanks to the mysterious red suitcase with which John Kerry came down the airplane steps. He promised to show the contents of the suitcase only to Putin. Whether this visit turns out to have a weightier historical significance will be revealed over the next few months that will conclude Barack Obama's presidency.
There appear to be "extenuating circumstances" for Kerry's visit to Moscow, in contrast to the U.S. head of diplomacy's meeting with Putin a year ago in Sochi. That context creates a chance, if not for an overall warming in relations, at least for the beginnings of what diplomats from these two counties call a "limited partnership."
This is certainly not a romantic "perezagruzka" [reset] like in Obama's first term.* But the good will of both countries allows for arbitrarily expanding the boundaries of the limited partnership.
For right now, it's important to make a start — at least like we did with Syria.
For Barack Obama, Nobel Peace Prize winner — an award he received as advance payment and which was accompanied by a train of scandalous and caustic comments — it is desirable to step down with foreign policy on a high note. His visits to Cuba and even Argentina, where U.S. presidents had not previously visited this century, have already contributed to reaching that note. But the pacification of Syria and at least an intermediate victory over the Islamic State (officially banned in Russia) would, of course, be immeasurably "cooler."
Although Putin, unlike Obama, is not going anywhere, clearly, he is also not against proving in deeds — rather than only in television images — that Russia is back in the narrow circle of world powers and ready to solve global problems. In retaliation for [the conflict in] Ukraine, Obama at one time honored Russia with the unpleasant little title of "regional power," which very much offended Moscow. Success in Syria, if it happens, will be a valid reason for Russia to speak of itself as a world power.
The conditions for canceling sanctions on Russia, which were publicly named by Kerry after negotiations in Moscow, are also noteworthy. The head of the U.S. State Department has declared the readiness of the U.S. administration to withdraw all sanctions on Russia in the event of an unconditional implementation of the Minsk agreements in Ukraine. That encouraged a lot of political experts to think that it [the U.S.] is ready to forgive Russia for [the conflict in] Crimea.
This is unlikely. There is a rather clear tendency in the U.S. administration, as well as in Europe, to divide the Crimea and Minsk agreements.
Of course, no one will forget about Crimea — this will be a problem for years to come, maybe even for decades.
U.S. sources remind us that the U.S. never recognized the acquisition of the Baltic states by the Soviet Union after World War II, or rather not until the very moment of their separation and the reverse acquisition of sovereignty in 1990. Therefore, Russia won't be forgiven for Crimea for a long time. But where the Minsk agreements are concerned, here the West is prepared to be more flexible.
Moreover, there is an important consensus on Syria — the country's unity is supported by all parties. If we rely on that statement (the disclaimer "if we rely on" is, unfortunately, a constant attribute for any interpretation of diplomats' statements), it almost certainly means that Russia and the U.S. are ready to become initiators for the transfer of authority in Syria. The country's division is not strategically beneficial either for Russia or for the United States because it would create a new set of long-term tensions in the already unstable Middle East.
According to common thinking, it is quite advantageous for Russia to exchange the Donbass for Crimea, instead of trying to keep Assad in power with the help of their [Russian] weapons and airplanes.
During negotiations, it is more logical to try to attain guarantees of compliance with our military and political interests by the next Syrian government. In fact, for beginning negotiations, preservation of Assad's regime was not the key to success for Russian military operations in Syria or furthering our relative cooperation with the United States.
It is not a coincidence that in an open part of the meeting with Kerry, for the first time in a long time and without a trace of irony, Putin praised his U.S. counterpart by saying that without the position of the Obama administration, and the U.S. president personally, we would not have a Syrian truce. Kerry has publicly and repeatedly stated Russia's contribution to the beginning of the negotiation process on Syria.
It seems that Russia would like a "happy-ending" scenario too. Maybe it does not show so clearly, but it is obvious that the depressing confrontation, combined with economic problems inside the country, have exhausted both Russian authorities and society in general.
Apparently, not only has Russian society requested something positive, the Kremlin has as well. They are people too; sometimes, they also want to be proud and glad, and to not always be fighting with someone in the literal or figurative sense.
Genuine human understanding between Kerry and Lavrov, which is important in talks of that rank, speaks in favor of a possible warming in U.S.-Russia relations. However, it is overshadowed by the absence of such understanding between Putin and Obama. Human contact is sometimes able to allay the sharp political differences.
Having said that, we should not delude ourselves about this "warming" just yet. The request for a happy ending may disappear due to various reasons — there was, and still is, no trust between the two countries. Minsk II in its current form cannot be fulfilled without Ukraine's concessions. And there is a political crisis in Ukraine, which could end with early elections and in any case will paralyze implementation of the Minsk agreements.
On the other hand, under Minsk II, Russia will have to give control of the border [within the conflict zone] to Ukraine and almost certainly dismantle the Luhansk People's Republic and Donetsk People's Republic.
As for right now, we can assert only one thing: If in the coming months, while the U.S. is still ruled by the Obama administration, serious progress isn't made in the Ukrainian crisis, then Nadiya Savchenko** won't be released to Ukraine, a real conclusion for the Mezhsiriyskie talks will not be reached, and Kerry's visit will only be remembered in history because of a mysterious red suitcase — a striking, but useless, accessory for the fate of the world and for Russia.
Or maybe, it really did contain a wonderful tool that can break the ice in relations between the two countries?
*Editor's note: In 2009, at the 45th Munich Conference on Security Policy, Vice President Joe Biden said he was paraphrasing President Obama and that the U.S. wanted to "press the reset button and to revisit … working together with Russia." The phrase gained additional notoriety when U.S. Secretary of State Hillary Clinton presented Russian Foreign Minister Sergei Lavrov with a large, gift-wrapped, red "reset" button that had the word incorrectly translated into Russian.
**Translator's note: Nadiya Savchenko is a Ukrainian politician and former army aviation pilot in the Ukrainian Ground Forces. She has been imprisoned in Russia on charges related to her actions while serving as first lieutenant during the 2014 war in Eastern Ukraine. In Ukraine, she has become the subject of a social media campaign portraying her as a national hero.
About this publication
---