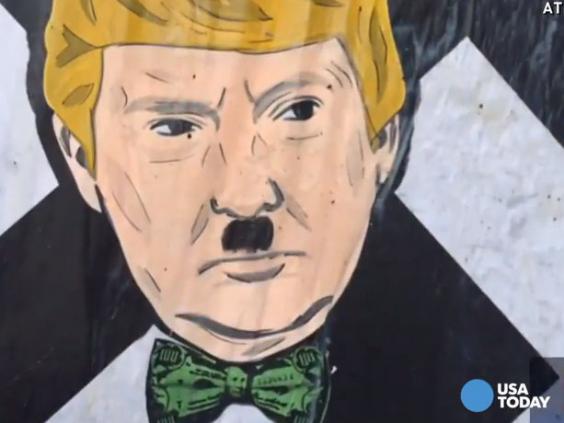 The measures Donald Trump has taken since his inauguration as president of the United States are raising concern not only in his country, but all over the globe. President Trump has implemented the extreme agenda that he proposed during his presidential campaign, including the construction of a wall on the Mexican border and the restriction of Muslim entry into the United States. As Trump puts forth ideas like "America First," xenophobia, protectionism, and rebuilding America, critics are calling him a clone of Adolf Hitler.
When he officially signed the executive order on Jan. 25 to build a wall on the U.S.-Mexico border, Trump claimed that "Mexico is going to pay for the wall." He also signed an immigration ban on Muslim nationals and refugees. Such arrangements are inspiring xenophobia and closing America's doors.
Other executive orders being processed are graver. The draft of an order on U.S. detention policy, titled "Detention and Interrogation of Enemy Combatants," includes plans to reopen the infamous CIA "black site" prisons and to cancel former President Barack Obama's intention to close the Guantanamo Bay detention center in Cuba. Trump claimed that when asked whether torture works, intelligence chiefs told him, "Yes, absolutely." He says "we have to fight fire with fire."
When President Trump talked about this agenda during his presidential campaign, the majority of the public thought that he was making campaign promises that he would not keep. But following his inauguration, the president has released a series of executive orders that, while legal and constitutional, are earning the disapproval of the citizens and the Congress. The way he is running the country is by violence, repressing or subjugating non-American nations and families. China now has to worry about negotiating its "One China" policy, and the European Union has to worry about disbanding NATO. South Korea also has to undergo a review of the U.S.-Korea Free Trade Agreement and consider paying more for the presence of the United States Forces Korea. These measures are not going to stop at local conflicts; they are going to escalate to international conflicts.
President Trump may think that his ways are not problematic because he was lawfully elected and his agenda abides by the law. Alluding to this, Pope Francis commented recently that "Hitler did not steal power. He was elected by his people and then he destroyed his people," and that people protect themselves with "walls and barbed wire so that others cannot take away their identity." The pope added, "Let's see. Let's see what he does and then we will evaluate." Citizens and governments all over the world probably feel the same way.
About this publication
---