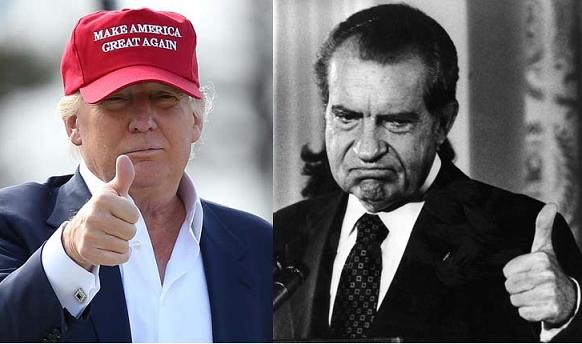 In firing the director of the FBI, Donald Trump awakens suspicions about his abuse of power and his will to bury the investigation of ties between his team and Moscow before the presidential election. Is an impartial investigation still possible? The nomination of a special prosecutor is becoming urgent.
With the abrupt dismissal of the director of the FBI, an institutional crisis remains a threat to the United States. Donald Trump has taken a serious stab at the democratic order. In summary, the president, under inquiry as part of an investigation about Moscow's interference in his election, fired the chief investigator. Put simply, no matter what the White House says about it, James Comey was dismissed because he led a sensitive investigation capable of taking down the president. It is difficult not to see this abuse of power.
This is very similar to the Saturday Night Massacre, which occurred on Oct. 20, 1973 in the middle of the Watergate affair. President Nixon had dismissed the independent prosecutor investigating the scandal, bringing in its wake the resignation of two high-ranking officials—a scandal that would end up destroying Richard Nixon.
Of course, Comey is not irreproachable. His image was dented by his dubious schemes during the campaign. The man was accused of having lowered Hillary Clinton's chances of being elected by reopening the investigation into the affair of her private emails only days before the big day. It was an act comparable to sabotage, according to Democrats, who called for his resignation. Today, however, the Democrats are the ones defending him, fearing that the Russian affair will fall flat. It is also striking to note that it was the attorney general who proposed his dismissal. This is the same Jeff Sessions who lied about his Russian contacts and had to recuse himself from the investigation.
By acting in this way, Trump has provoked a political upheaval that will leave its mark. He once again discredits intelligence and the judicial system, for which he continues to show his distrust. Before Comey, the interim attorney general and numerous prosecutors were dismissed. Above all, the president only reinforces suspicions about inappropriate ties with Moscow.
Can one still dream of an impartial investigation that would shed some light on the exact nature of the encounters between Trump's team and the Russians? Perhaps, but it's not likely. Today more than ever, the nomination of an independent prosecutor is necessary.
About this publication
---