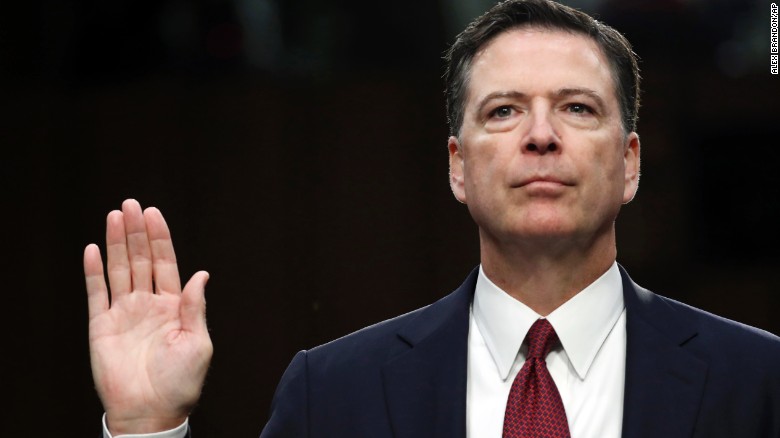 James Comey did not trust Donald Trump. The testimony of the former FBI director is yet another problem for the president, who could become isolated. However, the investigations are at an early stage, and many questions remain.
Comey knows what his role is and where the boundaries are; he has been around for a long time. He realizes the weight of the words when he calls comments from the White House and the president "pure lies" and "slander,"* and when he says, after a meeting in Trump Tower, he was so worried that the president would "lie" about the reason for the meeting that he documented it.
When Comey testified before the Senate Intelligence Committee, his first public appearance since he was fired as FBI director, it was an appearance with potentially serious consequences for Trump, at least in the long term.
Comey made it clear in his descriptions of the meetings with the president that in his view Trump came across as a person who doesn't respect his position. He explained why he felt pressured by Trump, and that it really affected him. The meetings, which took place over several weeks, were very different from the sparse contacts he had with the prior presidents he had worked for, George W. Bush and Barack Obama.
The level of trust Comey had in the president was so low that he made sure details about the meetings were leaked to the press.
However, whether it changes the minds of any Trump supporters, regardless of whether they are members of his staff and congressional Republicans, or voters, is doubtful.
The president watched the testimony from the White House in the company of, among others, his legal counsel, Marc Kasowitz, who afterward retaliated and claimed that the president never asked for the investigations into security chief Michael Flynn to be dropped and that he didn't demand Comey's loyalty.
It is word against word as Team Trump aims to undermine Comey's credibility. Whether Trump's behavior qualifies as obstruction of justice, with potential criminal proceedings, is yet unclear.
This is perhaps of less importance, as criminal proceedings are unlikely as of today.
However, Trump is already facing the risk of becoming isolated. This includes problems with recruitment, both of his own attorneys and for key federal posts. Christopher Wray, the nominee for the FBI director post, was hardly a first choice.
One detail unveiled during the Comey testimony concerned United States Attorney General Jeff Sessions, who declared a disqualifying interest in the Russia investigations. Comey said that the FBI knew that he would declare this interest before Sessions did so. The FBI's position is backed up by a number of pieces of evidence and knowledge, some of which are classified. Sessions was part of the Trump campaign from a very early stage, one of his few promoters with lengthy experience in working with Congress. Trump was reportedly annoyed by Sessions' decision to stay out of the investigation, and lately the friction has been so severe that Sessions has offered to resign.
Should it be proven that Sessions has had so far unknown and improper contacts with Russia, or if the conflict with the president should somehow get worse, this would be very damaging for Trump. This could also have consequences for the loyalty of other Republicans toward Trump.
However, it is important to remember that the investigations will go on for months and that the real authority and resources are not with the members of Congress, but with special counsel Robert Mueller, appointed after Comey's dismissal. (They know each other well.) We currently know little about how the work is progressing, but he has shown that he is willing for it to have a wide scope. It is also Mueller to whom Comey handed his notes about his contacts with Trump. The fundamental questions remain: What did Trump know about Russia's attempts to influence the American elections? What interests does Trump have, or did Trump have, or his close associates have, in establishing a closer relationship with Moscow?
It may be a long time before we have the answers.
*Editor's note: Comey's actual words were, "Those were lies, plain and simple," that "defame[d]" him and the FBI.
About this publication
---