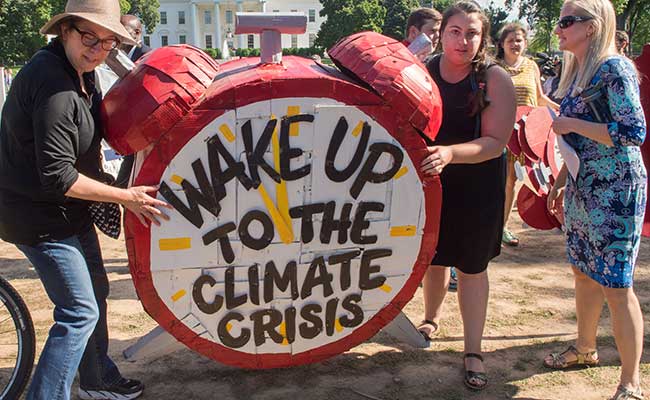 Environment ministers from the Group of Seven leading industrial nations met and adopted a joint statement to reaffirm that six of the nations, excluding America, would promote initiatives under the Paris climate agreement, the framework of countermeasures against global warming. The meeting took place over two days, from May 26-27. America withdrew from the Paris agreement and has made it clear it has no intention of changing its policy, which reveals once more a trend of disorder within the G-7.
America is the second highest producer of greenhouse gas emissions – for it to abandon its responsibilities is nothing short of selfish. If America is slow to adopt anti-global warming measures, it is likely we will soon feel the serious effects of climate change. To prevent stagnation in the international fight against climate change, the international community must unite to continue to convince America, continuing down the path of isolation, to change its mind.
This was the first opportunity for the environment ministers of G-7 nations to meet after Trump declared America would withdraw from the Paris agreement. America is still part of the United Nations Framework Convention on Climate Change, the agreement's parent treaty, which suggests it will promote the reduction of greenhouse gas emissions. However, Trump immediately returned home after the first day of talks, without expressing any sort of domestic policy on reducing emissions – an attitude that makes it difficult to believe America is serious about the issue.
America did not participate in the G-7 statement that endorsed the Paris agreement's goals; a statement from the U.S., saying it would promote countermeasures against global warming that agreed with its domestic policy, was no more than a footnote. America's plan to cease funding the Green Climate Fund – an organization that aids developing nations, who are more susceptible to climate change's effects – is another cause for concern.
The Paris agreement's goal is to prevent global atmospheric temperatures from rising more than 2 degrees Celsius (3.6 degrees Fahrenheit) above pre-Industrial Revolution temperatures. This number is considered the boundary line, marking if global warming damage, such as major floods, enormous typhoons, rising sea levels and food shortages, can be avoided. According to Climate Interactive, an American non-profit organization, if we analyze the amount that nations in the Paris agreement agreed on as a promised target for reduced emissions, America alone would account for 21 percent of worldwide emissions reduction by 2030. Without America's reductions, atmospheric temperatures could rise to 3.6 degrees Celsius, making the Paris agreement's goal of 2 degrees Celsius even more difficult. Hopefully, President Trump will open his eyes to the gravity of this responsibility.
This is not to say that all of America has turned its back on the Paris agreement – the governors of at least 10 states and the mayors of at least 83 cities have announced their support. Mayors, governors, university professors and corporations throughout America are preparing to propose their own plans to meet the goal of reducing emissions to the UN. Strengthening this kind of cooperation within America will also be important.
About this publication
---