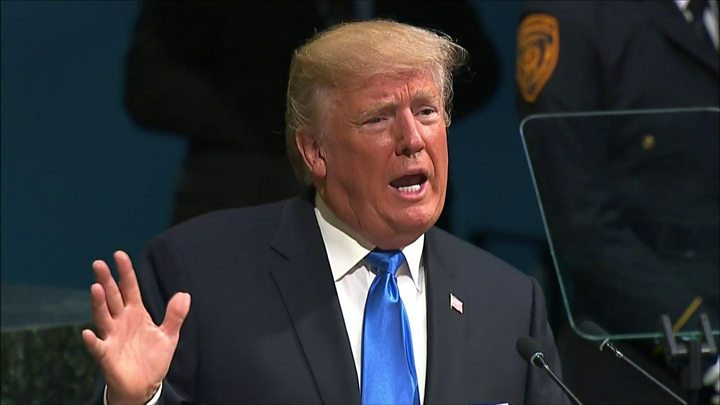 Spread the word: Donald Trump defends the "people" and the principle that governments all over the world have no other responsibility than to serve the interests of their own citizens as best as possible, to the exclusion of all other considerations. Everything else about Trump's political philosophy follows from this, which is why immigration, unless it is very tightly controlled, is essentially a problem that must be solved and something to beware of. And if North Korea deserves, in the worst case, to be "totally destroy[ed]," as the American president so eloquently put it, it's not only because Kim Jong Un and his nuclear weapons pose a threat to other nations, but also because they pose a threat to his own people. Astute analysis.
The annual General Assembly of the United Nations opened Tuesday morning on a depressing note in the presence of 130 heads of state and government.
Speaking after Brazilian President Michel Temer, who is under the shadow of a host of investigations into charges of corruption, Trump delivered a Manichaean and warmongering speech riddled with non sequiturs and contradictions, in which he presented an image of the world founded on "every man for himself" and the use of force—a very non-U.N. sentiment. He believed he was presenting himself as interested in the defense of patriotic values and pleading for the re-establishment of the "principle of sovereignty," as if this principle had been violated! Trump's fine with multilateralism, but not if it threatens his "America First" politics, of course …
The assembly's welcome of the president was polite but cold. Fortunately, Trump's view was not the only one presented. Antonio Guterres didn't miss the opportunity to confirm this by stating that "trust within and among countries is being driven down by those who demonize and divide." Emmanuel Macron didn't mince words either. Justin Trudeau will speak Thursday at the U.N. Let's hope he treads carefully, but without hesitating to state that the world's future doesn't rest on arguments for isolation and intimidation.
On the subject of North Korea, Trump continued to urge Pyongyang to give up its nuclear arms, even though it's become obvious that it will not and that it's urgent to open up a dialogue. Trump in turn denounced Iran, Cuba and Venezuela, all "rogue" states, without hesitating to praise Saudi Arabia for its contribution to the fight against terrorism. Not a single word in his intellectually shaky speech on global warming, a threat that represents a future at least as dystopian as the risk of nuclear explosion. This is proof that this climate skeptic is not defending the interests of the American people any more than Kim Jong Un is defending the interests of his citizens.
About this publication
---