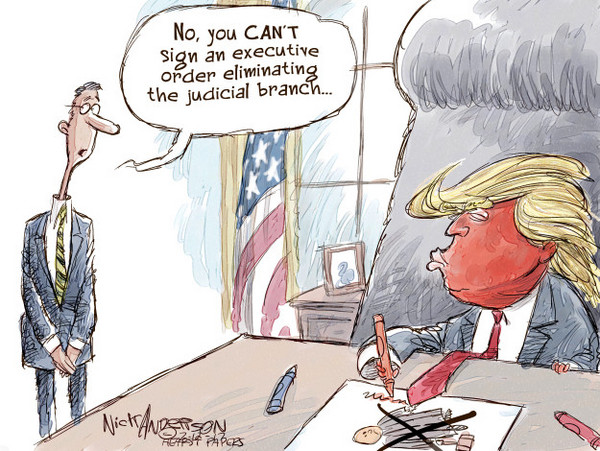 The unstable and impulsive leader is one again focusing on causing and stoking controversy, and on culture wars
John Kelly, Donald Trump's chief of staff since late July, has appeared before the press for the White House's daily briefing twice in the past 10 days. None of the former military man's meetings with journalists, his first ones "on the record," has been coincidental. Once again, there's the sensation of a White House in chaos.
This time, that sensation is not due to in-fighting among West Wing factions or the "Russiagate" investigation, the two topics that consumed the first six months of Trump's presidency. There was an attempt to put an end to all that chaos with the arrival of John Kelly. Now the image coming from the White House is one of a president as volatile and impulsive as always, ready as ever to fan the flames of identity and culture wars, but increasingly out of control.
That image began to come into focus on October 8. That was the day Trump attacked Bob Corker, a Republican senator who chairs the Committee on Foreign Relations, on Twitter. Corker didn't keep quiet, but rather took to the social network himself to call the White House "an adult day care center." "I know for a fact that every single day at the White House, it's a situation of trying to contain him," he later told The New York Times, confessing his "concern" about a president he accuses of leading the country "on the path to World War III" and who is only curbed by the presence in his administration of figures such as Kelly, National Security Advisor H.R. McMaster, Defense Secretary James Mattis, and Secretary of State Rex Tillerson — with whom there have been emerging tensions.
Explosive, Frustrated, Out of Control
It might be thought that Corker was talking out of spite after Trump's attacks, but the senator isn't the only one to have warned about the situation. He maintains that "the vast majority" of Republicans in Congress are aware of "the volatility that we're dealing with and the tremendous amount of work that it takes by people around him to keep him in the middle of the road." And a series of articles in Politico, The Washington Post and Vanity Fair, based on anonymous testimony from at least two dozen West Wing employees, Trump confidantes and external advisers, and prominent Republicans, indicate the presence of two extremes: That of a White House dedicated to restraining and managing the explosive president, and that of a president no longer dedicated to his strategy of orchestrated chaos but rather increasingly frustrated, angry, out of control and aimless.
Politico, for example, reports that Trump often arrives agitated or angry after having spoken with a friend or adviser or having watched TV — which he does from the time he wakes up to the time he goes to bed. Then his assistants "step in to avert a rash decision by calming him down." The Post, for its part, has described how Trump's inner circle looks for creative ways to channel the energy of the impulsive president, including trying to delay the more controversial decisions.
McMaster, for example, uses diversionary tactics, and volunteers to study the most unorthodox ideas with his team, buying time in the hope that Trump will forget these ideas, or that he can present alternatives. Mattis doesn't shy away from criticizing, but he avoids doing so in public — the only exposure that infuriates Trump — and if he's going to, he always lets the president know first. Kelly, as he explained in his first press conference, has not exactly "limited" access to the Oval Office, but he has made changes. "When we go in to see him now, rather than onesies and twosies, we go in and help him collectively understand what he needs to understand to makes these vital decisions," he said, in a statement in which he also tried to change the common image of Trump and described him as "a very thoughtful man."
Growing Tensions
As much as he's tried, however, the chief of staff hasn't been able to stop the leaking of information about growing tensions between him and Trump, and between Trump and other prominent members of his cabinet, especially Tillerson. Tillerson is one of the ones who hasn't given himself over to the excessive flattery that many secretaries, especially Treasury Secretary Steven Mnuchin, have engaged in. Many people are warning that the president is increasingly isolated, "angry" because he hasn't been given credit for actions like his response to the hurricanes, and "burning bridges," especially in his relationship with Congress, with his rage fueled by the stagnation of a legislative agenda which is currently quite thin. In Vanity Fair, one of the president's confidantes compared the situation to one of those kettles that whistle when it starts boiling and becomes a pressure cooker if the steam can't escape, saying, "[W]e are in pressure cooker territory."
The magazine identified a decisive moment for Trump: the defeat of Luther Strange, the candidate the "establishment" had convinced him to support, in the Alabama Republican primaries less than a month ago. The president "saw the cult of personality was broken" with that loss. It was right around the same time as that campaign that Trump started his war with the American football league NFL and the players, mostly black, who protest during the national anthem.
Trump immersed himself again in identity and culture wars, which he keeps open on topics such as immigration as well. He's also launched his umpteenth attack on journalists, going as far as to question the freedom of the press. And though he goes on and on about patriotism in relation to his feud with the NFL, he's once again raised questions about his respect toward the families of fallen soldiers, his time as commander in chief, by making a widow cry, politicizing his mistake, and forcing Kelly, who lost a son in Afghanistan, to go clean up his image. Even his decision to put the future of the nuclear deal with Iran in the hands of Congress has shown that he's working more by instinct than by following recommendations from his team. He only seeks to maintain his connection with his most radical supporters, or, as he calls them, "my people."
About this publication
---