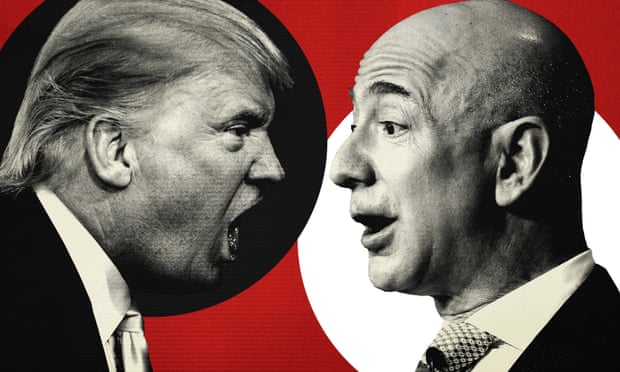 U.S. President Donald Trump's distrust of the media is not yesterday's news. Starting in his days as a presidential candidate, his feelings about the mainstream media, which have been persistently critical of him, have been building steadily to the breaking point. Denouncing The New York Times, The Washington Post and CNN as "fake news," he has been directly producing and disseminating news through his own Twitter account. Following up on threats made during his candidacy to shut down The New York Times and other "fake news" outlets, President Trump has even nominated and announced the winners of his 2017 Fake News Awards.
On the other hand, Trump has recently started attacking Amazon, the world 's largest e-commerce company. On March 29, the president tweeted that unlike others, "they pay little or no taxes to state & local governments, use our Postal System as their Delivery Boy (causing tremendous loss to the U.S.), and are putting many thousands of retailers out of business!" Within a span of five days, he went after the company a total of four times on Twitter, claiming they are increasing the burden on the American taxpayer and putting retailers out of business. On March 31, he accused The Washington Post of being an unregistered lobbying arm of Amazon, also shifting part of the blame to the newspaper now owned by Jeff Bezos, the CEO of Amazon. Trump often refers to the paper in derogatory terms such as the "Amazon Washington Post" or the "Fake Washington Post," and experts believe his fusillade of criticism at Amazon is not only meant to target Bezos, but also the critical Washington Post, which fueled his ire by digging up dirt on him from his affair with porn star Stormy Daniels, his money-ridden relationship with Russian President Vladimir Putin and his plans to pardon his former top advisers. Trump's sustained volley of tweets against Amazon, along with proposals for antitrust laws and tax measures against the internet giant, is causing stock market fluctuations and disconcerting Bezos.
On April 3, Trump also went after CNN and, as in the case of The Washington Post, his attacks targeted its parent company, Time Warner Inc. Last November in the AT&T-Time Warner antitrust trial, the Justice Department objected to the proposed acquisition of Time Warner by AT&T Inc.
Experts worry that Trump is trying to tame the corporations and CEOs who own the press by attacking and cornering them. It is uncertain whether this type of bypass strategy will work, and some say it may instead cause a political upheaval against Trump. It will be interesting to see how his war with the media, which is expected to continue throughout his term, will play out in the end.
About this publication
---