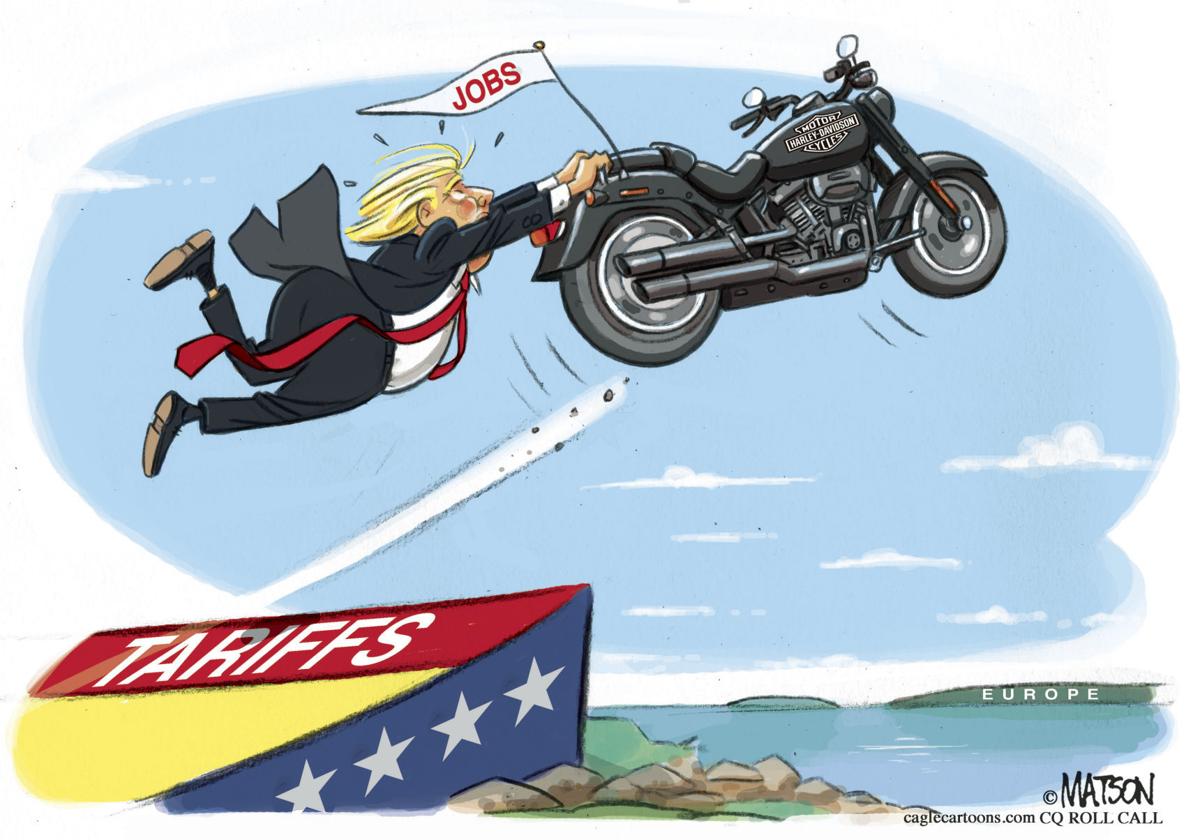 A trade war led by President Donald Trump's administration has boomeranged, with an American company deciding to move some of its operations abroad. U.S. motorcycle manufacturer Harley-Davidson announced that it would relocate some production to Europe to avoid retaliatory tariffs recently enacted by the European Union. The bike maker estimates its tax rates will rise from 6 percent to 31 percent when the European bloc puts its levies in place. The company said an incremental cost of about $2,200 per motorcycle sold in Europe would add up to $100 million a year.
In 2017, Harley-Davidson sold nearly 40,000 bikes in Europe, which accounted for one-sixth of its global sales, making the continent its second most important market after the U.S. With its domestic sales slumping and overseas sales growing by 10 percent annually, the iconic motorcycle manufacturer appears to have been forced to make a business decision to move some of its production abroad to keep prices competitive in overseas markets.
Lamenting that the U.S. has been ripped off by other nations, President Trump has been bombarding its major trade partners, such as China, the EU and South Korea, with indiscriminate tariffs. When faced with a 25 percent and 10 percent levy on their steel exports to the U.S., respectively, China and the EU responded with retaliatory measures: Beijing placed tariffs on U.S. agricultural imports, and the EU duties specifically targeted motorcycles and bourbon, among other things. In response to the new tariffs on U.S. exports, Trump warned of an additional 10 percent tariff on about $200 billion worth of Chinese imports, and threatened even more tariffs on European autos. It is worrisome as to where this game of economic chicken, with neither player willing to back down, is heading because South Korea, whose economy is heavily trade-dependent, is likely to be seriously hurt by these tariff wars between the U.S. and its trade partners.
President Trump condemned the bike maker's decision in a tweet for being "the first to wave the White Flag," although it would end up not bearing the EU tariff burden. However, Trump's trade approach, too, is on the chopping block: A flood of warnings that Trump's trade war would spark a global economic slowdown seems to urge the Trump administration to tread carefully sooner rather than later. Agustín Carstens, the general manager of the Bank for International Settlements, expressed concern that an increase in protectionist measures could trigger a downturn in the global economy. Moreover, economists have warned that the U.S. protectionist moves could reduce the country's growth rate by a 0.3 to 0.4 percentage point. The U.S. should face up to the possibility Trump's trade war will take unexpected turns, and will end up being a double bind that could not only hurt the American economy but cause a global economic slowdown.
About this publication
---