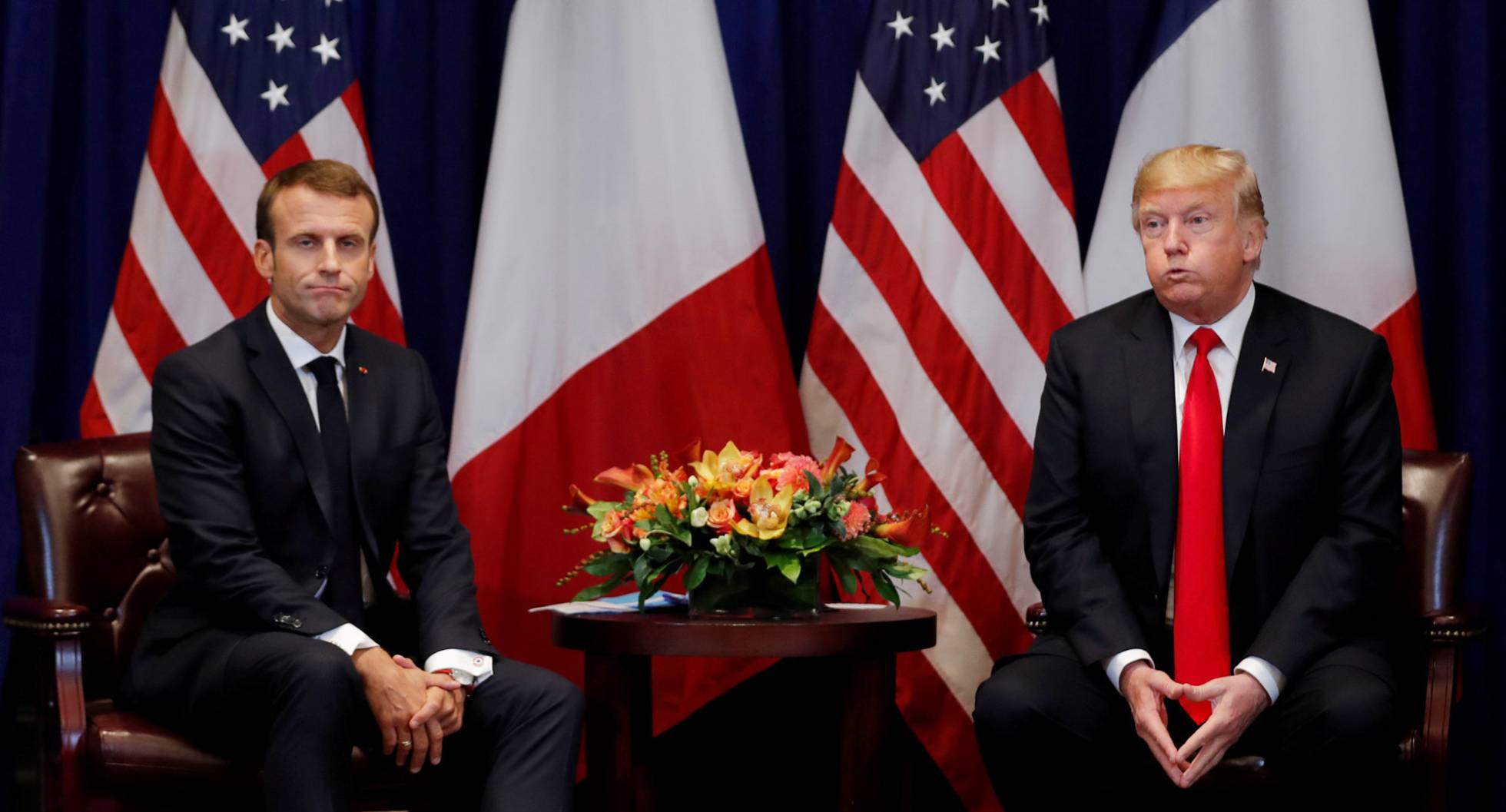 The president of the United States speaks this Tuesday with two themes on the table: North Korea and Iran.
Donald Trump likes a business negotiation, face to face, as he would do in Queens to buy land or sell apartments. This is how he is organizing new international relations. Multilateral bodies and institutions bother him. The rules of the game which protect the weak don't serve him because he prefers to impose the rules that suit him for each situation.
It was a year ago, when he first attended the annual session of the General Assembly at the United Nations, and made it crystal clear: Only the United States matters to him. The sovereignty of nations is not there to be shared. Each one must turn to its own sovereignty and defend itself with the strength it has. We have never heard such impertinent words spoken by the representative of not just one of the founding countries, but yes, by the country which inspired the organization 70 years ago. Never have there been so many accompanying insults and threats, toward Iran and North Korea. Toward governments and people, and especially Kim Jong Un, the young North Korean leader, whom he called "little rocket man" and with whom Trump said there would be a settling of accounts very soon, totally destroying his country.
One year later in his second appearance before exactly the same forum at the U.N., Trump presents himself with an impressive* balance sheet. At the time of his first appearance he had already knocked down the Paris climate treaty and the two international treaties with Europe and the Pacific Region. This time he arrived with U.S. participation in the Iranian nuclear agreement dissolved, the U.S. Embassy in Israel transferred to Jerusalem, resources for Palestinians eliminated, participation in UNESCO cancelled, contribution to the peace force reduced and trade wars unleashed, especially with China, in an offensive which threatens the very existence of the World Trade Organization. And yes, with the insults to Kim Jong Un totally forgotten.
Now his closest advisers on international matters are new. In 2017, the position of secretary of state was held by the gray-haired Rex Tillerson, an ebullient oil company man, dominated by the president. The national security advisor was H.R. McMaster, a brilliant and prudent general who combined war experience with a notable intellectual trajectory. The two were not doves, but the two people who replaced them were even more hawkish, and probably more submissive to, and trusted by, the capricious and volatile president. In place of Tillerson, Trump has substituted John Bolton, who was U.S. ambassador to the U.N. under George W. Bush and had already in that era proposed eliminating 10 floors of the U.N. building in Manhattan. To replace McMaster, Mike Pompeo was chosen directly from the CIA, being an extremely loyal participant in the paranoid conspiracy theories of his boss.
With these new advisers, Trump returned to Manhattan for his second great global event, where, beyond the usual speech before the General Assembly, he was to chair a meeting of the Security Council on Wednesday. As one would expect, in dealing with someone so unpredictable and irascible, there was no peace among his staff. This time, according to diplomatic correspondents, there was not so much fear for the dishes Trump could break, but more for the friendships he might engage in, as happens when an adolescent goes out alone for the night for the first time. On the list of his bilateral meetings are Britain's Theresa May, France's Emmanuel Macron, with whom Trump already spent time with Monday night, Israel's Benjamin Netanyahu, Egypt's Abdul Fattah al-Sisi, Japan's Shinzo Abe and South Korea's Moon Jae-in, but he could well interact, in an unpredictable way and with uncertain results, with Iran's Hassan Rouhani. It is Trump's preferred territory, that of bilateral relations, in which he can, at his whim, use the virtues of a deal-maker he believes he has.
Trump can't be accused of breaking his promises, however foolish they might be. The threats are another thing. For his real estate and television host mentality, a good threat is always a prelude to a good agreement. Kim Jong Un is now a good subject, someone with whom he boasts making a treaty that is already bringing peace to the world, as he says with all his aplomb. Here is Trump's assessment of the year between the two general assemblies: In 2017 we were on the brink of nuclear war, and now everything is wonderful on the Korean Peninsula; the belligerent parties of a conflict which ended in 1953 with only an armistice are about to finally sign a peace treaty.
To judge by what U.N. Secretary-General Antonio Guterres says, the best thing that Trump could do would be to stay on the sidelines. The three areas which most concern the member nations and the organization are migration, inequality in general and climate change. Trump is a declared enemy of immigrants, favors inequality and harassment, and does not believe in climate change. But what interests him, at the world's great power fair which reunites more than 100 heads of state and of government for a week, is an excellent place for him to conduct his dealing between traders.
* Translator's note: The Portuguese word used by the author in the original text is "impressionante" which can mean both "impressive" and "awful" in Portuguese. The translator questions whether the choice of that word with two distinctively different and contradictory meanings was deliberate.
About this publication
---