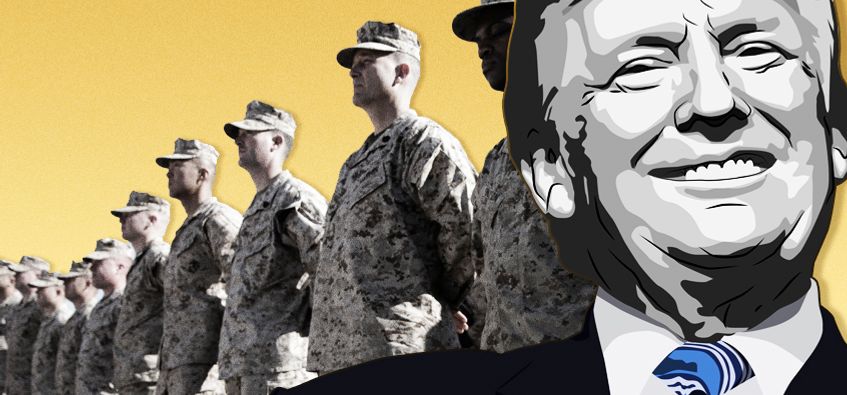 Despite his patriotic rhetoric, the American president doesn't like the military. And now he's attacking it as well.
Since the Paris episode on Nov. 10, Donald Trump has been strongly criticized by the very heart of his base. His cancelled visit to the Aisne-Marne cemetery in Belleau, northern France, where more than 2,200 American soldiers were buried after sacrificing their lives in June 1918, has continued to be unsettling. Is this why the president now shows such irritation with the military, despite having once appointed three people from its ranks to key positions in the White House?
Direct Attack on Military Heroes
Patriotism is one of the key themes of Trump's campaigns. It's an essential factor for many of his supporters, who were born into a white, conservative, Republican America, an America that has supplied a large number of soldiers and officers that have spilled blood on far-flung battlefields. As the voice of "America First," he has been reproached for not having visited a combat zone over Thanksgiving, as his predecessors have done before him. While he may have judged this custom not to be "absolutely necessary," the 45th president of the United States has finally announced such a trip will be taking place soon. But all this only goes to prove that his devotion to the glory of the military isn't instinctive, and his empathy for the cult of "The Star Spangled Banner" doesn't come naturally. It increases and decreases opportunistically. Is this because the American soldier is, according to U.S. narrative, the valorous servant of the democratic ideal?
The curious relationship Trump maintains with military matters deserves closer inspection. This is a man that successfully evaded military obligations that his entire generation had little choice but to submit to and that does not miss any inappropriate opportunity to salute high-ranking military officials as if he were one of their own, yet who demonstrates no inherent respect for military valor. He had a brush with John McCain – one of his fiercest Republican Party opponents during the 2016 presidential campaign and a genuine war hero that was captured and imprisoned in Vietnam – when he uttered the ignoble words, "I like soldiers that weren't captured." Trump let his temper run wild again, attacking Ret. Adm. William McRaven, the very model of military credentials and character and architect of Operation Neptune's Spear, which led to the killing of Osama bin Laden under Barack Obama's presidency. Trump claimed that bin Laden could have been apprehended sooner, as "everybody [in Pakistan] knew he was there." Why the need for such rancor and indelicacy?
Even Less Restrained Since the Midterms
His response has left some of the most senior military leaders in a state of growing disarray. Certain leaders among them have openly expressed their opinions and the profound concerns that this president, so disrespectful of everyone, gives rise to. In this instance, McRaven had criticized the "Muslim ban" executive order signed by Trump prohibiting entry to nationals from six countries, five of which have a majority Muslim population. McRaven was also uneasy about the White House attacks on the press. Significantly, the president's entourage spread the news that McRaven had been featured on a short list of people to serve as Hillary Clinton's vice-president, which was completely false.
So where will Trump stop with his fury at the Republican camp flag bearers? After parting company with National Security Advisor Lt. Gen. H.R. McMaster in March, it now seems that the secretary of defense, Gen. James Mattis, is being targeted, yet he's one of the few remaining in the Trump administration that is responsible and knows how to reassure America's Western allies.
With a narcissism that takes offense at everyone and everything and an unfathomable contempt for those with ability, Trump has revealed some even more worrisome traits since the midterm elections.
About this publication
---