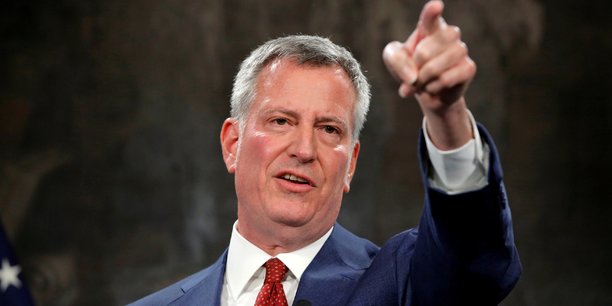 Having long been at the forefront of the fight against climate change, New York City, like San Francisco and California, is demonstrating its ambition with the measures put in place by Mayor Bill de Blasio.
Although on the other side of the country from California, where Silicon Valley and San Francisco make up the hub of America's ecological transition, the city and state of New York are also leading the movement. This is nothing new, and New York is not just the site for huge climate protests outside the UN General Assembly. The former mayor (and billionaire) Michael Bloomberg has become one of the leading figures globally in the fight against climate change.
Since the election of climate skeptic Donald Trump, who has taken his country out of the Paris Agreement, major cities as well as some companies have instead shown themselves to be even more determined to implement it. As the youngest member of Congress, Alexandria Ocasio-Cortez (AOC) is heavily in support of a "Green New Deal," envisaging, for example, 100% renewable energy by 2035. Mayor de Blasio too has recently confirmed new climate policies. These address the energy efficiency of skyscrapers in particular. Now buildings of more than 2,300 square meters must reduce their emissions by 40% by 2030 in relation to 2005. The high-rise buildings make up less than 1% of the city's real estate but produce more than 30% of its emissions.
Mayor and Governor on the Same Wavelength
De Blasio, a possible addition to the already 20 candidates for the Democratic presidential nomination, himself described the set of measures that he ratified on April 19 as New York's Green New Deal. This reference to Franklin Roosevelt's reforms after the crash of 1929, adjusted to refer to the environment, first made an appearance during Barack Obama's election. Then, the aim was to find a way out of the subprime mortgage crisis and the collapse of Lehman Brothers.
The mayor of the Big Apple aims to make his city the most sustainable and resilient in the face of the climate change challenge and has made it his goal to reduce emissions by 80% by 2050 in comparison to 2005. The policy, which has been formalized in an action plan named 80 x 50, should create around 14,000 jobs.
The mayor's ambitions align with those of the governor and fellow Democrat Andrew Cuomo in terms of energy efficiency and renewable energy: that they should produce 50% of the state's energy consumption by 2030. It should also be carbon-neutral by 2040 and by 2050 be completely sustained by low-carbon energies. As well as offshore wind power projects, which cumulatively constitute 800 megawatts, New York state is bringing together 90,000 projects within the New York Sun Initiative, while the New York Green Bank has invested more than $500 million in green projects.
About this publication
---