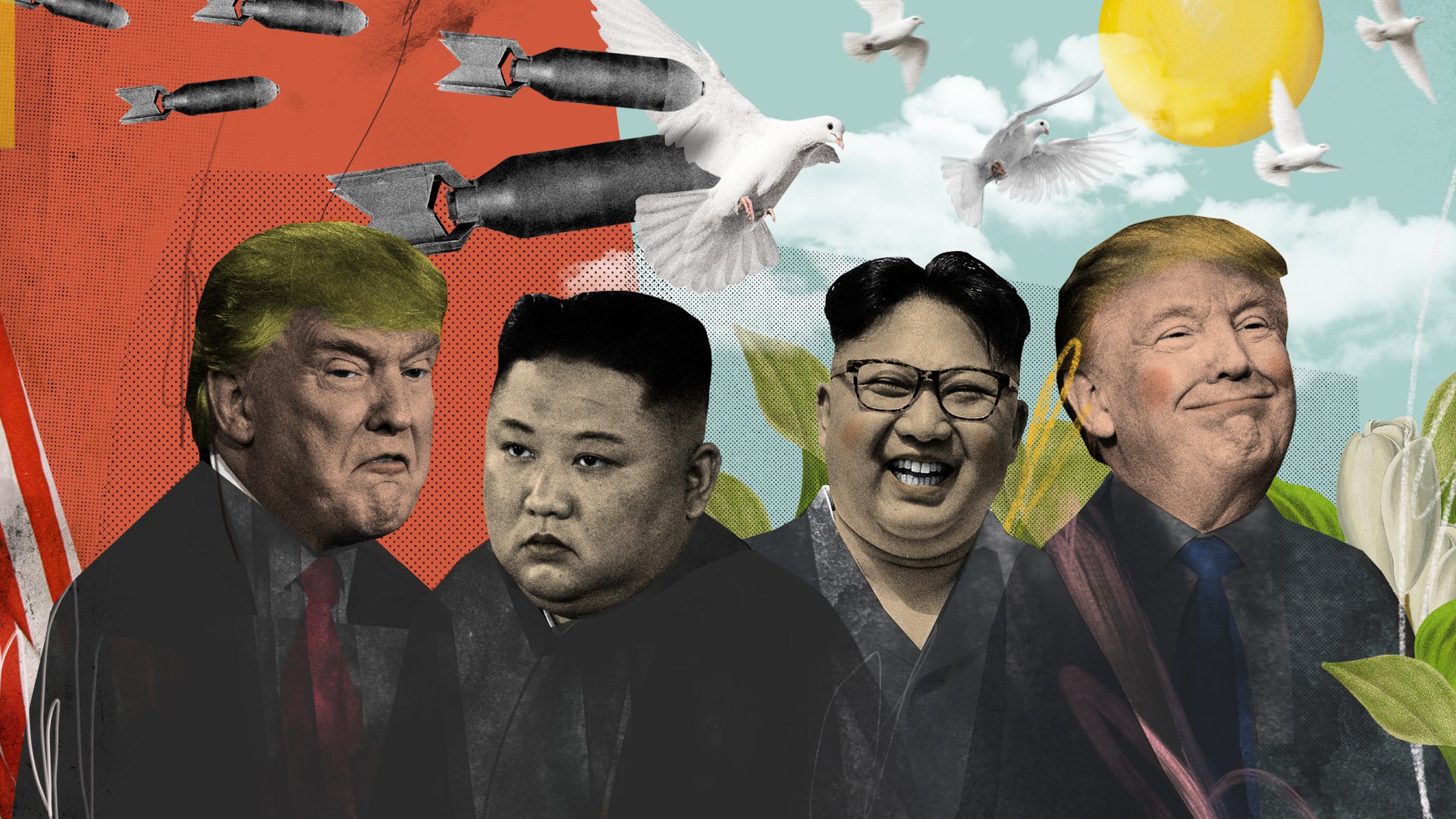 Ending economic sanctions and denuclearizing the Korean Peninsula have turned into a tug of war. Both sides have their own interests, and neither is giving in. Thus, the conflict on the Korean Peninsula cannot be resolved quickly.
Earlier this month on Dec. 4, Kim Jong Un, riding a white horse, led his wife Ri Sol Ju and a group of senior officials on a very high-profile visit to the sacred Mount Paektu. According to media speculation, such a visit meant that Pyongyang was likely to make a big move in the near future. And sure enough, on Dec. 7 and Dec. 13, North Korea conducted two major nuclear weapons tests at the Sohae Satellite Launching Station. Though officials did not disclose the reason for the tests, a statement said the tests were "to enhance North Korea's nuclear deterrent." This makes it easy to believe that Kim is once again challenging Donald Trump.
Actually, on Oct. 1, Pyongyang had already issued word that it would resume denuclearization talks with the U.S. It also claimed it would hold working-level talks on Oct. 5, resuming talks on the denuclearization agreement that has been stalled since February. The U.S. State Department also confirmed news of the talks. However, negotiations in Stockholm broke down, ending up with nothing. The media speculated that this breakdown had been prearranged by Kim as retaliation for the humiliation at the Hanoi meeting with Trump this past February.
Regarding these two recent consecutive nuclear weapons tests, Chief of General Staff of the North Korean People's Army Pak Jong Chon said they would be used to develop another strategic weapon in response to the U.S. nuclear threat. Earlier, North Korea's U.N. Ambassador Kim Song also criticized Washington for claiming to want a continued and substantial dialogue with North Korea, yet actually only acting in accordance with its own domestic political agenda. Furthermore, he stated North Korea will not open denuclearization negotiations with the U.S. In December, a spokesperson for Ministry of Foreign Affairs said that North Korea no longer has anything to lose and has already prepared to go along with the U.S. in whatever decision it makes. It was fully apparent that Kim is dissatisfied. To him, these two nuclear tests were not only a way to vent his frustration, but more importantly, a means of forcing the U.S. to commit to lifting sanctions before North Korea makes any move to dismantle its nuclear program. This is giving rise to speculation that North Korea may no longer be able to withstand continued economic sanctions and has been pushed to acts of desperation.
The international community is nervous that the U.S. and North Korea are locked in a stalemate, with neither party willing to budge. Trump refuses to lift sanctions against North Korea unless it completely abandons its nuclear plans. He has even warned that if North Korea continues along its present course, it will lose everything. Kim hopes that the U.S. will make new concessions, and has set the end of 2019 as the final deadline for the U.S. to act. What, then, can the U.S. do in response?
Apparently, the U.N. Security Council originally planned to meet on Dec. 10 to discuss North Korean human rights issues. However, the U.S. changed its mind and refused to sign a relevant letter that would authorize the meeting, causing the Security Council to be short the one vote needed to hold the meeting. The Security Council eventually had to cancel. However, on Dec. 11, the U.S. again requested a meeting of the Security Council, claiming that the U.S. Mission to the U.N. would seek to discuss "a comprehensive update on recent developments on the Korean Peninsula, including recent missile launches and the possibility of an escalatory DPRK provocation." In response, China's permanent representative to the United Nations, Zhang Jun, called for the Security Council to adjust its sanctions against North Korea, particularly those affecting people's livelihoods, something which would help ease the tension and create an atmosphere promoting dialogue and a political solution.
Kim's big move reveals an eagerness to find a breakthrough in the long-term economic difficulties that North Korea has been facing. On Dec. 13, the U.S. had already concluded its first phase of trade talks with China. Trump may try to follow this victory with another, and gain standing in the polls on the North Korea issue. After all, time is on the side of the U.S., and domestic support for Trump is high. He does not need to take drastic measures. Therefore, he might make a few small concessions so that Kim can save face within North Korea, and to prevent Kim from turning to Xi Jinping or doing anything too extreme. Such concessions can also be incentives, and Kim will have something to show his hawkish and anti-America forces. This strategy embodies the tactic of retreating in order to advance, and exhibits the benevolence of treating major issues as minor matters.
After all, denuclearization in North Korea involves myriad factors and cannot be resolved all at once. Furthermore, the U.S. and North Korea have completely different political systems. Going from being mistrustful adversaries to friends does not happen overnight. And the process of denuclearization is complex, requiring time and patience. If the U.S.-China trade negotiations can be conducted in phases, why shouldn't North Korean denuclearization be carried out the same way? Of course, if Trump does this, he risks being deceived by Kim. In light of all this, the interactions between the U.S. and North Korea in the upcoming half-month will be interesting and worth paying attention to.
About this publication
---