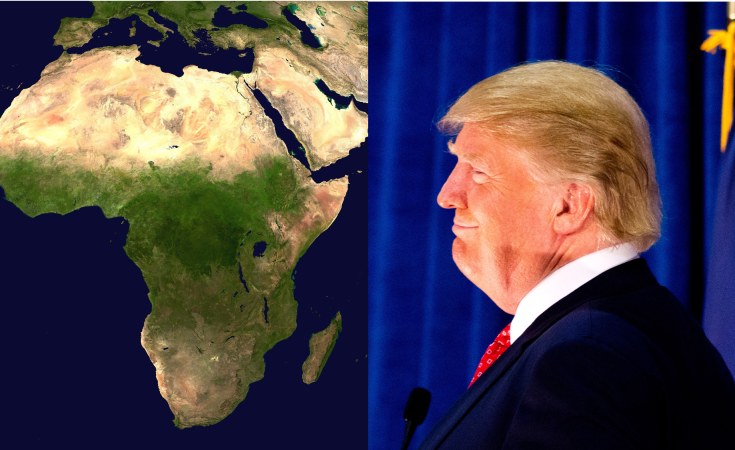 On Nov. 8, 2016 the American political landscape was shaken by a political earthquake with the election of Donald Trump, a Republican candidate who most polls said would be defeated. The aftermath of the new foreign policy promoted by the champion of "America First" has been felt all over the world, especially on the African continent nearly four years after his election.
Weak Trade Partnerships
Before Donald Trump's election, trade volume between the U.S. and Africa was already at a relatively low level compared to other countries. Trade volume between the U.S. and Africa has reached the $100 billion mark only twice since its 2008 peak, when it reached $141.8 billion ($113.3 billion in 2010, and $125 billion in 2011) under the Obama administration, according to figures from the U.S. Census Bureau. Trade has continued to decline ever since. While the resilience of Africa's economic growth and its future common market have compelled all the great world powers to boost their trade partnerships with the continent, the U.S. has not shared in that trend. The exchange of goods between Washington and African countries was valued at $56.8 billion in 2019, an 8% decline compared to the estimated trade volume of $61.8 billion in 2018. In comparison, trade volume between China and Africa has increased 2.2% in 2019, reaching $208.7 billion.
According to the U.S Commerce Department, sub-Saharan African countries accounted for only 1% of U.S. exports and 1% of U.S. imports in 2018. Even though Africa still represents a marginal portion of U.S. trade, initiatives such as the African Growth Opportunity Act have fostered some progress since 2001. However, Trump's recent use of that agreement as a tool to pressure African states is not conducive to developing trade partnerships between parties. In 2015, for example, Kenya, Rwanda, Uganda and Tanzania, in an effort to protect their domestic markets, agreed to increase tariffs on used garments imported from the U.S. That decision led the Trump administration, acting under the influence of the American Secondary Market and Recycled Textiles Association, which denounced the taxation of U.S exports, to exert pressure on these countries to reopen their markets. Only Rwanda stood by its decision, which triggered a suspension of its incentives to export clothing to the U.S. More recently, Cameroon was banned from the AGOA based on accusations by Washington that the Cameroonian Army was violating human rights.
Increasingly Uncertain Security Cooperation
Even though U.S.-Africa trade relationships have not yet reached a level critical enough to make Washington an indispensable trading partner for the continent, that is not the case in the area of security cooperation.
The U.S. has become an important weapons supplier and partner in the fight against terrorism in Africa over the last several years. When he took office, Trump announced that one of the cornerstones of his foreign policy would be the fight against "radical Islamic terrorism." However, some analysts believe that Trump's recent statement seems to shed doubt on that strategy and threaten U.S.-Africa cooperation in the area of security on the continent.
At the end of December 2019, U.S officials announced plans to reduce the number of U.S. soldiers in Africa in order to reinforce American positions in Asia, while some officials accused Africans of not being fully involved in the fight against terrorism. That announcement, made several months before the U.S. presidential election, fits well with one of Trump's 2016 campaign promises to withdraw the U.S. from what he called "endless wars." It is worth noting that between 6,000 and 7,000 U.S. soldiers are currently deployed in Africa. Even though that figure is relatively modest, these troops play a crucial role, particularly in West Africa where terrorism and intercommunity violence have been on the rise since 2013.
The U.S. Air Force base in Agadez, Niger, for example, is an important drone base used by French soldiers in the Barkhane operation to designate targets and collect intelligence. U.S. soldiers in Africa's Sahel region also help bridge the gap between French and West African soldiers with respect to air supply and aerial logistical transport. With its involvement in training, equipping and funding of local armies such as the armies of Niger and Mauritania, the U.S. Army plays a critical role in the fight against al-Qaida in Islamic Maghreb, against Boko Haram and against the growing threat posed by the Islamic State in Greater Sahara.
U.S. withdrawal from the region could compel African countries, particularly the members of G5 Sahel and their French partner, to reposition their pawns on the West African chessboard of the war against terrorism.* That reorganization of West African and French soldiers not only would necessitate more time and more means, but would also negatively impact their efficiency on the ground while allowing a resurgence of terrorist attacks.
Against the Backdrop of Diplomatic Tension
Trump's term has also been marked by diplomatic tension with African states, fueled by decisions made on American immigration policy as well as by public statements made by the president.
Indeed, one of the first executive orders issued by the new president as soon as he took office was to ban nationals from several Muslim countries, including Libya and Sudan, from entering the U.S. Last January, the U.S. president announced the extension of new visa restrictions to other countries, such as Nigeria, Eritrea, Sudan and Tanzania.
Numerous African and state officials such as the Eritrean government denounced these decisions, and condemned an "unfriendly act that runs counter to the administration's pronounced policy of constructive engagement to redress past wrongs."
On top of the numerous political decisions evidencing the Trump administration's lack of interest in Africa, the president's rhetoric, generally characterized as "politically incorrect," has sparked several controversies. At the beginning of 2018, the billionaire president characterized African countries as "shithole countries" during a meeting in the Oval Office with several senators including Republican Sen. Lindsey Graham and Democrat Sen. Richard Durbin. According to sources cited by The Washington Post, Trump questioned why "all these people from shithole countries were coming here?" That statement inflamed social media and provoked an outcry on the continent.
The Last Priority
Several positive points can be highlighted despite this tumultuous relationship. Some programs adopted under President Barack Obama to assist the continent were continued. One of those programs is the Power Africa initiative, launched in 2013 to support economic growth and development through better access to more affordable, reliable and sustainable energy sources. According to U.S. government data, the U.S. Agency for International Development and the State Department provided an $8.5 billion aid package to 47 African countries in eight regional programs in sub-Saharan Africa.
Despite that aid and recent intentions to conclude a free trade agreement with the African continent, Africa still seems to be at the bottom of President Trump's priority list. Even though different secretaries of state have visited the continent (former Secretary of State Rex Tillerson visited in 2018, and current Secretary of State Mike Pompeo visited this year), President Trump has not yet set foot in Africa, visits that are on the calendar of his Chinese, French, German and even Israeli counterparts every year. If that situation persists until the end of this year, Trump would be the first U.S. president since 1990 to go a full first term without visiting Africa.
Most of the Trump administration's new cooperation programs seem to be aimed more at countering China's so-called negative influence on the continent than at truly supporting Africa in its transition to development. The "Prosper Africa" initiative launched in June 2019 in Maputo, Mozambique, to facilitate U.S. investment of $50 billion in Africa over the next several years seems to be following that trend. Deputy Secretary of Commerce Karen Dunn Kelley stated during the project's presentation that U.S. companies offer an "unequal value, but we have lost ground to the increasingly sophisticated, but too often opaque business practices of foreign competitors," referring to Chinese financing models in Africa.
With the U.S. presidential election a few months away, all eyes are now on a Democratic Party in the process of picking its frontrunner to challenge Trump. If the incumbent is reelected, it is not likely that Africa will become a priority, even though the real estate magnate announced that he wants to double U.S. Africa trade volume in the coming years.
*Editor's note: G5 Sahel is an institutional framework for coordination of regional cooperation in development policies and security matters in West Africa.
About this publication
---