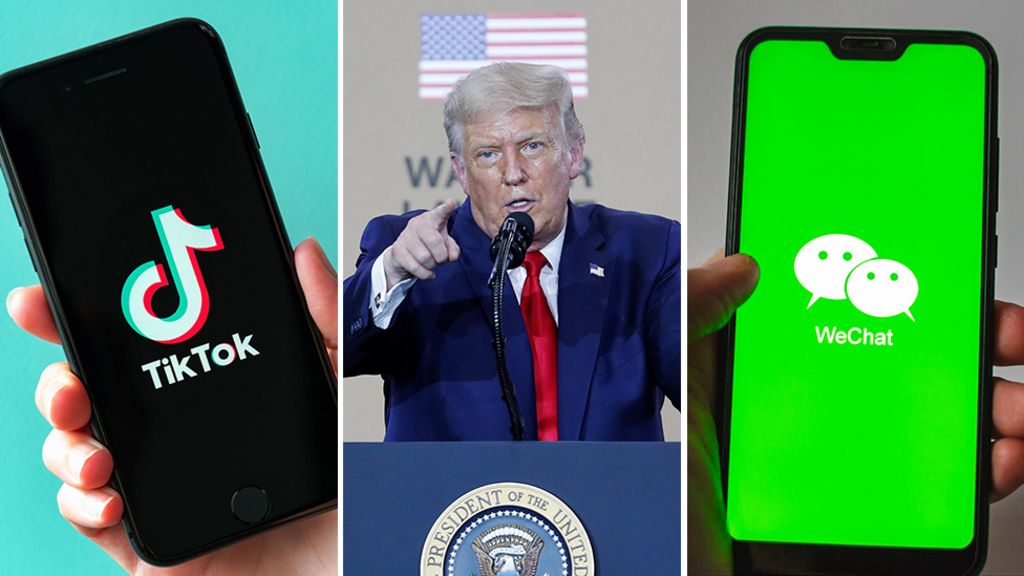 President Donald Trump has issued executive orders against the Chinese apps TikTok and WeChat on the grounds of national security, giving them 45 days to stop operating in the U.S. With 800 million users globally − 100 million of those in the U.S. − TikTok is the fastest growing social networking app among 14-25-year-olds. WeChat, little known outside of China, has 1.2 billion users and is a super-app, where users can take courses, book doctor appointments, buy houses, pay for goods in any market or shop, and even give money to beggars by scanning their QR codes. One can't live without it in China.
The decision follows an escalation of tension that started back in 1997 when China built the "Great Firewall," a legal and technological framework to block information coming from abroad. Platforms like Google, Facebook, Twitter and YouTube are inaccessible. It has reached a point where not even TikTok is accessible in China; it's called Douyin, and is another social networking app that, for all intents and purposes, is meant to stop citizens from accessing videos from abroad. The "Great Firewall" led to the mass reproduction of American websites, without regard or legal protections to deal with. The first Chinese copy of Facebook was a pixel-by-pixel replica of the original, including the "Created by Mark Zuckerberg" at the bottom. Today, Youku, the clone of YouTube, Baidu, the clone of Google and Sina Weibo, the clone of Twitter, are in many ways better versions of the originals.
Trump was resolved to stop the two apps without any further discussion, but his advisers convinced him to allow some room for maneuver. The uncertainty that a TikTok blackout would generate and the impact on the 15 million new young voters, who previously have been unable to vote, is too risky. The solution has been to leave the door open for 45 days to allow its U.S. operations to pass into the hands of American companies. Among those negotiating to obtain U.S. TikTok are Microsoft and Twitter.
This is all happening during an election year. Trump has lost a lot of the cards he can play when it comes to being reelected after his terrible management of the COVID-19 pandemic − the U.S. tops the list of countries in the Organisation for Economic Cooperation and Development when it comes to cases per million − as well as forecasts of economic recession in the third quarter, which Goldman Sachs estimates at 24% [decline in the gross domestic product] (compared to the 2008 recession which was 8.4%). The only card he has left is control of information. Trump knows very well the power of social media when it comes to changing voting intentions or demoralizing his rival, and he can't allow young voters to be influenced by a social networking platform that, according to him, is controlled by the Chinese Communist Party.
At the beginning of the 1980s, Deng Xiaoping transformed the Chinese economy into a "socialist market economy," superseding Mao Zedong's Cultural Revolution. His phrase, "If you open the window for fresh air, you have to expect some flies to blow in" inspired the "Great Firewall." It appears Trump hasn't read that on Twitter.
About this publication
---