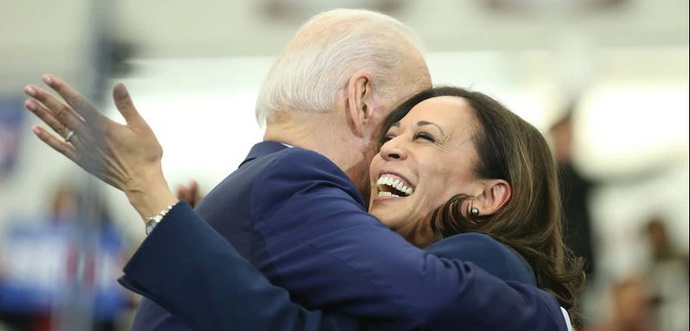 The wait is over. Joe Biden has completed his search for a running mate. It was no big surprise: the winner of the vice presidential nominee contest was Sen. Kamala Harris of California.
Harris and Biden will be campaigning together during the final three months of the presidential campaign.
This development is good news for Ukraine, because Harris has repeatedly denounced Russian aggression and is a consistent supporter of our country.
But why did Biden choose Harris? What can she bring to his campaign? And how could it impact the results of the 2020 election? Let's try to understand it.
Third Attempt
This is not the first time a woman has run for vice president in America. In 1984, Geraldine Ferraro was the Democratic vice presidential nominee, and Sarah Palin was the Republican running mate in 2008.
However, neither of these two candidates made it to the White House. However, the third attempt by a woman to become vice president promises to be more successful. In the early stages of his campaign, Biden announced that his running mate would be a woman, and he has several reasons for this.
First, it is a logical next step for someone who represents the liberal elements of the country and who recognizes the need to diversify the U.S. political landscape.
Second, the votes of women are of great importance. One could argue that the women's vote will be the deciding factor in the November 2020 presidential election.
However, there is also a fundamentally important third point. In fact, a number of potential Democratic female voters have had an unfavorable view of Biden. It dates back to 1991, when as senator, Biden presided over the confirmation hearing for a new Supreme Court justice nominee, Clarence Thomas.
At the hearing, Anita Hill, who had worked as an assistant to Thomas, accused him of sexual harassment. Many believed that Biden created a hostile and disrespectful environment for Hill during the hearings.
While Thomas was eventually confirmed to the Supreme Court and is still on the bench, some have harbored negative feelings about Biden since then.
Hill's testimony marked the beginning of a new phase in the struggle for American women's rights. And Biden seemed to be on the wrong side of history.
However, in the years that followed, he admitted his mistake, and tried to show that he was an ally for women by his actions in the Senate.
One can now see Biden's choice of a female running mate as an act of repentance and the culmination of his political career since 1991.
Attack on the Biden Family
Harris is about to turn 56. She has served as a U.S. senator since 2017, which by American standards, is a short term. Her predecessor, Barbara Boxer, for example, served in the Senate for 24 years.
Despite a relatively recent start in major politics, Harris has already demonstrated her remarkable ambition. At the beginning of the current campaign, she started out as the No. 1 Democratic presidential contender. Moreover, she remained a leader in the presidential race for a significantly long time.
But, at the end of last year, Harris started to lose ground to other candidates, and it became clear that her campaign was running out of steam. Funding problems appeared to be an additional difficulty. That is why, as early as last December, before the primaries, she withdrew from the race.
Although Harris dropped out, she managed to take an active part in televised debates. The course of those debates called into question Biden's decision to make her his running mate.
Following the logic of efficient debate, candidates attack a potential leader. At the time, Biden was a leader, so Harris attacked him.
They exchanged a few verbal blows, the most painful among which was Harris' response to Biden's opposition to busing policy.
The cornerstone of this policy was the forced racial integration of schools. Black children were bused to the best schools in white neighborhoods. This policy gave Black students the opportunity for a better education and a higher chance to go to college.
Harris recalled that she had once ridden in one of those buses. School busing touched on an issue that was more painful in contrast to other concerns, for example, tax policy or health care reform, which were less sensitive. But, Harris and Biden clashed over busing, and touched on the issue of race.
Although she did not openly accuse Biden of racism, many perceived it that way.
What made the situation even more fraught was the fact that Harris had previously been friends with the Biden family.
While Harris served as California attorney general, she was friends with Biden's eldest son, Beau Biden, who served as the attorney general of his home state of Delaware.
The Biden family saw Beau as a promising politician in contrast to is awkward brother Hunter, Joe Biden's youngest son. No one would have been surprised if Beau, and not Joe, had run for president this year. But in 2015, Beau died of cancer at the age of 46.
Seen through this prism, Harris's demeanor in the debate looked even worse. It looked as if she had attacked not only Joe Biden, but the whole family, and had somehow betrayed his deceased son and her former friend.
Neither the Biden family nor their immediate entourage has forgotten this event. Former Connecticut Sen. Chris Dodd and Ed Rendell, former governor of Pennsylvania and mayor of Philadelphia, demanded a public apology from Harris. But she has never apologized, at least not publicly.
By taking the step of choosing Harris as his running mate, Biden has demonstrated that personal feelings must give way to political necessity.
With a Vision Toward 2024
What could Harris add to Biden's campaign?
First of all, she is very dynamic and a good speaker. This is an important point because Harris could share her enthusiasm with many potential Biden voters, who are slightly less excited.
As the vice presidential nominee, she has an interesting background, one which is racially and ethnically rich. With her Tamil Indian mother and Black Jamaican father, she belongs to two minorities.
America is changing, and a candidate with such an ethnically diverse background is favored by many, at the very least, because it could increase the percentage of African American voters, which is already high, as well as increase the Asian vote.
Harris' knowledge on legal issues is another one of her trump cards. She has served as a U.S. senator for California for seven years and as attorney general of the same state for another six.
This knowledge could be useful in countermanding Trump, who positions himself as a defender of "law and order" amid racial unrest.
Or, it could become Harris' weak spot.
The more radical left wing of the electorate view Harris' tough-on-crime prosecutor negatively.
However, both Biden and Harris are centrists, representing moderate Democratic views.
Their tandem candidacy may repel some left-wing voters, but may also attract some Republican and independent voters.
The importance of electing Harris lies in the fact that she is still a relatively young politician. Biden is now 77, and two weeks after the election, he will turn 78. Even if he wins this election, it is not clear whether he will run for a second term in 2024.
Therefore, in the next presidential election which would follow Biden's possible first term, Harris is viewed as a leading contender.
The author, Vladimir Dubovik, is director of the Center of International Studies, and associate professor of international relations at Mechnikov National University in Odessa.
About this publication
---