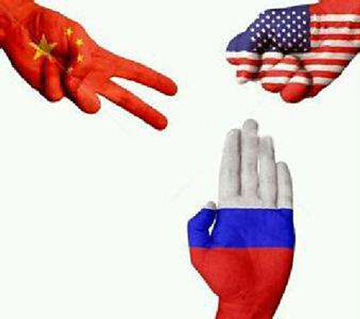 After the brutal blow of the coronavirus pandemic, no one has any doubt that the world is expected to undergo serious changes. This discussion is about which direction international cooperation will take.
Will national selfishness play out? Or, conversely, having survived a shared misfortune, will governments look for ways to interact and strengthen the international organizations that emerged after World War II?
Where Is the Struggle for Greatness Headed?
The United States and China have a special place in this discussion. With Donald Trump's slogan "Make America Great Again," the U.S. does not hide its intentions. Washington wishes to return to a unipolar world and restore its recently lost political and economic domination.
The Chinese Communist Party does not make statements about its geopolitical aspirations. And this fully corresponds to the Chinese foreign policy tradition of "silent infiltration." However, the lack of foreign policy noise and great-power rhetoric doesn't mean that it doesn't intend to secure a major role on the world stage — and judging by the U.S. reaction, Washington has no illusions about China's plans. The American press is leading a continuous attack on Beijing's policies. Here are just a few regular subjects: China has inundated the U.S. with its spies, it bribes universities, steals technology, pushes the U.S. out of areas of political influence, and finally, the claim that it was the Chinese who deliberately exposed the world to the coronavirus.
Who Is Threatened by China?
Recently, U.S. Secretary of State Mike Pompeo openly declared that the Chinese regime and the CCP represent the main threats to U.S. interests. The ideological subtext of this statement is not misleading. American politicians are least of all interested in what tenets the People's Republic of China lives by. When China was weak, Washington actually turned a blind eye to the human rights violations there: to the persecution of Buddhists in Tibet, to restrictions on the rights of Catholics and Protestants, and to the situation with Taiwan and Hong Kong. All this did not worry the overseas public too much.
Beijing's economic and geopolitical expansion frightens Washington. It reacted very warily to Beijing's global project "One Belt, One Road," which would ensure the unhindered movement of Chinese goods around the world. China is not sparing any money in the construction of this project. Though attractive at first glance, the loans are provided with such tricky conditions that they quickly become a burden for recipient countries. According to media reports, 68 countries were seduced by Beijing to cooperate on a project, 23 of which are located in financial dependence zones and eight that are unable to service their debts to the Chinese (including Tajikistan and Kyrgyzstan). Among those particularly affected is Sri Lanka. While trapped in debt, it was forced to hand over its seaport to China on a free lease for 99 years. This is the "quietest" tactic of the Celestial Empire.
China is also rather active in the post-Soviet space. Today, its companies already control up to 25% of oil production in Kazakhstan. Also, Beijing received exclusive rights to extract natural gas in Turkmenistan by giving the country a $12 million line of credit.
Our press writes about this as well, but, I would say, it is mindful of the traditional Chinese-Soviet friendship. The signing of a Comprehensive Strategic Partnership in 2012 and an even closer military cooperation with China, as well as general anti-American sentiments, restrain Moscow from critical analysis. For example, recently Russia and China held the largest joint military training in history. This did not go unnoticed in the U.S.
What Is the Price of Friendship?
The Soviet Union recognized the People's Republic of China from the moment of it was proclaimed on Oct. 1, 1949. Then, the main uniting factor was the communist ideology and struggle against world imperialism. Nevertheless, Joseph Stalin, without openly stating it, treated his new friend with great distrust (indeed, as he did with all others). For a long time, the relationship between the Soviet Union and China was based on the principle of "older and younger brother." China tolerated these relations while it depended on material, technical and military assistance (including the creation of nuclear weapons). Beijing remembers this with gratitude, but also understands that the situation has changed. The reasons are evident. The CCP's economy is the only one in the world that is gaining momentum even during the pandemic.
As for our current "strategic friendship" with China, Moscow's hopes have not been fully met with regard to dividends from the "Silk Road" project, which is part of the "One Belt, One Road" project. The expected investment in our infrastructure has not yet been received. Moreover, there were concerns that the "Silk Road" would depreciate the value of our Trans-Siberian Highway.
There are other peculiarities as well. For example, it is common to see Russian publications expressing concern about the demographic "overhang" of China over our border areas. Twenty-five million Russian citizens live in Siberia and the Far East, and their number is steadily decreasing, despite measures taken by the authorities. Some 100 million Chinese live in the neighboring regions of China. This is something to worry about.
In recent years, Washington has been doing everything possible to expand the anti-Chinese coalition. Yet, U.S. interests are only openly shared with Canada, Great Britain and Australia. Japan and India do not want to quarrel with the CCP. Western Europe also prefers to watch the battle between the two giants from the sidelines. The strong "sinification of the world economy" is making its presence known. A third of this economy depends on China to one degree or another. A divorce from Beijing, which Trump called for, could negatively affect employment, investment and growth rates. Besides, the EU is not at all interested in the U.S. winning the battle and restoring the collapsed unipolar world.
Considering all these nuances, the U.S. is making a diplomatic effort to involve Russia in its confrontation with Beijing. These efforts are unlikely to be successful. Despite some differences in our economic relations, the CCP has been an important trading partner for Moscow. Our turnover in 2019 exceeded $110 billion. This is 17% of all Russian foreign trade. Besides, in the context of technological sanctions, China is replacing us with a number of important partners. Moscow is not in a position to quarrel with Beijing. But, in my opinion, it is not reasonable to take some clearly expressed one-sided position in the American-Chinese confrontation. Our diplomacy, which cooperates closely with Beijing, will simultaneously continue to declare that Russia is ready to shift from confrontational to cooperative relations with the U.S. at any moment. This suggests that our country has gained useful political experience. The important thing is not to act like "great friends" with any country, but to look after our national interests.
About this publication
---