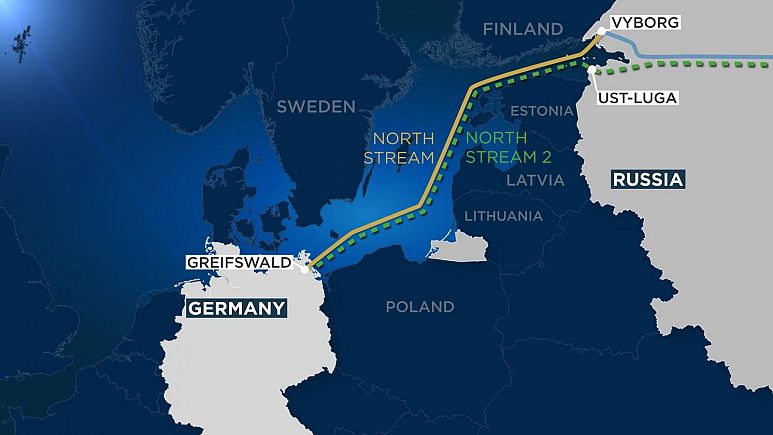 Most European countries are pleased that after being pushed around by the Donald Trump administration on many issues (pulling out from the Paris climate agreement, dismissing NATO, withdrawing from the World Health Organization), they will resume a civil relationship with the continent under Joe Biden's administration. But certain disputes that have marked this relationship in recent years will be unavoidable. Among these: the Nord Stream 2 gas pipeline connecting Russia to Germany.
The Nord Stream 2, built by the Russian company, Gazprom, and backed by major European energy groups, is 95% complete, with more than 10 billion euros already invested.
The project involves the installation of 1,200 kilometers of pipes under the Baltic Sea (approximately 746 miles), which will transport 55 billion cubic meters (approximately 14.5 billion gallons) of gas per year and will follow a route parallel to that of Nord Stream 1, commissioned in 2012. Like its predecessor, Nord Stream 2 bypasses Ukraine, a country with which Russia has a rocky relationship. This had already led to supply cuts in the middle of winter in 2006 and 2009.
Currently, the European Union depends on Russia for 40% of its natural gas imports. With the commission of Nord Stream 2, which makes it possible to double the amount of gas Russia provides to the continent, Americans fear that Europe's dependence on an excessive supply of gas from Russia will considerably increase its vulnerability, giving the ruling caste in Moscow the power of coercion over its energy security – and that it will strengthen Moscow's hold on Ukraine, which Moscow will be able to cut off from supplies without affecting the rest of Europe. In short, Moscow will have more leeway to decouple two distinct countries or regions which will be dependent on its gas.
At the end of 2019, the Trump administration passed the Protecting Europe's Energy Security Act, prescribing tough penalties for companies that participated in the project, which forced a break in construction work. The American position is not without commercial motives. The boom in gas production in the United States thanks to hydraulic fracturing has allowed it to very quickly become the world's third largest gas exporter, after Qatar and Australia. More than one-third of U.S. gas exports go to Europe.
Germany Is Annoyed
The American position is clashing with that of its allies, especially the Germans. They have denounced American interference, which they see as an attack on their sovereignty and an obstacle to their efforts to transition from coal to cleaner energy, and away from nuclear energy because of the risk of serious accidents like that of Fukushima in Japan.
The gas supplied by Russia is primarily for commercial use, they argue, and also gives Germany leverage to influence Gazprom, which effectively needs the income to sustain its budget. It would therefore not be in its interest to get on its customers' nerves by tying its supplies to political issues. Last year, Europe accounted for no less than 70% of Gazprom's total sales.
In May 2018, the EU sent the Russians a clear message by imposing a harsh judgment on Gazprom. Subject to sanctions, Russia is obliged to respect the rules of healthy competition, essentially to prevent it from taking advantage of its position as a dominant supplier by giving itself unfair advantages, particularly in central and eastern European countries.
Will this Nord Stream 2 megaproject, in which there are only 100 kilometers of pipes left to lay (approximately 62 miles), see the light of day? The first geopolitical power struggle between the new U.S. government and its close ally, Germany, and the EU, is clearly emerging.
About this publication
---