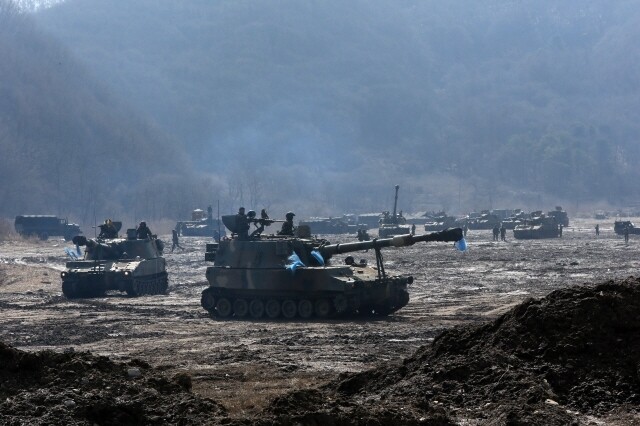 Joint military training between Korea and the United States in March is generating reaction at home and abroad. On Jan. 28, 387 liberal civic groups in South Korea and the U.S. issued a joint statement calling for the suspension of the joint drills, claiming that it would be a significant step toward building trust between North Korea and the U.S. and opening dialogue. On the other hand, conservatives are protesting that the military has been reduced to performing computer simulations for more than two years and has stopped outdoor training. Earlier this month, North Korean leader Kim Jong Un called for the suspension of the drills at the eighth party conference, saying that North Korea-U.S. relations and inter-Korean relations depend on the approach of the U.S. and South Korea. North Korea is implementing a new five-year plan for national economic development starting this year, and it would be difficult to focus on economic issues if military training were conducted in March.
If the training is suspended in March, there are concerns that the schedule for meeting the terms of the "transition of wartime combat control" agreed upon by South Korea and the U.S. will be delayed, which will disrupt securing military sovereignty. There are so many variables and complications surrounding the drill, which is considered a watershed for the situation on the Korean Peninsula. We have to decide what to do with the training in February. South Korea's diplomatic and security agencies should meet with the Joe Biden administration soon. It will be able to consider how to manage the dynamic situation on the Korean Peninsula calmly by suspending and postponing training and conducting computer simulations.
Some reserve generals and others argue that since the 2018 North Korea-U.S. summit in Singapore, South Korea-U.S. joint training has been reduced to "computer games" and the foundation of security has been broken. This is a view that concerns national security only from the level of military operations. National security policy should be judged and determined comprehensively, including the level of strategy, operations and tactics. If the Blue House devises a strategy of peace and prosperity on the Korean Peninsula, the military should consider how to manage its combat capabilities so it can achieve that strategy effectively on an operational and tactical level.
In coordinating joint training policy, the two countries should remember that military training itself is not an objective, but one of the various ways to support their strategy. Along with training, there are many pending issues between South Korea and the U.S., including the transition of wartime operational control, the North Korean nuclear issue, the United States India-Pacific strategy, and policy concerning China. The diplomatic and security teams need to prepare meticulously and respond carefully.
About this publication
---