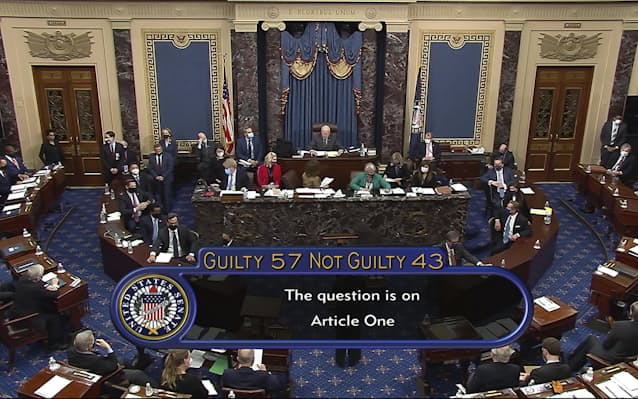 The occupation of Congress on Jan. 6 was a dark day in the history of American democracy. The impeachment trial of former President Donald Trump for inciting the mob ended in acquittal. The Republican Party is at loose ends, but it cannot make a decisive break with Trumpism. A resolution of the deep divides within American society remains far off.
The Senate trial, which took place where the ghastly incident occurred a month before, ended in only five days in order to focus on emergency measures like COVID-19 relief. Impeachment conviction requires two-thirds approval in the Senate. The hurdle was high, since the Democratic and Republican Parties each have 50 votes. So it is no surprise that Trump was acquitted for a second time, after the first impeachment in 2020 for the Ukraine scandal.
What is important is what this trial means for the future of American democracy.
First, there is a strong possibility that Trump will return to the political stage in the 2024 election with momentum from the acquittal. Even with an atrocity committed by right-leaning extremists who were driven by support for Trump, the former president's unshakeable hold on the Republican Party was reaffirmed. Only seven "rebel" Republicans voted to convict, 10 short of the number of Republicans needed for an impeachment conviction.
"In the months ahead, I have much to share with you, and I look forward to continuing our incredible journey together to achieve American greatness for all of our people." Trump issued this statement on Feb. 13; his Twitter megaphone has been taken away, and his ability to communicate has fallen sharply.
Although he was defeated by Democratic President Joe Biden, Trump garnered over 74 million votes in the presidential election. More than 80% of Republicans support his acquittal. Their support of Trumpism, which seized its adherents' hearts through distinguishing enemies from allies and inciting division, remains undiminished. "Yet another phase in the greatest witch hunt in the history of our Country," Trump said in a statement after his acquittal. His way of criticizing Democrats remains unchanged.
Trump did not recognize the election results and rejected a smooth transfer of power to the Biden administration until the last minute. If he gains momentum again, the wound to American democracy will probably grow a little bigger.
On the other hand, there were developments that cannot be ignored. There was a backlash from mainstream Republicans against Trump for not accepting democratic rules and not trying to stop the mob.
At 2:12 p.m. on the day that Congress was occupied, Vice President Mike Pence started to evacuate with his family and aides. They barely escaped members of the mob shouting, "Hang Mike Pence!" At 2:24 p.m., Trump tweeted that Pence "didn't have the courage."
Minority Leader Mitch McConnell, head of the Republicans in the Senate, harshly criticized Trump immediately after the acquittal verdict. "He watched television happily — happily — as the chaos unfolded. … Even after it was clear to any reasonable observer that Vice President Pence was in serious danger, even as the mob carrying Trump banners was beating cops … the president sent a further tweet attacking his own vice president." His words that Trump "bears responsibility for inciting lawlessness and violence" could come out of the Democrats' prosecution documents.*
McConnell supported acquittal based on the constitutional argument that a president who had already left office cannot be impeached. The opportunity to draw a line against Trump, whose actions shook the ideals of democracy, is emerging even within the Republican Party. But for now, they are only talking behind his back.
A Republican Party unable to break with Trump contains a great degree of instability. This is because, going forward, it is necessary to keep an eye on Trump supporters. The next presidential election in four years time could lead to a turn, with the Republican Party paying the price.
Biden supports the healing of America's divisions. Yet in actuality, he is rapidly reversing the Trump administration's policies, which is strengthening Republican backlash.
How can American democracy be restored? Both parties have the will to act, but the partisan divide is too severe. I cannot see a departure from the politics of division that Trump has deepened.
*Editor's Note: This quote, though accurately translated, cannot be verified.
*Editor's Note: The original language publication of this article is accessible with a paid subscription.
About this publication
---