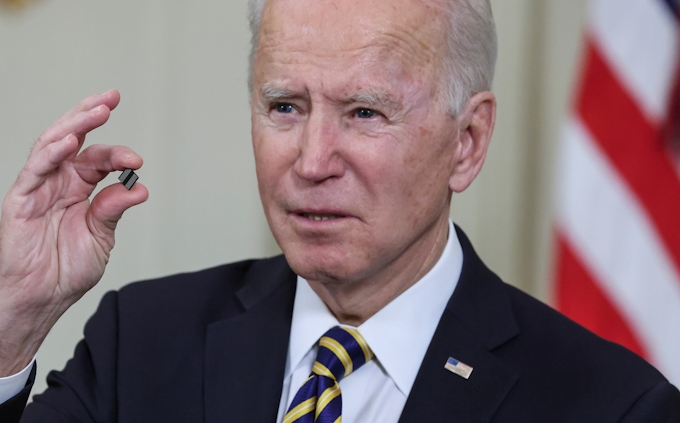 The world's countries are moving simultaneously to bolster their semiconductor industries. In opposition to China, which aims for a semiconductor revival through public and private coordination, the U.S. administration of Joe Biden is improving domestic production through massive public aid. The European Union also set targets for making a certain percentage of cutting-edge semiconductors in its territory in the name of escaping foreign dependence.
Semiconductors are a crucial strategic good for realizing a digital society that makes uses of AI and big data and are also vital for economic security. It is time for Japan to launch public-private cooperation as well.
In the background of the West's actions lies the reality that the Taiwan Semiconductor Manufacturing Company has opened a big lead in semiconductor micro-machining technology, and that we greatly depend on TSMC's factories in Hsinchu and elsewhere in western Taiwan to make high-end semiconductors.
An awareness of the vulnerability of supply chains is the inevitable result of heightened political tensions between China and Taiwan. Furthermore, supply shortages have forced the industry to be aware of the risk of a cutoff in semiconductor supply.
America is leading in these endeavors and last year succeeded in luring TSMC to build a factory in Arizona. This February, Biden held a semiconductor chip in his hand and described the importance of his country securing semiconductor development and production abilities. Sure enough, in March, the American company Intel announced that it was investing $20 billion in new, state-of-the-art factories in Arizona, showcasing that public-private partnerships have made a comeback.
The EU has also allocated part of its COVID-19 recovery fund to digital fields and announced a goal of producing cutting-edge semiconductors within its territory.
Even in Japan, the Ministry of Economy, Trade and Industry held a meeting in March that began to explore menu options for more robust policies. We need to come to grips with the reality of international competition developing via public-private cooperation and push our work ahead with a sense of urgency. At the same time, we should reflect on our past policies, which were obsessed with Hinomaru semiconductors,* and put energy into inviting foreign firms with specialized technology and knowhow.
Japanese semiconductors have lost the might of yesteryear, but our materials and production equipment are still powerful. We also have many automobile companies, which can be potent users of cutting-edge semiconductors for things like automation. We hope that we can make use of these advantages and leverage existing semiconductor companies to build the foundations for a firm domestic semiconductor industry.
Another idea would be to advance our cooperation and division of labor with countries like America to improve the security of our supply chains.
*Translator's note: This is a proud term for Japanese semiconductors ("Hinomaru" meaning Japanese flag) and likely refers to a failed government initiative to support the industry in 2005.
About this publication
---