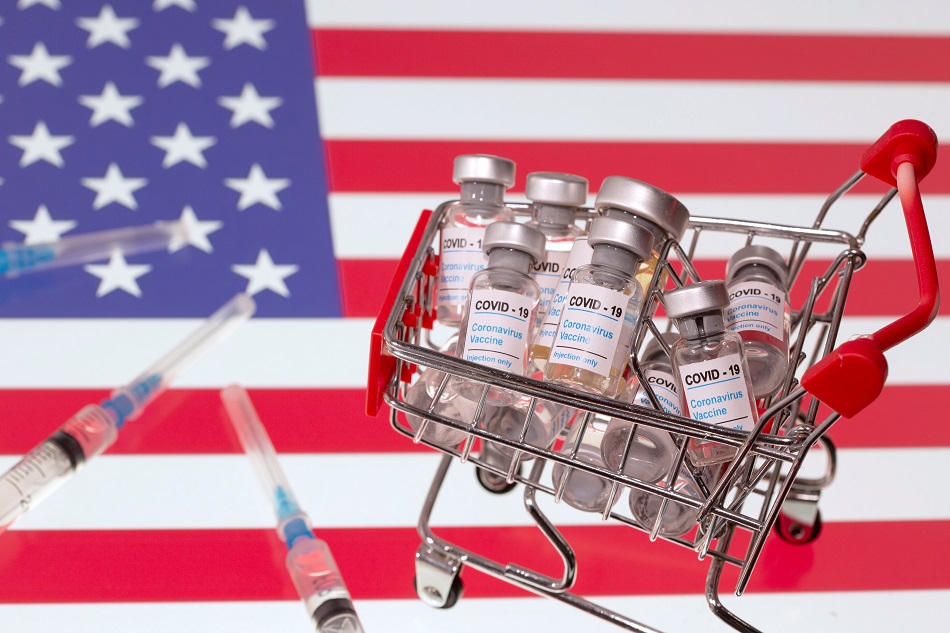 Taiwan has struggled to control the pandemic because of a vaccine shortage. Fortunately, the country received some timely assistance last weekend, which has eased the desperate situation. First, the U.S. provided Taiwan with 2.5 million doses of the Moderna vaccine in a demonstration of care to a member of the democratic family, a showing that heartened the Taiwanese. Second, Taiwan Semiconductor Manufacturing Company and Foxconn Technology Group obtained authorization from Taiwan's Legislative Yuan to purchase 5 million doses of vaccine from Germany. The situation is moving in a positive direction, and the sun is beginning to rise. Vaccines, chips and democracy – three unrelated factors – are coinciding to a create a life-saving spark. In the scorching summer, this aid is like rain that has come at the right moment to comfort a society that has been shrouded by the shadow of the pandemic.
The U.S. provided three times the quantity of vaccines that it originally promised, exceeding Taiwan's expectations. U.S. officials note that the vaccines come without any strings attached, and have denounced China for blocking Taiwan from purchasing vaccines out of political interests. Jonathan Fritz, deputy assistant secretary of state for East Asian and Pacific Affairs, pointed out that China has been using vaccine donations to entice countries that have diplomatic relations with Taiwan to switch their loyalty from Taipei to Beijing.
As Taiwan has suffered during the pandemic, dissatisfaction has emerged at the grassroots level. The opposition party has stirred up trouble, provoking social discontent and called for importing Chinese vaccines, placing the government under an enormous amount of pressure. The timely assistance from the U.S. has alleviated anxiety and will greatly help stabilize the political situation. A Facebook post from the American Institute in Taiwan said that the donation of vaccines shows a "commitment to Taiwan as a trusted friend, and a member of the international family of democracies." A stable democracy in Taiwan is in America's best interest. The U.S. has good reason to donate vaccines because Taiwan upholds democratic values. Taiwan can wield democracy as a weapon to obtain international aid and counter China.
On the evening before Group of Seven summit of major industrial nations, President Joe Biden announced that the U.S. would donate 500 million doses of the Pfizer vaccine to 92 low and middle-income countries, the largest vaccine donation program globally to date. He emphasized that these donations would be unconditional; the U.S. would not pressure countries or demand repayment, and there would be absolutely no strings attached. Biden also vowed that the U.S. would become a vaccine arsenal in the fight against COVID-19, an arsenal that would also be used to challenge China's "vaccine diplomacy."
According to a report by Politico, China is donating vaccines in return for political concessions from recipient countries; it is pressuring countries that receive the vaccine to recognize China's sovereignty over Taiwan. Honduran President Juan Orlando Hernandez, Taiwan's diplomatic ally, indicated that to obtain vaccines from China, Honduras might establish a commercial office there. Honduras Chief Cabinet Co-Coordinator Carlos Alberto Madero Erazo said that obtaining vaccines was most important, and the situation could "definitely lead to changes in foreign policy." Another ally, Paraguay, is also receiving pressure from China, whose menacing of others is a persistent and unnerving problem for the U.S.
Sen. Dan Sullivan, who made a special trip to Taiwan to announce the vaccine donation, said that the Chinese Communist Party has consistently hurt Taiwan's ability to obtain vaccines. Sullivan's visit to Taiwan was a show of support for important partners. Sen. Mitt Romney, a political heavyweight and member of the Subcommittee on East Asia, the Pacific and International Cybersecurity Policy, told Secretary of State Antony Blinken that providing Taiwan with vaccines to fight COVID-19 is vital and that he hopes the U.S. can donate 2 million doses.
Obviously, a weakened Taiwan is not good for the U.S. as a leader of democracies. Although the U.S. supports Taiwan, the Kuomintang is pushing for Chinese vaccines, as well as criticizing the government for not purchasing enough vaccines and blocking Chinese vaccines that have passed international standards. The KMT also plans to release domestically produced vaccines that have yet to undergo phase three trials in a total disregard for human health. The KMT has ignored China's use of vaccines as a diplomatic tool, and the charge that it spread the virus on the one hand, and is now sweeping in for the rescue on the other. China has taken advantage of Taiwan's internal conflict, hindered the country from obtaining vaccines, and declared a willingness to provide Taiwan with vaccines. The safety and efficacy of China's vaccines, however, is questionable. If Taiwan rashly accepts the vaccines, must it acknowledge the One-China Principle? Will it be relegated to being a regional government? When the vaccine supply in Taiwan was inadequate, timely assistance from the U.S. relieved the pressure on the government. The American Institute in Taiwan quickly responded to public opinion and played a key role.
That TSMC and Foxconn are striving to obtain vaccines demonstrates the social responsibility of corporations and highlights the unique position of Taiwan's technology industry. Last month, Apple indicated its willingness to help TSMC obtain half a million vaccine doses, enough for its employees and their families, to prevent a break in the chip production supply chain. At the beginning of the year, computer chips used in automobiles were in short supply, which greatly impacted the American and European auto industries. Germany's minister of economic affairs sent a letter to Taiwan's counterpart, Wang Mei-hua, asking for government assistance in getting TSMC to help get the German auto industry through the crisis. In response, Wang met with industrial leaders and asked them to increase the supply of automotive chips to Germany. That same day, Wang met with a representative from the German Institute Taipei to seek the purchase of sufficient Pfizer-BioNTech vaccines. The GIT representative promised to pass along her request, and the German Federal Ministry for Economic Affairs and Energy even stepped in to help coordinate. All of this demonstrates the critical role Taiwan's chip industry plays.
Vaccines and chips are important strategic tools, and democracy is a critical asset for Taiwan. The fact that the U.S. and Japan successively offered assistance to Taiwan, and that German manufacturers want to sell vaccines to Taiwan bears witness to the technological strength of a democratic Taiwan. When the pandemic began, Taiwan altruistically sent protective equipment to its allies. Now it is getting a taste of payback.
The author is the former president of Taiwan's Central News Agency.
About this publication
---