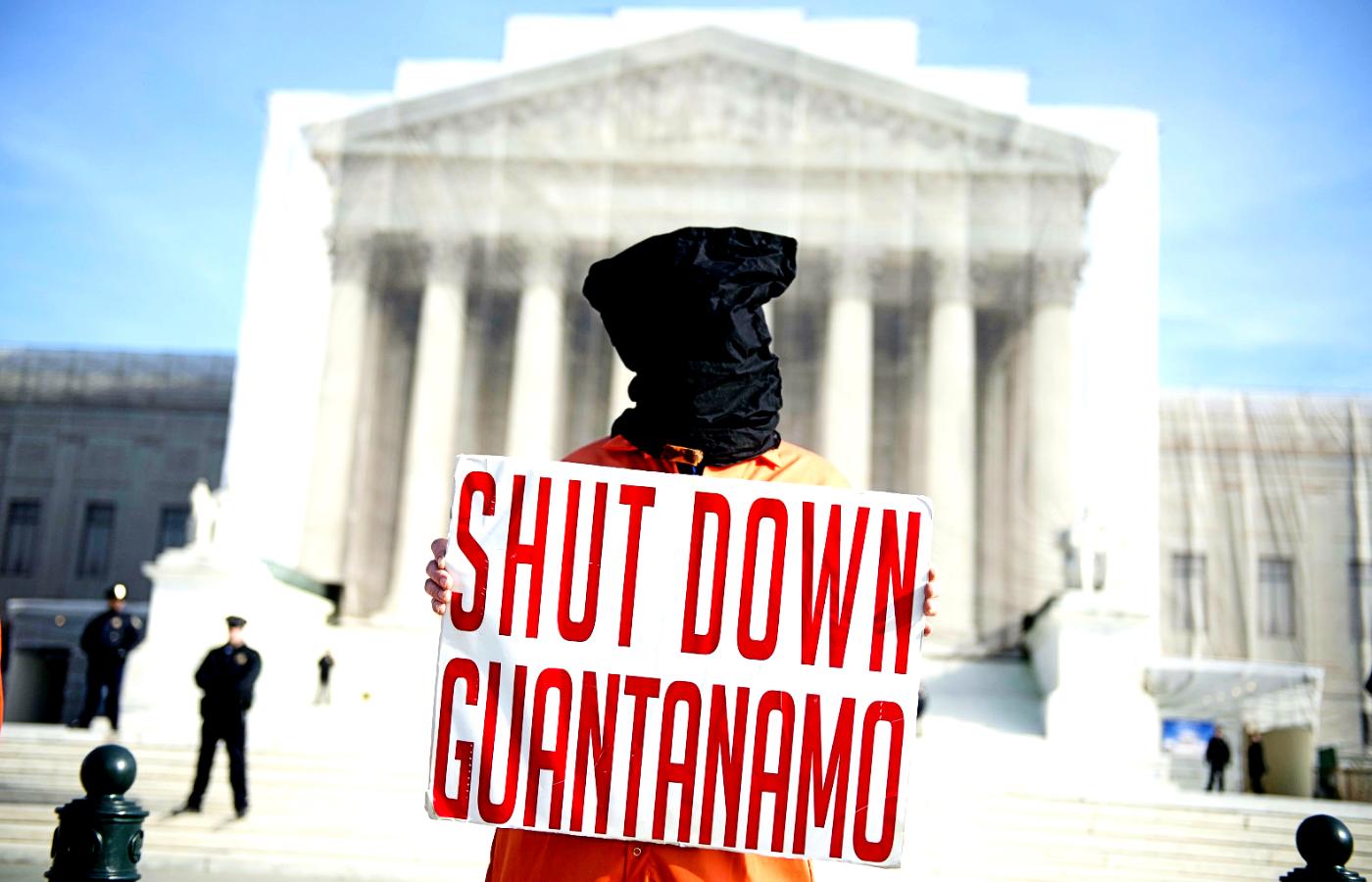 For America's critics, Guantanamo is a symbol of human rights abuse in the fight against Islamic terrorism. Joe Biden's team, however, does not promise to close it, stating only that it intends to "reduce the detainee population."
The U.S. has released the first prisoner from the notorious prison on the U.S. Guantanamo Bay base in Cuba since Joe Biden took office. Abdul Latif Nasir, 56, was flown to his native Morocco, where he was taken into custody as part of an investigation into whether he posed a terrorist threat, although no such charge was formally brought against him at Guantanamo. His release has been viewed as a first step toward the possible closure of the prison, a symbol to America's critics of human rights abuses in the fight against Islamist terrorism after the 9/11 al-Qaida attack. Biden's team, however, is not promising to close the prison and said only that it intends to "reduce the detainee population" at Guantanamo while "keeping an eye on the security of the United States and its allies."
Guantanamo's Special Status
The prison was established in 2002, incarcerating mostly jihadis captured fighting with al-Qaida and the Taliban in Afghanistan after invasion of that country the previous October. At its peak, there were about 700 prisoners there. (There is conflicting information about the exact number of prisoners.) They were held indefinitely as enemy combatants, without formal charge, and not afforded rights as prisoners of war, which would have required treatment according to the provisions of the Geneva Conventions.
Using the unique legal status of enemy combatant was the first controversial move by then-President George W. Bush's administration, a move that was criticized for not granting detainees routine rights such as access to lawyers and contact with families (something the government later agreed to). Detainees were subject to the military justice system, where they were to be charged by military prosecutors and tried by military tribunals, known as commissions.
How Many Prisoners Return to Terrorism?
Officially, only two prisoners have been found guilty and convicted of terrorism. After nearly 20 years, the five detainees accused of involvement in the 9/11 attacks have yet to even be tried. The Bush administration released nearly 500 prisoners who were transferred to their native countries. At the beginning of his term, Barack Obama promised to close Guantanamo within a year, but he failed to keep that promise. He managed to transfer about 170 prisoners to their countries of origin or to third countries, but Congress and the states targeted for detaining the transferred prisoners refused to participate. They argued that the prisoners posed too great a security threat, and Obama's critics pointed out that some of the prisoners he had released were again engaging in terrorist activities.
According to a 2016 report by the U.S. Office of the Director of National Intelligence, only about 12% of those released are "suspected" of resuming terrorist activity. Nasir, who was released a week ago, stated that he regretted his previous activity; he had been trained in al-Qaida camps and fought with the Taliban against Americans in Afghanistan. His lawyer said he was innocent. According to critics of the prison, some of those held there may have become radicalized, as they were reportedly tortured (the U.S. government denies this) and only joined the jihadis after their release.
Donald Trump halted the process of vacating Guantanamo, claiming that those held there were dangerous. He even threatened to send more Muslim extremists to the prison. The only prisoner released under his administration was a Saudi, sent to his country to serve out the rest of his sentence. Currently, 39 more prisoners are being held at "Gitmo," as the prison is colloquially known. The Federal Office of the Pardon Attorney has found 10 of them suitable for transfer elsewhere, 11 have been charged with terrorism or war crimes, two have been convicted of these crimes, and the rest are being held without formal charges.
Will Biden Close Guantanamo?
When asked whether Biden will close Guantanamo, White House Press Secretary Jen Psaki replied that the president intends to do so, but the administration is not able to provide any specific timetable or final date. We can understand this reticence given that procedures at "Gitmo" are prolonged by logistical difficulties. It's not easy to bring a process in line with established legal standards—for defense of those accused, transparency, etc.— at a military base managed under tight security rules.
There are also political hurdles. Psaki noted that even the president can't decide on his own about releases, because it requires notification and consultation with Congress. A group of Democratic senators has called on Biden to quickly close the prison, but Republicans in both houses of Congress are opposed. Republicans are also persistent in their opposition to possible plans for transferring detainees to U.S. prisons and holding their trials there. As before, people have argued that these moves raise the risk of a terrorist attack to free the jihadi prisoners.
Who Cares about Guantanamo?
This means that if Biden does not succeed in closing Guantanamo within the next 1 1/2 years and the Democrats lose the 2022 Congressional midterm elections, the notorious prison may continue to operate for a very long time. This will satisfy critics and America's enemies who have compared it to Nazi concentration camps and the Soviet gulag. It is worth reminding these critics that not long after it was opened, during a period of intense antiterrorist paranoia following 9/11, two jihadis detained at Guantanamo who came from former Soviet republics in Central Asia, begged the American authorities not to send them back to their home countries, where their fate was likely to be worse.
This is probably also why Nasir's release has passed almost unnoticed by the U.S. media. In the confusion of recurring pandemonium, post-Trump recriminations, and the political pushback surrounding Biden's initiatives, few people really care about Guantanamo today.
About this publication
---