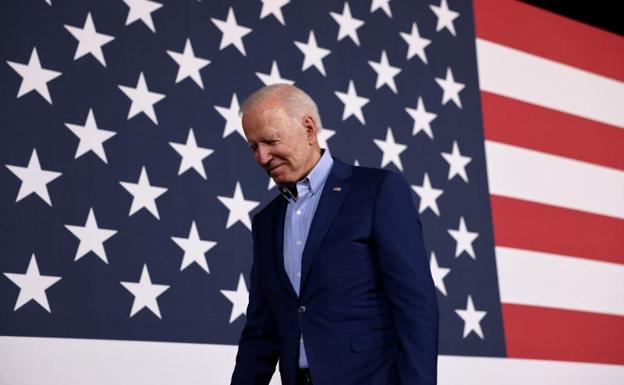 The infrastructure plan is a litmus test for a president with 47 years of legislative experience, who postponed doing what he had promised in order to get the most important thing off the ground.
Those who do not know history are destined to repeat it, but Joe Biden has had a starring role in history too many times to be able to ignore it. Twelve years ago, Barack Obama marked the first six months of his term in office with an extraordinary 59% Gallup poll approval rating in contrast to Biden's 50% approval. Obama signed a $787 billion economic stimulus package the month he took office, which resuscitated the economy after the subprime mortgage crisis. His ambitious health reform law took him from strength to strength. And then came the August recess.
That was the moment in which the dream of a country that had no red states or blue states, but was just the United States, slipped from his grasp. During the August recess of 2009, legislators returned to their home states to reconnect with their voters at traditional, public plaza-style rallies, and they discovered the tea party at the microphone, lashing out angrily at public spending, "socialist" health care and "death panels," which conspiracy theorists claimed would decide who should live or die according to what was appropriate for states to spend. By the time legislators returned to Washington, many were sure that supporting the president's health care reform, nicknamed "Obamacare" by the tea party, would be political suicide.
In hindsight, those who worked with Obama admit that they let the momentum pass, captivated by the illusion of getting a bipartisan deal. Biden was part of that administration. He personally directed the negotiations with the Senate, where the death of Ted Kennedy on Aug. 25, 2009, was the final push needed for passing health care reform. The version that Congress unanimously approved the following year was so watered down it was seen as a fiasco.
This Monday, Biden will have a new opportunity to overcome that trap from history. The infrastructure law known as The American Jobs Plan has undergone a month of negotiations in the hope of getting to a vote in the Senate, where the vice president's deciding vote could break the tie and approve it by simple majority using the budget reconciliation process. In a Senate with a 50-50 split between Democrats and Republicans, Kennedy's ghost hovers over Biden's legacy. Any drop in the number of Democratic legislators would put an end to everything that the new president has placed on the agenda, because in such a polarized country, where Republicans loyal to Trump still question Biden's election, it would be impossible to reach any agreement, much less when the party does not even have a simple majority, which they only manage with the support of two independent progressives. A sword of Damocles hangs over Biden and his place in history during this process at the halfway point of his first year.
Essential Law
The success of Biden's administration will be measured by its ability to get the infrastructure bill off the ground, a bill that is considered essential for modernizing the country, and which will face a new procedural vote after failing a preliminary vote on Wednesday. The 11 Republicans who are working to fulfill Biden's bipartisan dream have been saying that they are close to an agreement for more than a month. On June 24, Biden got a taste of bipartisanship when a committee of senators from both parties went to the White House and presented a plan which contained only half of what he had proposed, but which would allow it to get an absolute majority vote without the need to rely on the Senate's accounting tricks. In return for the a promise from the conservatives in his party to vote for the modified bill, the president agreed to leave matters that did not stand a chance of bipartisan approval for another larger proposal..
The Republican senators who got his hopes up, considered moderate in their party, are the same people who always brag about their ability to negotiate with the other side of the aisle, but who almost never fulfill these promises, Sens. Susan Collins, Lisa Murkowski, Mitt Romney and Rob Portman. On Wednesday, none of them voted in favor of the bill. The Democrats' own Senate leader had to vote against the bill in order to give it another chance in the future.
During these first six months in office, the president has concentrated most of his efforts on battling the COVID-19 crisis, achieving two big results. On the one hand, there was a massive vaccination campaign, which happily beat all expectations during the first 100 days, but which since then has come up against a wall of skeptics and deniers, resulting in the failure to reach herd immunity by July 4. On the other hand, there has been an enormous, emergency cash injection of $1.9 trillion, also approved thanks to budget reconciliation, without a single Republican vote.
The American Rescue Plan is one of the 11 bills the president has managed to sign in his first six months, fewer than any other Democratic president since Franklin Roosevelt, who raised the bar to a record 76. And this is not just because the country is more polarized than ever, but because Biden, at 78, has the maturity and legislative experience necessary to know when to shelve his hopes and avoid stirring up a hornet's nest, which is what happened with health care reform.
That is what would have happened if he had pushed for immigration reform, or the bills to curb firearms or promote police reform. Having opened that Pandora's box would have cost him all of his political capital before the ghosts of a tea party strengthened by Trumpism, a group which no longer settles for poisoning public opinion, but now takes the Capitol.
2 Years
All U.S. presidents know that, statistically speaking, the window of opportunity to turn ideas into legislative success lasts no longer than two years. Next November, midterm elections may reduce the smallest Democratic majority in Congress since 1890, a Congress where the Democrats have only nine representatives on the margins, and will probably be robbed of even its simple Senate majority, which they hold only by virtue of the vice president's deciding vote and support of the independents.
Biden has compensated for this lack of legislative progress by signing 42 executive orders, the largest number of any president in his first six months, and almost twice those of the runner-up, Lyndon Johnson. Furthermore, Biden he revoked 62 of the 219 executive orders that Trump signed during his time in office; in comparison Trump only revoked 12 of Obama's executive order in his first 100 days. The number of COVID-19 cases have decreased by 73% after the administration of 140 million vaccines, and 1.2 million people have emerged from unemployment, a rate which continues to skyrocket for the U.S. at 6%.
One area where Biden will not beat out his predecessor is Twitter. Biden tweeted 589 times during his first six months, in contrast to Trump, who tweeted 26,000 times during his presidency. That equates to roughly 18 tweets per day compared to the new president's six, a president who probably delegates the task of tweeting to someone else. The oldest president to have been elected promised during his campaign to lower the temperature in Washington and has proved he has the patience and calmness to do so. It remains to be seen if, at that temperature, he can bake an agenda that will let him rest easy at the end of his time in office.
About this publication
---