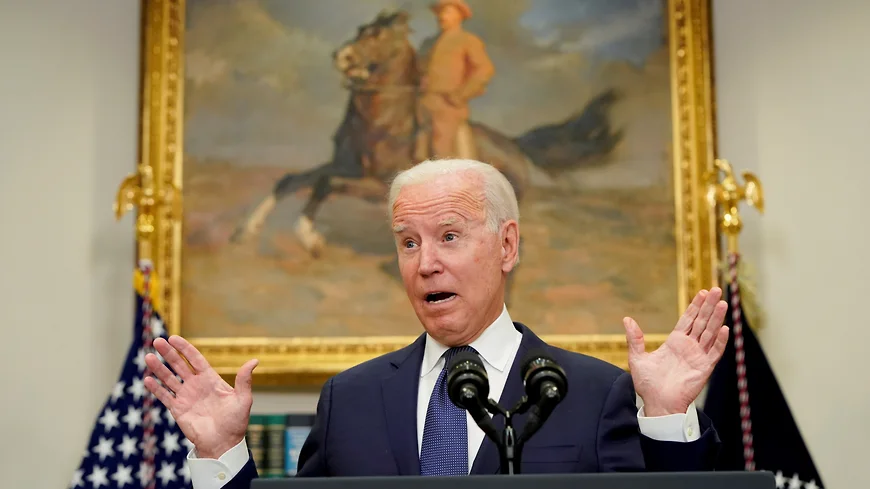 August, traditionally a quiet time for U.S. politics, has been unprecedentedly turbulent this year as America continues to assess the consequences of the lightning-quick takeover of Afghanistan by the Taliban. President Joe Biden is trying to shift the focus of public attention to domestic issues, but so far he has been unsuccessful. According to an NBC News poll, only 25% of Americans consider his actions in Afghanistan a success, compared to 60% of respondents who hold the opposing view.
Biden chose to address the flooding in Tennessee and Tropical Storm Henri before he talked about Afghanistan during Sunday's briefing. He talked about how the rescue was going, thanked the rescuers and urged everyone to get vaccinated against COVID-19. "Now let me turn to Afghanistan," the president said, turning to a topic of global concern. "A little over 30 hours — in a little over 30 hours this weekend, we've evacuated an extraordinary number of people, as I will detail in a minute: about 11,000 individuals," the president said, trying to look collected and in complete control of the situation.
He said that the first priority of U.S. forces is to get Americans out of Afghanistan.* To that end, State Department officials are actively seeking U.S. citizens who remain in the country, contacting them and helping them get to the airport. "For security reasons, I'm not going to go into the detail of what these plans entail, but I will say again today what I have said before: Any American who wants to get home will get home," the president said. He added that the U.S. is also helping citizens of NATO allies and, finally, allied Afghans, who include women leaders and journalists.
The president sought to appear in control of the situation in front of his fellow citizens when he said, for example, that a total of 28,000 people had already been evacuated from Afghanistan, but he didn't always come across that way.
In particular, Biden said that the U.S. military managed to increase the number of access points to the airport and the security zone. American journalists, specifically CNN correspondents, interpreted this as evidence that U.S. military units had begun to enter the city and escort groups of those who could not reach the airport on their own. However, a spokesman for the administration explained that the president's bold words meant only that the Taliban themselves would be opening additional points of passage to the airport in Kabul, and that U.S. service members would continue to do what they have been doing. Biden himself explained that the Taliban, recognized as terrorists in the Russian Federation, were cooperating on these issues.
The president warned that the entire U.S. operation in Kabul and all evacuees, both U.S. citizens and Afghans, are under attack from the Afghan branch of the Russian-banned terrorist organization Islamic State in the Khorasan province, which is formally at odds with the Taliban.
Last week, the president was criticized for being too unemotional and detached in his comments about people fleeing the Taliban in Afghanistan, and this time he corrected the mistake saying the situation makes his heart ache. "You can't look at it and not feel it," Biden said, pointing to the brave, professional and compassionate actions of the valiant women and men of the U.S. military. He also hinted that the Americans might be delayed in Kabul beyond Aug. 31, the previously set deadline, dismissing remarks by terrorist spokesman Suhail Shaheen to Sky News that lingering would be considered crossing a red line and invite backlash.*
Generally speaking, Biden decided once again to adhere to the strategy implemented after the Taliban takeover of Kabul: instead of commenting on the poorly planned evacuation, he accused his critics of wanting to continue U.S. armed intervention in Afghanistan. "But the bottom line is this, folks: Look, at the end of the day, if we didn't leave Afghanistan now, when do we leave? Another 10 years? Another five years? Another year? I'm not about to send your son or your daughter to fight in Afghanistan. I don't see where that is in our overwhelming interest," the president told the nation in his usual manner. He noted that China and Russia would like to keep the U.S. in Afghanistan. "I think that history is going to record this was the logical, rational and right decision to make," Biden summed up.
If his strategy is a success, it will be limited. According to an NBC News poll, Biden's approval rating has reached 49%. Only 25% of those polled regard the U.S. administration's actions in Afghanistan as successful compared with 60% who do not. But we must not write it all off to the Afghan situation. There are also questions about the situation with COVID-19 — 53% considered the response to COVID-19 successful,n down by 16% from April — and questions about the economy, which was evaluated positively by 47% of respondents, down by 5% from April.
The overall situation looks pretty grim. Only 29% of those surveyed felt that the country is moving in the right direction, down from 36% in April. Some 54% of Americans are pessimistic about the country's direction, while 44% remain optimistic. The traditional party split also persists: 88% of Democrats have a favorable opinion of Biden's work so far and 88% of Republicans feel negatively about it. Some 47% of those polled would like to see Congress controlled by Democrats and 46% would prefer a Republican Congress. When a reporter asked Biden to comment on the poll results and his decline in popularity, he smiled and replied, "Look, I had a basic decision to make … and I decided to end the war."
*Editor's note: All American troops withdrew from Afghanistan on Aug. 30.
About this publication
---