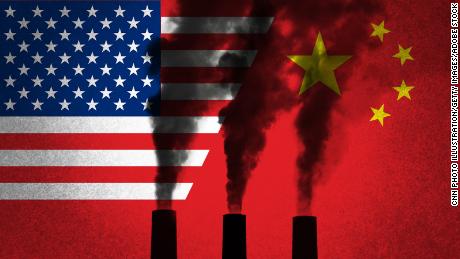 At the climate summit in Glasgow, there were not many countries that made clear and firm commitments, even if everyone was yelling that the "world is ending at 7 o'clock."
Well, good. Nearly 90 countries commit to drastically reduce their methane emissions. And if they don't do anything, what happens? Not very much.
Joe Biden is counting on his appearance at the 26th session of the Conference of the Parties, known as COP26, to rebuild America's image. He will have trouble convincing allies and adversaries that he can change the course of things in the United States as well as elsewhere in the world.
After negotiations with his own party that were as tortuous as they were acrimonious, he was forced to revise and scale back proposed legislation in order to get it passed by Congress.
Who Still Trusts the Americans?
We cannot consider a single commitment Biden makes as secure. There is a risk that the Trumpists may regain power in 2022 as well as in 2024. Some 50 million Republican voters still believe that Biden stole the election. The Republican Party and the Democratic right, financed by the deadly energy lobbies (oil, gas, coal, etc.), have ways to put the brakes on all this and even reverse it.
On the fundamental question of our era, more than a quarter of those elected to Congress, 109 representatives and 30 senators, refuse to recognize that there is human-caused global warming, despite undeniable scientific proof. That includes 52% of Republicans in the House of Representatives and 60% of Republicans in the Senate. According to the Center for American Progress, these self-proclaimed "climate deniers" have received more than $61 million from polluting industries. It's profitable for a hypocritical elected official to look stupid.
However, in 2020, the United States endured 22 "extreme meteorological events," each of which caused damage exceeding $1 billion.
China under Xi Opts Massively in Favor of Carbon
The situation is just as desperate for China, the world's largest source of greenhouse gas emissions. This country should have been a key player in the COP26. But its dictator, Xi Jinping, did not attend the conference. He decided that he had no more concessions to offer.
Incapable of meeting its electricity needs, China is massively increasing its carbon production at an enormous cost to the environment. Xi personally pledged that his country's greenhouse gas emissions would peak in 2030. He is trying to deflect attention while he underlines the large investments Beijing is making in solar and wind energy. One does not compensate for the other. Another 10 days of blah blah blah, just as environmental activist Greta Thunberg said.
I'm afraid that we have already reached the point of no return. We must begin to prepare for the worst. I hope that, in Ottawa as well as in Quebec City, there is thought about how we can lessen the impact that this unfolding global warming and environmental degradation are going to have on our lives.
About this publication
---