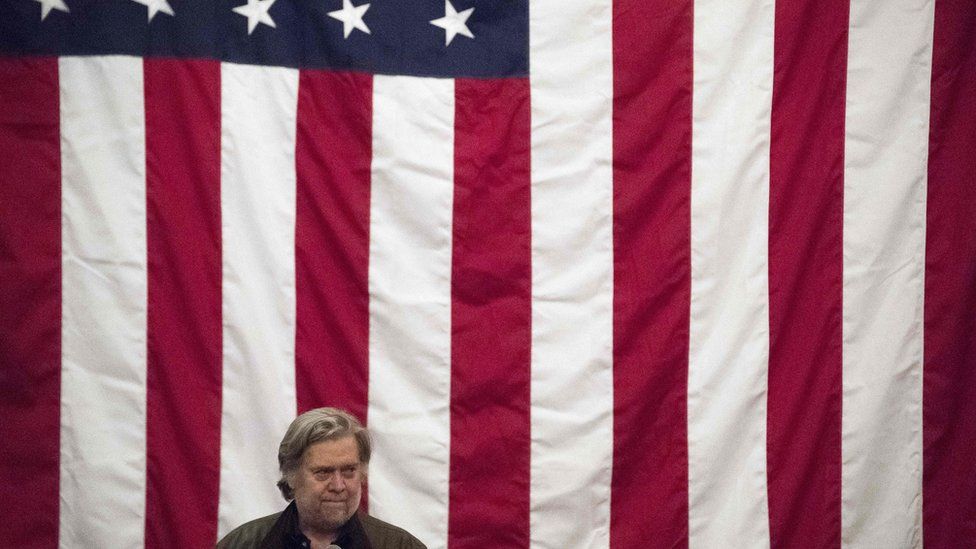 Steve Bannon, who faces two criminal charges for defying a Congressional committee, has shown a rare arrogance. The former chief strategist and senior adviser for Donald Trump is promising to topple the Biden "regime" and says the charges against him will be charges "from hell" for Joe Biden and the Democrats.
The House Committee investigating the Capitol Hill insurgency wants Steve Bannon to explain incriminating remarks he made the day before the attack: "All hell is going to break loose tomorrow," he said at the time. "So many people said, 'If I was in a revolution, I would be in Washington.' Well, this is your time in history."
Bannon is one of several criminals in Donald Trump's orbit that Trump pardoned before leaving office. Bannon was charged with stealing money raised to build the wall with Mexico and using it to pay personal expenses. Another close Trump associate, his chief of staff, Mark Meadows, also failed to appear before the committee last Friday. He could face the same charges. Bannon and Meadows are key witnesses in the Capital insurrection, as they were both in close contact with Trump on Jan. 6. Trump, meanwhile, has stepped up his legal fight to withhold incriminating documents and testimony.*
Trump in Power by Force, If Necessary
At Trump's behest and that of other co-conspirators, the Jan. 6 insurgents tried to overthrow American democracy on what was the worst day in U.S. history since 9/11. Many experts believe the United States is currently experiencing one of the most serious political crises in its history, and one of the greatest threats that American democracy has ever faced. On the radical right, there are growing calls to take up arms and remove Joe Biden from office, even as polls and analysts say the Democrats are headed for defeat in the 2022 midterm elections and the 2024 presidential election.
The Trumpist far right is determined to do whatever it takes to reinstate Trump and the Republicans. In the face of Republicans armed with AR-15 assault rifles, Democrats wield the penal code and the Constitution.
Will Democracy Survive in the United States?
Can American democracy still be saved? It's unclear. Democracy has been in decline for decades. Its dysfunctional election system let Trump capture the presidency in 2016. Republicans are now prepared to reject any election which Democrats win in both 2022 and 2024.
If Trump regains power in 2024, there is every reason to believe that he will be even more contemptuous of the law and democratic institutions than before, and even more corrupt in the pursuit of his own interests than he was during his time in office.
*Editor's Note: Until Trump discloses documents and provides testimony as demanded by the House, it is not known whether the material is incriminating.
About this publication
---