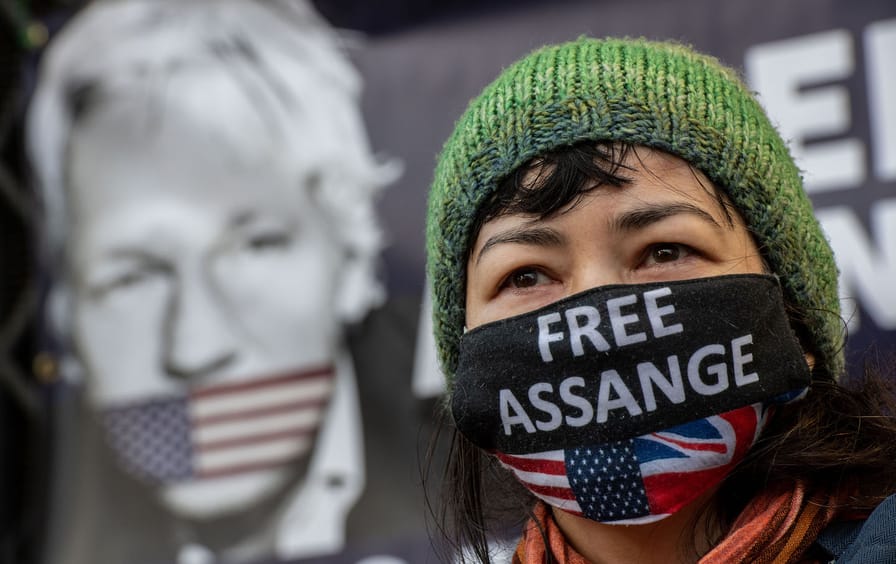 WikiLeaks founder Julian Assange can be extradited to the United States. He is charged with having published classified documents from the wars in Iraq and Afghanistan.
The U.S. has issued charges against Assange after WikiLeaks released 500,000 classified documents to the public which uncovered the shady side of the United States' wars in Iraq and Afghanistan.
In January, a lower U.K. court denied extradition because it felt there was a danger that Assange might take his own life if he were transferred to an American prison and tried there. The U.S. appealed the decision and on Friday, two other British judges granted the U.S. extradition request.
In America, Assange faces up to 175 years in prison if he is convicted on 18 charges including hacking and violating United States espionage laws.
Several Rounds in Court
After publishing the classified documents, Assange visited Sweden. In November 2010, he was wanted by the Swedish authorities on suspicion of rape and sexual assault against two Swedish women. He was arrested several months later in the U.K., and released on bail. The case was later dismissed.
In June 2012, a U.K. supreme court granted extradition to Sweden, where Assange feared he would be in turn extradited to the United States and sought refuge at the Ecuadorian Embassy in London.
He stayed at the embassy until April 2019, when Ecuador withdrew its protection. The same day, the U.S. charged Assange with conspiracy to commit computer crime. Since then, Assange has been locked away in Prison Belmarsh, high-security facility outside London.
'A Sad Day for Freedom of Speech'
The Norwegian Union of Journalists reacted strongly to the fact that the British judicial system paved the way for Julian Assange's extradition to the U.S.
"This is a sad day. The British judges made the wrong decision when they ruled to allow the extradition of Julian Assange to the United States," commented Norwegian Union of Journalists leader Dag Idar Tryggestad.
He believes the charges against Assange threaten the freedom of the press, and that it is especially unfortunate that the decision comes on the same day that the Nobel Peace Prize is being given to journalists who fight for freedom of speech and free journalism.
"This is a serious setback for critical and investigative journalism," Rune Ottosen, the head of the whistle-blower organization, Pen Norway, reported in NRK.
"Assange risks 175 years in prison for uncovering true information on America's war crimes in Afghanistan and Iraq," Ottosen wrote.
Assange Will Appeal
"We will appeal this decision at the earliest possible moment," says Assange's fiancée, Stella Moris.
She described the Court of Appeal's decision as "dangerous and misguided" and a "travesty of justice."
"How can they accept an extradition to the country that plotted to kill Julian?" Moris asked.
She is referring to a leaked report from 2017 stating that the CIA had plans to capture Assange and possibly finish him off.
Assange has groups of supporters all over the world. Among those who have taken up his cause is the Norwegian Red Party and its leader Bjørnar Moxnes.
"Assange has exposed Western war crimes, torture and unlawful interference in other governments, which is the core of journalistic work. And as punishment for that, he is risking 175 years in prison," says Moxnes. "That this is happening the same day that a prize is being given for courageous journalism is a huge paradox. I think that the Norwegian government's silence in this case is disgraceful."
Support from Russia
Russia's Ministry of Foreign Affairs calls it "shameful" that a British court has allowed Assange to be extradited to America.
"This is a shameful verdict in a political case against a journalist and public figure, another manifestation of the Anglo-Saxon alliance's cannibalistic worldview," wrote spokesperson Maria Zakharova for the Russian Foreign Ministry on the messaging service, Telegram.
About this publication
---