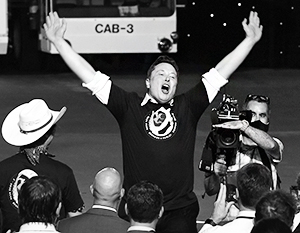 *Editor's note: On March 4, Russia enacted a law that criminalizes public opposition to, or independent news reporting about, the war in Ukraine. The law makes it a crime to call the war a "war" rather than a "special military operation" on social media or in a news article or broadcast. The law is understood to penalize any language that "discredits" Russia's use of its military in Ukraine, calls for sanctions or protests Russia's invasion of Ukraine. It punishes anyone found to spread "false information" about the invasion with up to 15 years in prison.
The conflict between Elon Musk and the U.S. liberal elite has taken on a warlike character. After Musk declared he would vote Republican for the first time in his life and personally attacked Joe Biden, his adversaries have orchestrated a series of attacks on his business and reputation. But he is clearly ready to fight and change the country. Who will win?
"In the past I voted Democrat, because they were (mostly) the kindness party. But they have become the party of division & hate, so I can no longer support them and will vote Republican. Now, watch their dirty tricks campaign against me unfold…." Musk tweeted.
Musk's tweet, followed by a "popcorn" emoji, could be historic, for all we know. Certainly, it means something when the richest person (or one of them, as "rich" is uncertain) in the world's most powerful country changes their party affiliation. Especially when the total number of political parties in the U.S. (almost four dozen) is quite rightly rounded down to two: The Democrats, currently in power, and the Republicans. The Republicans are likely to triumph in the 2022 midterm elections and render Biden a lame duck. Musk's words are not the first indication of approaching change.
In this case, change in partisan leanings is hardly an exaggeration. The major parties in the U.S. have no membership cards and no rigid hierarchy of power. Instead, each party comprises a kind of federation of forces, divided ideologically and geographically but united together to defeat their rival — the other party.
Of course, those forces have groups like regional activists and "apparatchiks." Basically, however, Democrats and Republicans are registered voters who have voluntarily indicated a political preferences. By changing those preferences, a voter can be said to have left the party.
Musk is an independent; both parties are focusing its outreach on this category of citizens. Still, Musk has voted Democrat all his life. It could not have been any other way. As the loyal liberal Democratic media often affectionately explain, the Democratic Party represents the progressive half of America. And the source of Musk's income is the epitome of what is commonly understood as progress.
That source is not the banks, the stock market, his father's money, the sale of natural resources, a media empire, real estate or a natural monopoly. It is space and advanced technology. While not devoid of personal flaws like any other man, Musk, a multibillionaire, is closer to a futuristic utopian image of a billionaire like Bruce Wayne than any other billionaire. He might not change into a Batman suit at night, but the founder of SpaceX remains an eccentric character.
Bill Gates is in the same league, but people dislike him for other reasons.
For people in Musk's circle, loyalty to Democratic Party ideals is like swearing an oath. And Musk in his remarks has hurt a large part of his army of fans, who, in Orwellian terms, are ready to go to war with Oceania, but not with Eastasia. However, the war is already underway regardless; adjusted for the personality of the eccentric billionaire, it is hardly possible to stop it.
The relationship between Musk and the White House cooled down about a year ago, judging by the absence of the innovator businessman at government meetings on issues directly related to his pioneering business. And an escalation of the breakdown came after a series of tweets in which Musk criticized the Democrats' sacred cows and their new ethics, after which he learned a lot about himself from leftist activists on Twitter.
It is unclear what effect this had on Musk. Still, he entered into negotiations to buy Twitter not to silence his new haters but for the exact opposite purpose: He wished to restore freedom of speech to the social media platform. He called the suspension of former President Donald Trump's account "morally wrong," which generated a new wave of negative feelings.
Musk has put the deal on hold for now. If it is not finalized by the end of October, he will have to pay a $1 billion breakup fee. The reason for the delay concerns a study that the billionaire commissioned to show how many accounts on the social media platform are fake. Twitter claims 5% , independent analysts say it 20%, while some of his enemies say it is as much as 80%.
The news about Musk postponing the purchase sent Twitter's stock plummeting another 15%, after which many were convinced that Musk was trying to drive down the price. A Spark Toro audience research study came out just in time, showing that 11 million, or 49.3%, of those who follow the president's official Twitter account (POTUS) were bots or fake accounts.
This is where we approach the slippery slope of speculation. Still, it has to be said, the Democratic functionaries and those close to Biden have begun to put pressure on Musk. They are doing so not so much because of the bots, but because of the prospect of abolishing liberal censorship.
Trump himself has already made it clear that he will not resume his account on Twitter in any case and that he holds a low opinion of both the deal and Musk himself. But it is not about Trump now. It's about the fact that Musk does not like to face pressure and has, as they say, taken the bait.
In an interview with the conservative Fox News network, the anchors got what they wanted out of Musk — harsh criticism of Biden. The tech billionaire, as Musk is often called to emphasize that he is not just a bag of money but an engineer as well, trashed the incompetent economic policy of the White House, saying it is making U.S. economy resemble Venezuela because of deficits and depreciation.
Musk speaks for a large part of the country, which is experiencing 40-year record inflation, with gasoline prices increasing by 50% and food prices by 10%.
These conditions have caused the Biden administration's approval ratings to reach a record low, even among Democratic voters. However, the multibillionaire has crossed the line several times. First, he compared the current administration to the Trump administration, with a nod to the latter. Then, he hit the incumbent president right where it hurts — the inability sometimes to pronounce the name of his own country.
According to Musk, the real leader of the United States is the man who controls the teleprompter. Meanwhile, Biden is under the delusion that he was chosen to change America when, in fact, those who voted for him "wanted less drama," Musk says.
But now there is much more drama, both in the White House and in Musk's life. You could view his announcement about moving to the Republican camp together with ridiculing Democratic ideals as a response to the rumblings of left-liberal outrage culminating in online campaigns that were launched after the interview. This response goes along the lines of letting the Democrats know that he did not betray them, but they betrayed him.
The response by the elite to Musk was swift. Tesla, America's largest electric car manufacturer, run by Musk, was excluded from the Standard & Poor's 500 environmental, social and governance index, which includes companies that are progressive in their environmental and hiring practices.
In turn, also citing environmental practices, government agencies froze the construction project to expand the Pentagon area at the SpaceX airfield. And the Democratic media began to spin sexist and racist scandals about Musk. This included an allegation by one of the flight attendants that the multibillionaire tried to sexually assault her and paid $250,000 for her silence.
Be that as it may, Musk has accepted the challenge. The conflict will now continue by way of inertia, and Musk is probably right — we need to stock up on popcorn.
However, he runs the risk of being wrong about something else.
Because of the Biden administration's failures and the age-related changes in Biden himself, the Democratic elite appears to be a weakened adversary. The party will certainly lose the 2022 midterm elections, even though it may lose regardless of whether Musk has intervened in politics.
Musk may well be overestimating what he is capable of. The billionaire's tech specialization is extremely good for his public image but is not really valuable in a power struggle. He has neither a media empire like Rupert Murdoch, "the most dangerous man in the world," according to Biden, nor enormous financial power like George Soros.
Musk's record-breaking fortune lies in the stock value of companies he is involved with, most notably Tesla. Share prices are high and could get higher. It is incredibly unprofitable for Musk to sell them. Therefore, he will have to borrow a considerable sum to buy Twitter. The banks would be happy to loan him the money using stock as collateral. Still, the deal could fail anyway — especially now, when the deal to buy Twitter is perceived as a way in which Musk is trying to compensate for the lack of media resources to fight for a better future.
Too many powerful people in the U.S. have a vested interest in not changing social media politics.
Musk also does not have the ability to play the trump card that others might expect under the circumstances — a bid for the presidential nomination. He was born in South Africa and came to the U.S. via Canada, so it is unconstitutional for Musk to run for president.
For Musk, a man whose entire being is about breaking the limits of what is possible, this is undoubtedly an uncomfortable limit. But if I were him, it would make more sense not to think about conquering those at the top. Instead, Musk should aim to survive the war he has now engaged in with the American elite.
As Musk himself admitted, he is used to biting off more than he can chew. Apparently, he doesn't consider this a disadvantage. It exposes Musk's weakness and presents the prospect he will be chewed up by others. The richest man in the world has disproportionately more aplomb and enthusiasm than real strength.
About this publication
---