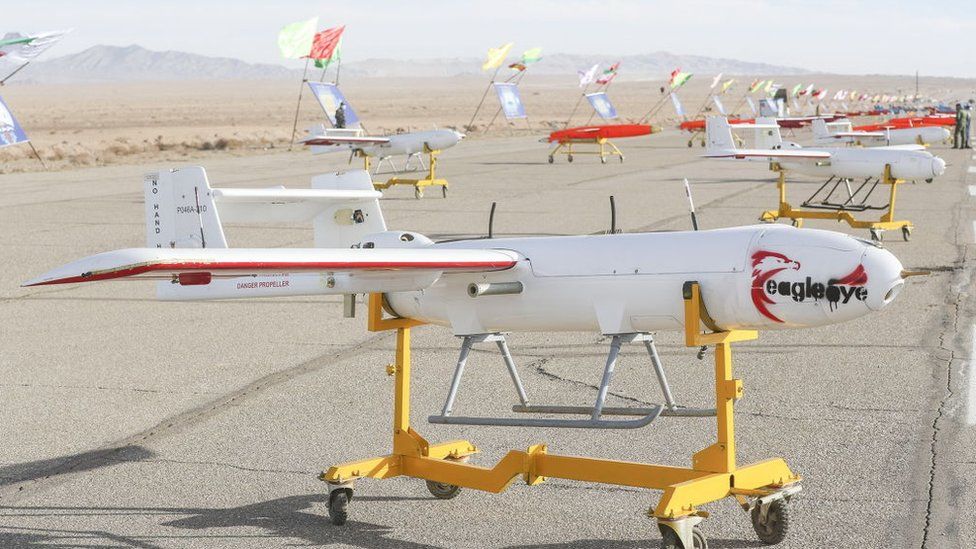 Iran's brazen stand in the anti-Western camp will have major implications for Israel and the United States. The supplying of drones to Russia during a time of war positions Tehran in direct conflict with NATO and the European states, which until now had seen Iran as a partner. The move will likely harm our freedom of air operations in Syria and Lebanon.
The drones that were moved to Russia, according to assessments in the United States, are almost a declaration of war against NATO, and Iran will likely regret this. It is doubtful that U.S. National Security Adviser Jake Sullivan would have spoken about the Americans' assessment that Tehran was positioned to supply drones, including attack drones, for the purpose of warfare in Ukraine, if he was not confident in the reliability of the information he conveyed to reporters.
Only four years ago, when Donald Trump withdrew from the nuclear agreement, the Iranians turned to Europe for help, and now they are going directly against them. Even if the drone deal between Iran and Russia does not come to fruition, this marks a dramatic change in the status and positions taken by Iran, which makes it a direct threat against NATO and the European Union. In addition, with the announcements of the assessment as well as the tripartite meeting between Vladimir Putin, Iranian President Ebrahim Raisi and Turkish President Recep Tayyip Erdogan, this is the first time that Iran is taking a stand with Russia in the struggle of superpower forces, and is doing it during the violent conflict now taking place in Europe. In other words, Iran has actively taken sides in a global conflict in favor of the camp led by Russia and China.
From now on, Iran is not only a potential threat against peace and stability in the Middle East because of the nuclear weapons program it is developing and the terrorism it is conducting by means of proxies in the region, but it is also an important secondary player in the conflict with the liberal-democratic camp led by the United States in Europe and in other places.
This is not the first time Iran is standing with the anti-Western camp. Iran has already signed a long-range deal worth billions that will give China an important foothold in the Middle East; however, this is the first time Iran has come down from the fence and given active support to Russia in the violent struggle it is waging against Ukraine and NATO states (including Turkey and Canada).
These facts reinforce what Israel has been claiming for a long time: Iran desires not only regional hegemony in the Middle East, but wants to be an important player in the global arena and, therefore, is developing long-range missiles and drones of all types that are capable of reaching not only Israel, but also Europe and perhaps even North America. By supplying drones to Russia, Iran is declaring which side it belongs to and is starting to realize its aspirations in the international arena.
This step has many implications. It is likely, among other things, to harden U.S. positions regarding the possibility that Iran will develop and produce nuclear weapons, because from now on, it is threatening not only its neighbors in the Middle East, but also Europe and the United States.
Joe Biden must now once again consider whether he wants to sign a renewed nuclear agreement, or be convinced by Israel that he must apply heavy pressure on Iran in all areas, including presenting the possibility of real military action if Iran continues to try and develop nuclear weapons or conventional weapons that threaten the West.
The operation of the Iranian drones by the Russians in Ukraine will allow the Iranians to gain experience and to upgrade and improve its drone array, developed solely by them, to effectively operate at ranges of thousands of kilometers. It can be assumed that Iranian advisers will be on Russian soil, but stationed close to the front lines with Ukraine in order to aid Russian trainees to operate the systems supplied to them.
This fact will require the United States, and perhaps also Israel, to invest their efforts in developing systems and means to aid the Ukrainian army to neutralize the Iranian drones. Israel may need to deviate from its neutral position toward the war in Ukraine, because any improvement of the Iranian drones and UAVs derived from their operation in Ukraine will directly endanger Israel. Therefore, it appears that Israel will be required to once again consider whether the Russians' readiness to be aided by Iranian drones to collect intelligence and strike targets in Ukraine does not directly threaten us and the United States.
It is possible that Russian acceptance of aid from Iran could influence Russia's actions in Syria and regarding any Israeli operations directed against Iranian entrenchment in Syria during the conflict between wars.* This perhaps means that the Russians have taken the Iranian side, something that could limit Israel's freedom of air operations over Syria and Lebanon.
Prime Minister Yair Lapid and Defense Minister Benny Gantz will now have a very good reason to request attack weapons from Biden that can help us and our allies in the Middle East against the Iranian nuclear threat, the drone threat, and the cruise missile and precision ballistic missile threat, weapons that Iran is developing and producing in good quality and at a murderous pace.
*Editor's Note: "The conflict between wars" is a common phrase used by Israeli military elements to describe the current state of tensions with various states in the region where actual war is not occurring, but conflict and tensions are very high.
About this publication
---