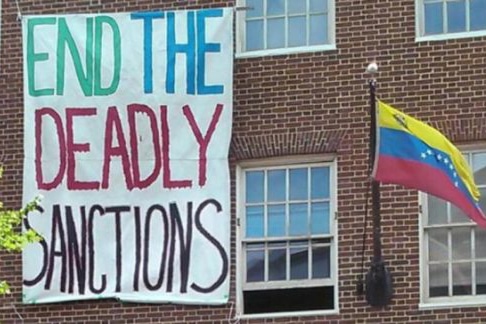 Recently, the U.S. government announced that it would transfer $3.5 billion of frozen Afghan central bank assets to a newly established "Afghanistan Fund" in Switzerland. It declared that the funds will not be supplied to the central bank unless it can guarantee that it is free from political interference. All of Afghanistan's national property should be returned to the country in its entirety to be used to improve the lives of the people and for peaceful reconstruction. Instead, the U.S. government is arbitrarily controlling the legal property of another country. It is a blatant act of robbery. This is yet more evidence of the United States making use of its dominant position to impose unilateral sanctions and "long-arm jurisdiction.
Sanctions are an exceptional measure used by the U.N. Security Council to maintain or restore international peace and security, and no state has the right to make private use of this public tool. However, the United States has, for too long, wantonly imposed unilateral sanctions and long-arm control in order to maintain its dominance over others and without any legal basis for doing so.
In recent years, the United States has intensified and normalized its abuse of state powers. It has broadened the concept of national security, weaponizing and politicizing trade issues. Unilateral sanctions and long-arm control have expanded from traditional areas of anti-corruption, export restrictions and anti-money laundering to include areas such as human rights, high-tech industries, data sovereignty and network security. The U.S. has taken this unconventional approach routinely through various means such as imposing large fines, deploying regulatory commissioners and the arrest and detention of personnel.
It is no exaggeration to call the U.S. the world's only "sanctions superpower." There has been a 60-year economic, commercial and financial embargo against Cuba. It continuously increases sanctions against North Korea and has kicked Iran out of the SWIFT international settlement system twice in 10 years. It has prohibited individuals or entities from foreign countries from importing Venezuelan crude oil and joined forces with other Western nations to increase sanctions against Russia. The United States has also enacted a set of trade sanction laws such as the Foreign Corrupt Practices Act and has put pressure on other countries by widening the extraterritorial application of these laws.
The United States had more than 9,400 sanctions in effect as of the 2021 fiscal year. This is nearly 10 times as there were 20 years ago. Some 3,800 sanctions were imposed during the last presidential term alone. That is equivalent to wielding the sanctions "stick" an average of three times a day. According to an article by Daniel Drezner, a professor at Tufts University and a senior fellow at the Brookings Institution, the use of economic coercion and violence by successive U.S. administrations and the use of sanctions as the preferred solution to diplomatic difficulties has not only been ineffective, but has created a humanitarian disaster.
At present, the global economic recovery is weak and fragile, and the international community urgently needs to enhance cooperation and solidarity. However, unilateral sanctions and long-arm jurisdiction by the United States undermine the legitimate rights and interests of everyone involved. They threaten the stability of the global industrial supply chain, exacerbate global crises and challenges in energy, food and financial security and have made the world economy even worse.
About this publication
---