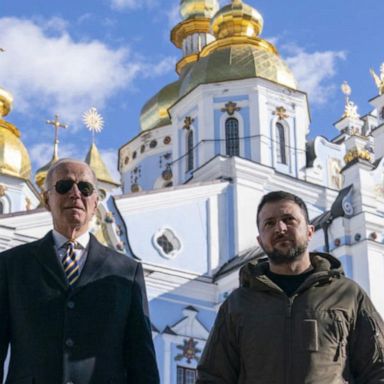 For Ukraine, the days preceding the anniversary of the invasion — Friday, Feb. 24 — are ones of rhetoric. Included in this category are the speeches that will be made tomorrow, Feb. 21, by U.S. President Joe Biden in Warsaw and Russian President Vladimir Putin before the Duma to the assembled military of the "special military operation" — devoid of foreign guests.
President Biden's current mission in Kyiv also has essentially rhetorical value. It was certainly not an impromptu, last minute trip, but was obviously kept secret right up to the last moment. This recent roundtrip to Kyiv almost seems meant to create the impression that, despite the war, Ukraine is finding a new normal.
In the space of one week, Ukrainian President Volodymyr Zelenskyy was in London and Brussels, and Ukraine's Minister of Foreign Affairs Dmytro Kuleba was in Munich in civilian clothes. Kyiv has visitors (nearly) every day: Swedish Prime Minister Ulf Kristersson, rotating president of the EU Council; Biden; and soon, Italian Prime Minister Giorgia Meloni, just the most recent in a long list.
To whatever extent it was planned, Biden's trip to Kyiv and Warsaw may also have an anti-Chinese element to it, acting as a smokescreen to the impact of the Chinese peace plan for Ukraine, the announcement of which, hinted at in Munich by Chinese senior diplomat Wang Yi, is expected on Friday.
Beijing may have caught Western diplomacy on its back foot, after taking a backseat to the Ukraine crisis for a year, refusing to play the role of mediator, and not condemning the invasion, but declaring itself in favor of respecting the territorial integrity of nations, a principle that should be applied "without double standards," a way of saying that Taiwan is China.
The "balloon row" that erupted at the beginning of the month when a Chinese high-altitude balloon was detected floating over U.S. territory — a spy balloon, according to the United States; a meteorological sensor, according to Beijing — and its subsequent downing added an element of tension, probably purely economic, to the geopolitical, economic and commercial conflict between the U.S. and China.
U.S. Secretary of State Antony Blinken postponed a scheduled trip to Beijing indefinitely. Blinken has also just added another link to the chain of U.S.-China disagreements: that China is allegedly supplying drones and other military equipment to Russia, just as Iran and North Korea do, or might do. Blinken and Wang saw each other in Munich, on the margins of that conference, which was a triumph of Western pro-Ukrainian rhetoric. None of the contentious issues were resolved, but at least dialogue has reopened.
From Munich, Wang went to Moscow. The rapprochement between China and Russia this past year is clear, with Xi and Putin united by the desire for a new world order working against U.S. hegemony. It is also probable that Wang wanted to sound out Putin's reaction to the puzzle of Xi's peace plan.
After an entire year of playing down Xi assuming the role of mediator after the invasion of Ukraine, Biden now seems concerned that Xi will do so for real. If China wants to take center stage, the U.S. will throw smokescreens around it. But if Beijing were to formulate proposals that satisfied Russian security concerns and protected the integrity of Ukrainian territory, it would be difficult to ignore.
About this publication
---