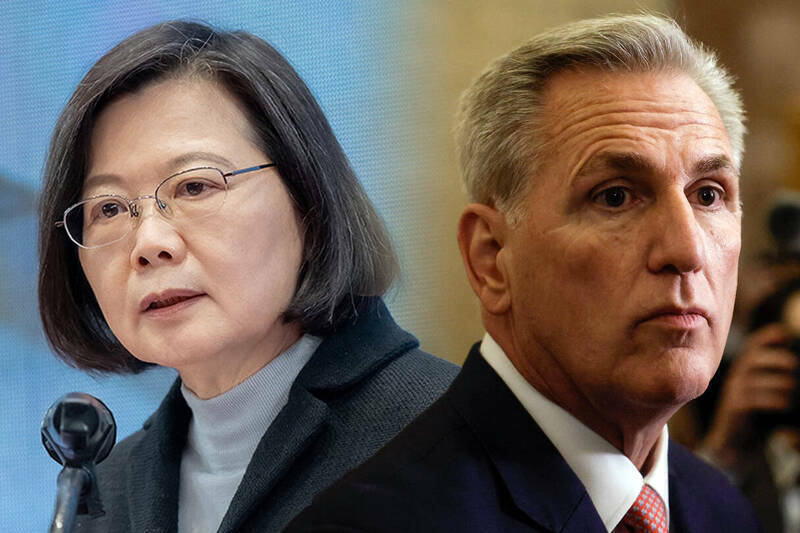 President Tsai Ing-wen finally met with U.S. House Speaker Kevin McCarthy at the Ronald Reagan Presidential Library in Los Angeles, California, and it was neither unscheduled, rushed nor anecdotal, but formal, direct and stately. This was an absolutely unprecedented event in Taiwan-U.S. relations and the highest-level meeting between a sitting president of Taiwan and the U.S. since 1979, when the Republic of China broke off diplomatic relations with the U.S. In form as well as in substance, it significantly promoted Taiwan-U.S. relations, especially given that the U.S. is a country that attaches great importance to precedent. As long as relations between Taiwan and the U.S. remain on a stable footing, future presidential visits to the U.S. can only be of an even higher standard, and we look forward to that day.
This is President Tsai's first visit to the U.S. in nearly three years since the epidemic subsided, and it is also a very important visit to New York and Los Angeles. Furthermore, it is the first time since Democratic President Joe Biden took office that Tsai has been in the U.S. As such, it will be a test of whether there has been any change in Taiwan-U.S. relations due to the rotation of political parties in the U.S. Nor is it just a test of President Tsai's management of Taiwan-U.S. relations; it is also an acknowledgement of Taiwan Representative to the United States Hsiao Bi-khim's deep involvement in Taiwan-U.S. politics, which has been very successful. Not only have relations between Taiwan and the U.S. not regressed, but they have even made a breakthrough compared to the Republican era. This is proof positive that although Tsai's tenure has spanned both Republican and Democratic administrations, the stability of Taiwan-U.S. relations has not differed from one party to the other, and Tsai's performance has clearly received recognition from both of them.
Additionally, the format of Tsai's stopover in the U.S. this time has been no different from that of an official visit. From the motorcade to the security protocols to the generous permission granted to Taiwanese reporters in New York to take pictures and hold public events, there have been no restrictions with regard to words, flags or guest speeches. It has also been possible to visit Taiwanese stores in New York to interact with young Taiwanese, and although this is not the first time, it has become an important practice for Taiwan since President Chen Shui-bian's first visit to New York. As restrictions have been dialed back and openness has increased, the relationship between Taiwan and the U.S. has gone from one marked by low-profile and covert interactions to healthy interaction in which one can speak without inhibition.
As for Tsai's meeting with Speaker McCarthy, this was an important moment in the history of Taiwan-U.S. relations! From President Lee Teng-hui's first visit to Chen Shui-bian's and Ma Ying-jeou's respective presidencies, it is not uncommon for a president to visit the U.S. — but there is almost no precedent for a meeting with a political figure at the level of president, vice president or speaker of the House of Representatives. Yet that is what Tsai managed to do, meeting the speaker of the House on American soil, the second most important person in the U.S. presidential line of succession. No other Taiwanese president has accomplished this before, and in terms of succession, everyone's next focus will be on when the U.S. president and vice president meet with the president of Taiwan, a day we surely expect to come.
Finally, while this commentator also looks forward to the meeting with the speaker of the House at the Reagan Library, if we are to develop a more official and groundbreaking relationship between Taiwan and the U.S., I believe that all compatriots, myself included, should hope that one day, a president of Taiwan will be able to formally visit the U.S. Capitol. Concretely, this would allow the president of Taiwan to deliver a formal address to the U.S. Congress, expressing the strength of the Taiwan-U.S. relationship and his or her determination in resisting the threat posed by China.
Tsai's visit to the U.S. and successful formal meeting with Speaker McCarthy is destined to be an important page in the history of Taiwan-U.S. relations. We also look forward to Speaker McCarthy's visit to Taiwan like that of Speaker Nancy Pelosi before him, and I will be sure to extend him a warm welcome in Taiwan's Legislative Yuan, so that everyone can experience the enthusiasm and vitality of Taiwan's democracy! Coincidentally, during Friday's general questions, I chanced upon members of Congress attending the meetings, and I believe that this is a good omen. I quietly await the day when Speaker McCarthy will address the Legislative Yuan!
The author is a legislator.
About this publication
---