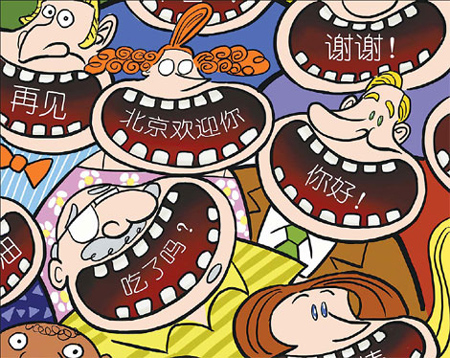 America is going to learn from China. It's no longer just for fun; this time, the Americans are giving it a real shot. What the Obama administration has been doing recently made us believe that Americans are now doing the deed. Learning Chinese has been raised to a historic and strategic height in America.
Themed as "Learning Chinese, Thinking Globally," the National Chinese Language Conference closed on April 24. According to conference organizers, Mandarin has become the most popular foreign language among secondary school students. Seventeen high-ranking American officials, who have direct influence over U.S. policies toward China, were sent to Beijing to learn about the actual conditions in China. They were the first batch. It is said that more and more U.S. officials will be sent to China in the near future. It seems that learning more about China has became a new way for Americans to get the whole picture of the world.
Why has it become so urgent for Americans to learn more about China? In his first State of the Union address, Obama emphasized that China's rapid development gave hope for the recovery of American economy but added that the U.S. cannot "accept second place." Chinese people were startled by Obama's remarks, for there is still a long way to go before China can catch up with America in terms of aggregate economic activity.
Do Americans really think that China will take first place? This is hardly the case. Americans regard China as a strong competitor that can motivate them. Americans would like to know more about their competitor, an emerging great power that they have never seen before. Knowing more about China will enable America to be more proactive in global competition and in handling the Sino–U.S. relationship.
A good illustration of the point is the development of clean energy technologies in America. The U.S. Department of Energy realized that its technical superiority had been challenged by its Chinese counterpart. Therefore, it set up and funded the U.S.–China Clean Energy Research Center to enhance cooperation between the two sides. Energy Secretary Steven Chu admitted that the reason America needs to learn from China is to create opportunities for U.S. enterprises. It impressed us that the Americans care so much about being overtaken by their competitors.
America is a country that is always ready to change. It's a superpower that can adapt itself to the ever-changing world. Some of the American "China Hands"* have such a profound understanding about our country that it would put many Chinese academics to shame.
China cannot avoid competing with America. Competition is not warfare but an assistant to human progress. Competition between China and the U.S. will no doubt drive the world forward.
We shall realize that China lags behind the U.S. in many aspects and that we need to be more watchful than the Americans do. China has been pushed onto the center of the world stage since the economic crisis broke out. Media at home and abroad have estimated that the time was coming for China to overtake the U.S. This climate of expectations may prevent us from recognizing the truth: we are lagging far behind. Recently, the argument has been about when China will "take the crown." To be objective, it's too early to discuss that yet.
China and America did not start from the same point. What China has gone though during the past few hundred of years led to its backwardness. The race for China to catch up with the others has just started, and this has already caught the Americans' attention. The alert Americans would like to know more about China. Shouldn't there be a greater need for us to have a thorough knowledge of the U.S.? Yes, America is a country where there are lots of mysteries waiting to be deciphered. Since we don't want to be the loser anymore, let's get to know America before overtaking it.
*Editor's Note: The term "China Hand" refers to an individual with expert knowledge of the language, culture and people of China.
About this publication
---