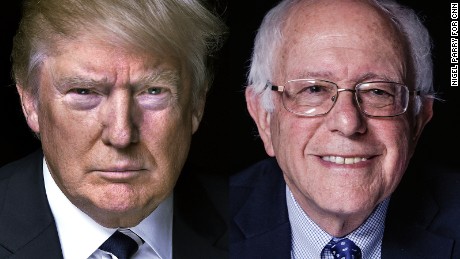 Republican real estate king Donald Trump won the first presidential primary election in New Hampshire. Trump, who has stirred up hatred and discrimination, has only gained popularity. Although his popularity may be somewhat characteristic of the U.S., is this acceptable?
Trump, after placing second in the Iowa caucus, increased his supporters through campaigns conducted via phone and from door to door. As a result, Trump defeated the runner-up by more than double, crushing the candidates from the main faction of the Republican Party in the process.
Few predicted that Trump would be a major contender when he announced his candidacy last June. His populist comments that incite controversy, however, have only increased his popularity.
He has stated that the U.S. should build a wall around its borders against the "criminal" Mexican immigrants and has insisted that Muslims be prevented from entering the U.S. on the grounds of terrorism.
It is clear that he is using race and religion as scapegoats and is trying to shift the anger and dissatisfaction voters have with the current government, which is not effectively acting on immigration issues, anti-terrorism or eliminating inequality.
Will Trump's favor lose momentum? Others have also made extreme assertions over the course of U.S. history. In the end, however, an opposing party worked to restore balance.
For example, though Southern politicians in favor of racial segregation gained the support of white voters in the 1950s and '60s, Martin Luther King Jr. stood up for the end of discrimination in the civil rights movement. There was also opposition and resistance to McCarthyism and communist hunting. Even the Vietnam War faced anti-war movements.
Trump's extreme remarks could also be considered a heavy-handed strategy for securing the nomination as presidential candidate. In the coming days of the election campaign, it is also possible that he might switch tactics in favor of a more moderate policy as his suitability as president comes under closer scrutiny.
All eyes are on U.S. society's ability to restore balance.
In the incumbent Democratic Party, self-proclaimed Social Democrat Sanders saw a sweeping victory over former Secretary of State Clinton. Support for Sanders in New Hampshire is strong and the results were as expected.
Although Sanders' social democratic policies, such as free college tuition, have been adopted in European countries, they have not been discussed much during the election campaign.
This presents a new question amidst the growing dissatisfaction with seriously widening disparities in the U.S.
During this election it will be interesting to see how Sanders' policies, which have the overwhelming support of the younger generation, will hold up in states where Clinton has the advantage.
About this publication
---