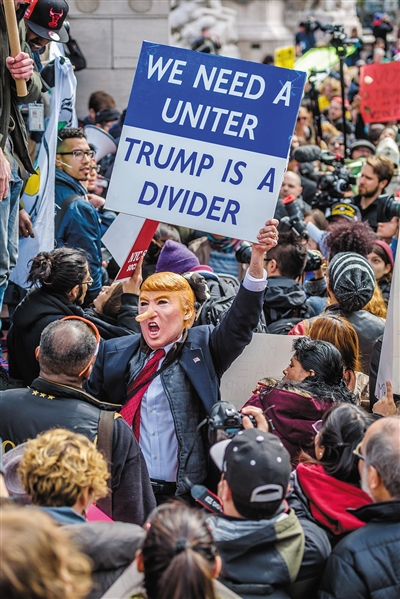 Republican Party presidential candidate Donald Trump has been unapologetically indiscreet as of late, and yet his popularity continues to rise, causing confusion among observers of American politics.
In contrast, the Democratic Party presidential candidate Hillary Clinton must immediately remedy her indiscretions, otherwise her popularity rating tumbles. Experts are puzzled: Is there a double standard within American politics? One rule applies to Trump, and another to all the other candidates?
Trump is utterly without scruples, encouraging violence against the opposition. He has been campaigning heavily this month; there have been many cases of clashes between his supporters and those of Trump's opposition, and this has created a sense of unease among the American population. What has also left people speechless is that Trump's campaign manager, Corey Lewandowski, has been photographed manhandling demonstrators. Trump's reaction? He encouraged his protesters not to be polite to the opposition, expressed the wish to pay the legal fees of his supporters and revealed he wished he could have thrown some punches, too. As for Lewandowski's manhandling of a reporter, Trump said, "I give him credit for having spirit" on a talk show on ABC.
Due to the violence occurring at campaign rallies, Trump has had no choice but to cancel his rally in Chicago. Despite this, his popularity rating remains unaffected. President Obama's former adviser believes that Trump's indiscretions do not affect his support ratings at all because his views and the way he expresses himself are exactly to the liking of Republican voters. Republican Party strategist Mike DuHaime has said that many people viewed Trump as an outsider in political circles, and hence, he was not held to the normal standards expected. Instead, everything he said and did was tolerated.
Clinton has to put out fires all over the place to make up for her indiscretions, and she considers Trump her number one opponent. What is embarrassing for Clinton though is that Trump has effortlessly and continuously held the headlines in the American media, whereas she only receives media attention when she mentions Trump. Clinton has recently had to clarify her remarks regarding Nancy Reagan earlier this month; political commentators noted that Clinton's popularity rating would fall if she did not address the issue quick enough.
Recently during his campaign Trump has failed to address his previous indiscretions, and has instead been shouting about banning Muslims from entering America and about building a wall on the border with Mexico.
Both former Republican candidate John McCain and President Obama had people dig out "inappropriate" quotes during their campaigns, and their support ratings were consequently affected. Whether it be a few days later, or even a few years later, other politicians need to address their indiscretion before they are able to regain their support levels. But it seems that Trump is an exception to this rule.
As Republican strategist Diaz said: "If I were the Democrats, yeah, I'd be worried."
About this publication
---