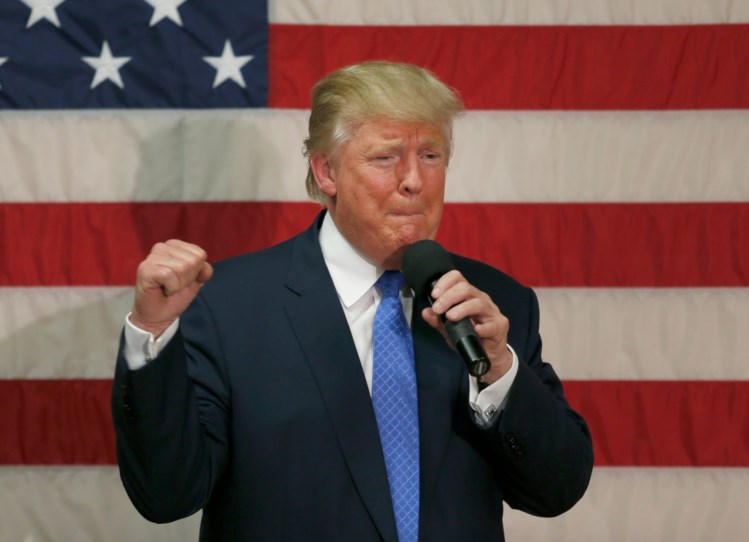 Some party leaders have called on the candidate to drop out, as that would be the easiest path forward. Trying to replace him by any other means would be an unprecedented step and a nightmare barely a month away from the election.
Everyone must have short-term memory since, honestly, this question has been asked many times since the moment Donald Trump announced his bid to run for the White House: Could the Republican Party get rid of its candidate and nominate another in his place to face Hillary Clinton in the election?
The short answer to this is "yes." The longer answer, however, would be, "yes, but right now it would be just as likely to hit a star with a stone from the middle of a field on a particularly clear summer's night."
Barely two months ago, when Trump became entangled in a controversy involving the family of a Muslim-American who died in combat in Iraq, many analysts were asked for their opinions on this issue, during a phase of the campaign in which the Republican Party candidate had taken a tumble in national polls.
At that point in time, opinion was unanimous that it was too late to make any attempt to get rid of Trump in his bid for the White House as the Republican Party's candidate.
The Hypothetical 'Rule 9'
In theory, party leaders could still put the Republican National Committee's Rule 9 on the table, which deals with changing candidates. In short, this rule authorizes party leadership to fill "any and all vacancies which may occur by reason of death, declination, or otherwise of the Republican candidate for President of the United States…."
The first condition is out of the question, as this whole issue deals with whether anti-Trump Republicans can get rid of him and not whether they're currently praying for his death or planning to assassinate him. This sort of thing belongs to those corners of the internet where conspiracy theories are discussed. The second option already sprang up during a recent rant of Trump's on Twitter, as well, where he said, "The media and establishment want me out of the race so badly—I will never drop out of the race; [I] will never let my supporters down." What remains is a semantic battle surrounding what those who made the rules meant when they wrote "or otherwise."
This battle would also be a very short one, too, with the consensus being that "or otherwise" refers to any situation ranging between death and a candidate's withdrawal, such as in the case of a candidate's inability to make a decision. An example of this would be a coma or some other condition in which the candidate is alive but unable to indicate that he or she is withdrawing from the race.
In other words, the term "or otherwise" does not mean "simply because someone wants it to be so."
To complicate things further, the Republican Party has three avenues by which it can propose the substitution of a candidate, each one being more difficult than the other. One would be to convene a second convention and reassemble the 2,472 delegates that nominated Trump in Cleveland in July, a task that would prove particularly impossible, logistically speaking, one month from the election. Another option would be for the 168 Republican National Committee members to take this responsibility into their own hands and decide on behalf of the majority that their candidate should be changed. Or, finally, the Republican Party Rules Committee, with its 112 members, could propose an alteration to Rule 9 in order to facilitate Trump's replacement, which would only be possible to do with a majority two-thirds of the committee, something that would also be subject to confirmation by the majority of the entire Republican Party.
Even if this were to occur, vice presidential candidate Mike Pence would not automatically become the candidate for president; various other names could also be submitted, with arguments potentially bringing everything back to square one.
Voting Has Already Begun
Following the release of a video in which Trump boasted of his sexual advances — where he defended and promoted sexual assault, according to opinion — many U.S. newspapers say that the anti-Trump movement gained strength within the Republican Party and that, at the current time, leaders are arguing whether there is enough time remaining to get rid of the candidate whom they helped nominate at the Republican National Convention in July.
Whatever the arguments may be, barely 30 days remain ahead of the election, scheduled for Nov. 8, and more than 400,000 voters have already voted across those states in which early voting is permitted — which include Florida and North Carolina, according to the site United States Elections Projects — with one of those voters being President Barack Obama.
In the coming days, other states will begin authorizing early voting, which makes the problems only worse, since there are deadlines after which ballots may not be changed or presented to voters with the name of another candidate. If someone in the Republican Party were to attempt to remove Trump, they would have to prepare themselves for innumerable, long court battles with party representatives in each state and, even if all of this were to be resolved in time for the election, the Hillary Clinton campaign could also put forward its own court challenge to prevent Trump from being replaced.
In summary, the anti-Trump Republicans have already gone well beyond the point to prevent the real estate mogul's candidacy. The only thing that remains for them to do is to wait for Election Day, swallow Clinton's victory and begin again with the difficult task of getting the party back on its feet for 2020. It's for this reason that many Republicans are calling on Trump to make the decision to step down. That remains the only viable path forward for those who are displeased barely a month away from the elections, not least because Trump crushed his competition in the primary elections and has at his side the support of millions who would see any maneuver by the Republican Party as the ultimate betrayal and would vote for another candidate quite begrudgingly.
About this publication
---