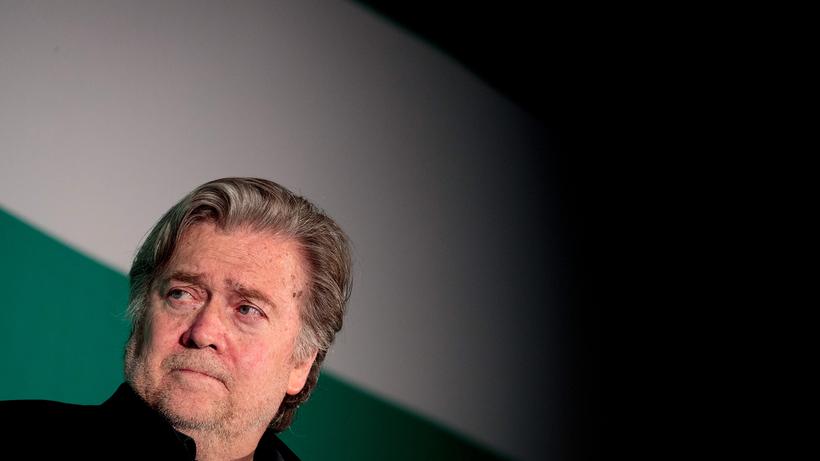 From the power behind Trump to failed rebel: Stephen Bannon has fallen very low, in part because of Wolff's book. However, Special Counsel Mueller will want to talk to him.
After he left his job as chief strategist at the White House, Stephen Bannon wanted to set himself up as a kind of anti-pope for the American far-right. He failed. He has now also been ousted from Breitbart News and finally has to experience first-hand the defamatory power of the questionable news site. The revolution he wanted to incite, at least against the old elite of the Republican Party, if not against the state as a whole, is canceled. This has partly to do with the fact that the deeply conservative billionaire Mercer family has been wanting to cut ties with the radical right-wing populist for months already. Without its money, which also goes into Breitbart, Bannon's destructive force is largely gone.
That said, it was quite feared that he might do more harm outside the White House than in the president's inner circle. Rumors depicting him as the mastermind of Trump's absurd election campaign gave him the reputation of an influential figure after the victory; sometimes he was made out to be the real power behind the reality show character who was suddenly supposed to preside over the United States. Provided that was ever the case, Bannon lost the battle for the president's attention surprisingly fast. Trump threw him out. For some observers, this was a sign that the destructive ideological side had lost its influence at the White House and that the internal intrigues of the government would be reduced in favor of professionalization.
Having to abandon the corridors of power, where he had been unable to achieve his goals, was a harsh defeat for Bannon. Despite regular phone calls with Trump, he also no longer had much to report. However, once he was freed from his official role, he continued his political guerrilla tactics.
Trump First
Bannon returned to Breitbart. After having turned his back on the media company for the 2016 campaign and the job at Trump's side, he wanted the pseudojournalistic, far-right platform to once again serve as a tool in his larger mission to be, in a way, the voice of a revolt that threatened to tear the Republican Party apart from the inside. Moreover, he was not going to limit himself to words. After having been sacked by Trump, Bannon tried to throw several impending Senate and state elections into chaos and bring far-right populists into office instead of established Republican candidates. That project resulted in a series of failures.
The uproar concerning Bannon's declarations, as quoted in Michael Wolff's certainly overhyped, tell-all book, "Fire and Fury," is simply one last weak showdown where the former revolutionary did not even really face. Trump raged and turned his attorneys and other henchmen loose, whereas Bannon stayed silent at first, then uncharacteristically made a halfhearted apology and minimized the issue instead of standing his ground and defying the president.
The result of the battle seems clear. Once again, Trump has unmistakably shown the fate that awaits those whose absolute loyalty he doubts. He is no longer interested in Bannon's ideology-driven campaign against the establishment because he himself is part of that establishment. Furthermore, he also knows that a further split in the Republican base does not just undermine his own brand. The party's congressional majority, and therefore his own power, may be put at risk during this year's November elections, if not earlier. Or, from a less strategic perspective, there can be only one leader for the nationalist, right-wing movement which has brought Trump to the White House in order to make America great again and which steadily supports him. Because "America First" always stood for "Trump First."
"Unpatriotic," "Treasonous"
In the meantime, Trump's attorneys and advisers have been dealing with concerns other than Bannon's quotes in Wolff's book for a long time. After all, the author and tabloid journalist is accused by some of having a cavalier approach to the truth, much like the president. As for the former Breitbart man, he ranks low on the credibility scale as well. We did not need the alleged revelations to know that there are chaos and stress at the White House. So much has been already leaked and reported on the subject that nobody can be surprised by now.
However, what Bannon says (according to Wolff's book) about a meeting between Trump's people and Russian contacts, which was orchestrated by (the "unpatriotic" and "treasonous") Donald Trump Jr., could point to the real burning issue. "Fire and Fury" cannot be a credible source on this matter, but naturally, hope for Trump's impeachment is starting to spread again. Special Counsel Robert Mueller will be able to verify what Bannon only alludes to. The latter may even spill the beans himself out of revenge. This may sound like an exaggeration if nothing else because it is based on the assumption that something illegal actually happened. Despite that, wouldn't you want to have a long talk with Bannon if you were in Mueller's shoes?
Or better yet, with Trump himself. Because that, so they say, is the greatest fear for the White House. Mueller wants to question the president personally, and he will have plenty of questions. The attorneys are going out of their way to keep the situation under control and would rather have him answer only in writing. Because they, too, are aware of Trump's short attention span and know that he is completely unaware of the gravity of much of what he says. Perhaps he may not even notice when he digs himself into a hole. Nevertheless, the president ostensibly looks forward to the conversation. One may suppose the same about Bannon, whether he himself cooperates with investigators or not.
About this publication
---