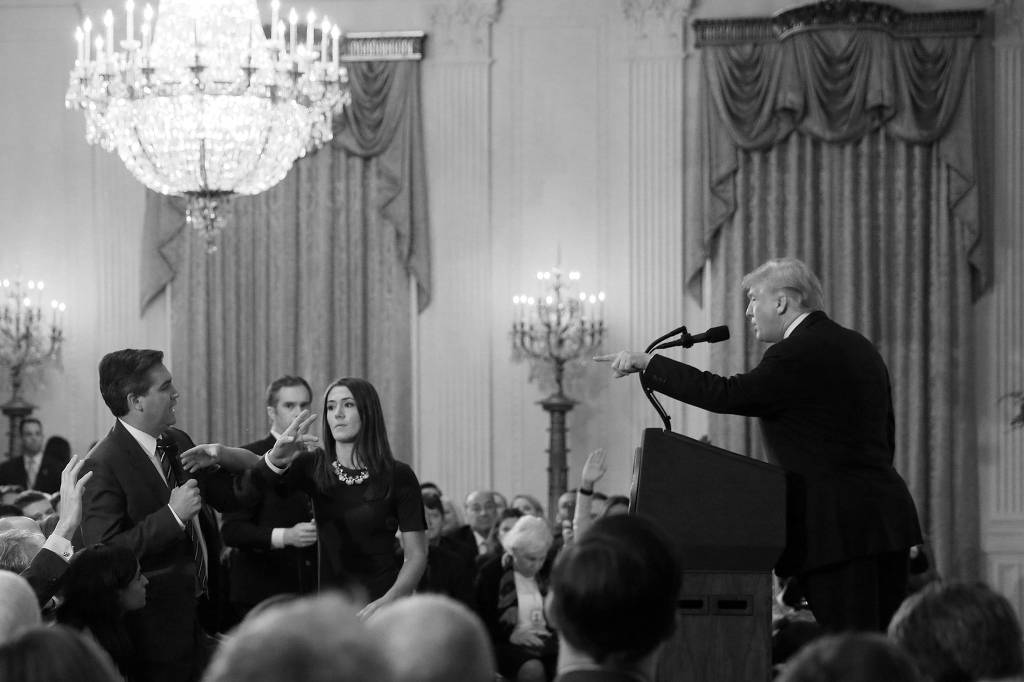 Trump attacks the press and labels as "fake news" each and every news item that displeases him.
Donald Trump's attacks on the media are so recurrent that there is a risk that they will start to be seen as something natural – or even tolerated – in a troubled relationship.
In order not to normalize such habits by the U.S. president, it is necessary to be emphatic in criticizing the decision to revoke for an indefinite period CNN correspondent Jim Acosta's White House press credentials, which are critical for covering the government.*
The decision was made the day after a press conference in which Acosta asked Trump why he considered the entry of Central American immigrants into the country to be an invasion. Then he questioned the president about the investigation into the alleged interference by Russia in the 2016 presidential election to get Trump elected.
Annoyed, the authoritarian president called the reporter "a rude, terrible person" and directed an intern to take his microphone away. Later, in a statement, the White House claimed that the reporter had mistreated the White House intern and that this was one of the reasons to bar Acosta from the White House.
One can argue that the way Acosta asked questions, which to some of his American colleagues was confrontational, was not enough to justify restraining him from doing his job.
It would be easy to blame the incident on an outburst by the Republican president, as he has demonstrated a notorious inability to deal with conflict. However, the attacks against the media seem to be more of a well-executed political calculation.
It should be noted that for the most part, the U.S. media have had trouble understanding the electoral phenomenon that Trump has become, and which he has taken advantage of since the beginning.
This happened initially because some of the media did not take his candidacy seriously; then, when the press began to criticize his administration, Trump began saying that he was being persecuted by what he called "fake news," which is, practically speaking, every news item that displeases him.
Consistent with what he has proposed, Trump chose social media as a direct channel for communicating with his supporters, and he practices his hobby of speaking ill of the press almost daily.
It is not a coincidence that we see Brazilian President-elect Jair Bolsonaro (of the Social Liberal Party) adopting the same strategy. He admires Trump and follows his lead in disqualifying anyone who displeases him and confronting alleged enemies.
Both in Brazil and in the United States, it is up to journalists to persist in their mission to subject rulers everywhere to proper public scrutiny.
*Editor's note: On Nov. 16, a federal judge ordered the White House to temporarily restore Jim Acosta's press credentials.
About this publication
---