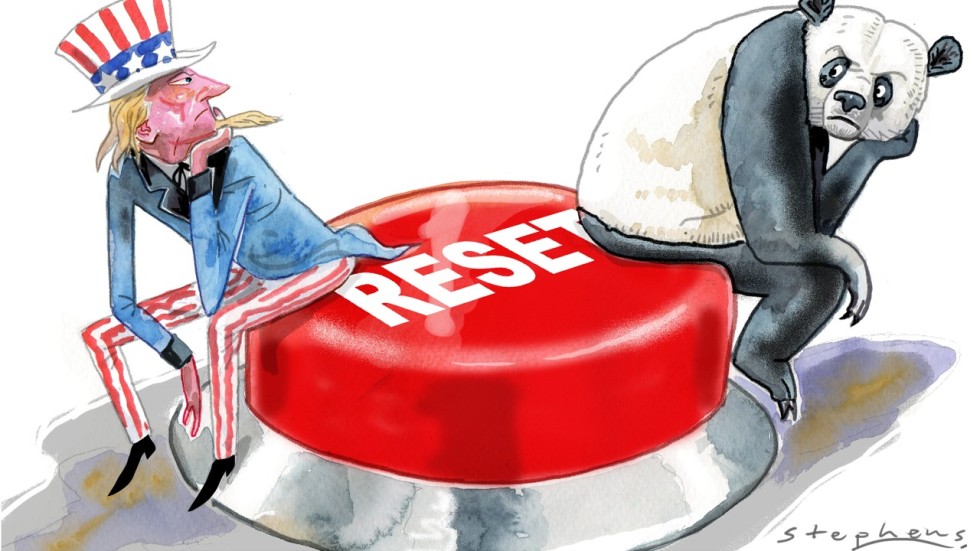 The U.S. and western media reported on Tuesday that two Chinese deputy ministers originally planned to visit ahead of Vice-Premier Liu He, but this meeting was cancelled by the Americans and the U.S. stock market fell accordingly. White House National Economic Council Director Larry Kudlow and the White House both quickly denied the reports above in an effort to calm the market. In addition, Secretary of State Mike Pompeo, speaking at Davos, told the media that he felt optimistic about U.S.-China trade negotiations and believed that the U.S. and China would be able to avoid a superpower conflict. One could describe this news from the American perspective as bewildering.
Different U.S. organizations and individuals have continuously released all kinds of information about the Sino-U.S. trade negotiations, and they have consistently had strong repercussions that directly affect the U.S. stock market, which shows that these negotiations are of much concern to American society, and that this concern has a political impact that the Trump administration cannot avoid. Sino-U.S. trade negotiations are a very big issue for the entire United States.
The Chinese government is optimistic about the outcome of the negotiations, as are the Chinese people, for the most part. The overall posture of the nation is to strive for a good result, while being psychologically prepared for a breakdown in negotiations and an escalation of the trade war.
The situation in the U.S. is more complicated than that in China. Information there is often polarized and conflicted. For some time, there was an unending flow of unofficial pessimistic rumors, while the government made most of the optimistic predictions and placated the market. All in all, the U.S. is somewhat more optimistic in its attitude about the trade situation in this latest phase than the Chinese, and this attitude is mostly based on the encouragement of the administration.
There are increasing signs that China and the U.S. both want to reach an agreement. The political will to end the trade war expressed by the leaders of both nations at Buenos Aires has had a growing institutional impact, and has garnered positive responses from each of their entire constituencies. The political atmosphere in which China and the U.S. will actually reach a trade agreement seems to be maturing.
Chinese gross domestic product growth in 2018 was 6.6 percent, the lowest ever since 1990. This caused much excitement in U.S. circles. President Donald Trump tweeted advice to China "to stop playing around," and advised it to reach a trade agreement with the U.S. soon. In reality, this new economic data has not caused much despair for Chinese society. It was an expected relative low point due to China's economic restructuring. If the U.S. overinterprets this figure and exaggerates the damage done by the trade war to China's economy, it will only mislead the American public.
President Trump should actually advise America's anti-China hawks "to stop playing around." They should not fantasize about the magical power produced by U.S. pressure and mistakenly infer that the U.S. is all-powerful and thus able to force China to accept an unfair treaty. The U.S. needs to be rational and quit while it's ahead, and not rely on unyielding arrogance based on power.
China has never made extreme statements about Sino-U.S. relations or acted rashly. China is the calmest and most resolute trade war opponent the U.S. has ever seen. In order to not to miss a precious window of time in which China and the U.S. could reach a trade agreement, China and the U.S. should now use this time to avoid conceit and refrain from moving in opposite directions. Instead they should earnestly set aside minor differences and seek the larger common ground.
Pompeo also said that he believed China and the U.S. could find a way of avoiding a superpower conflict. It is hoped that his understanding can be turned into real U.S. policy for dealing with China, instead of allowing a minority of U.S. elites who hold extremist attitudes toward China to guide how the U.S. and China get along with each other in the future. The radical proposals of these people do not represent the American national interest, and are disadvantageous to Trump's re-election prospects. Such extremists are undermining foundational American interests to maximize their own.
About this publication
---